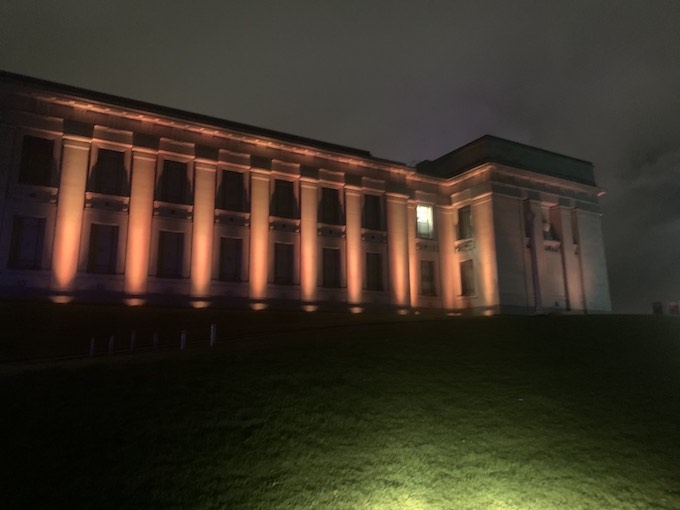 A peace researcher and other pro-Palestinian supporters are calling on Auckland Museum to apologise over a furore about the "unethical" lighting of the main building in the blue and white colours of the Israeli flag.
Researcher Dr Arama Rata said she wanted the museum to issue a formal apology to the community over the insensitivity over the lights incident last night.
Israeli security forces have been bombing Gaza daily for the past week with at least 2215 Palestinians killed and 8714 wounded, according to the Gaza Health Ministry. Among the dead are 720 children.
The Israeli forces are poised for a massive air, sea and ground invasion of the enclave of about 2.3 million people.
The bombing is in retaliation for an attack by the Hamas military wing into southern Israel last Saturday which left 1300 people dead, including 265 soldiers, and more than 3300 wounded.
"Auckland Museum is supposed to be a welcoming place for all members of our community. Their actions tonight have caused deep divisions for people who are already hurting," Dr Rata said.
'Horrors of wars'
"The museum is entrusted with many of our taonga, and regularly holds exhibitions helping us to remember the horrors of wars.
"Their actions today show they have no respect for human suffering. Their actions were highly unethical."
Palestine Solidarity Network Aotearoa chair John Minto also sent a protest note to the museum's chief executive, David Reeves.
"We were appalled to see Auckland Museum lit up in the colours of the Israeli flag at a time when Israel is conducting slaughter — there is no other word for it — of the Palestinian people in Gaza.
"Palestinians are used to seeing such awful behaviour from Euro-centric institutions such as the museum."
JUST IN
Auckland Museum decided to project on their building front apartheid Israel's flag as it commits a literal genocide in Gaza,, and it got quickly surrounded by a flood of Palestine flags booing the genocidal museum 🇵🇸🇵🇸 pic.twitter.com/mOXsHxLfm0

— Tameem | تميم (@TameeOliveFern) October 15, 2023
According to a statement by the protest group, the museum posted on its Instagram social media account a message saying, "This evening, your museum is lit in blue and white in solidarity with Israel. Our thoughts go out to the many civilians impacted as a result of the terrorist attack a week ago today."
An image of the main building showing the blue and white light accompanied the message.
'Free Palestine' call
Within hours, about 100 people had gathered outside the museum, many holding Palestine flags and chanting "free Palestine".
Cars with Palestinian flags also drove in procession around the museum, drivers honking their horns and blaring music.
An argument developed between Palestine supporters and a small group of Israel supporters who had also gathered at the foot of the hill below the museum, holding Israeli flags.
Police arrived and calmed the row.
By 9pm, the museum lights had been turned off.  Later, white lights were turned back on, according to the protesters' statement.
Palestine supporters subsequently covered the lights with red fabric.
Israel faces widespread condemnation from the international community for issuing an evacuation order for more than a million people living in northern Gaza.
The United Nations Special Rapporteur on the Human Rights of Internally Displaced Persons, Paula Gaviria Betancur, said she was "horrified" by the order and demanded that Israel immediately rescind it, saying "forcible population transfers constitute a crime against humanity, and collective punishment is prohibited international humanitarian law".