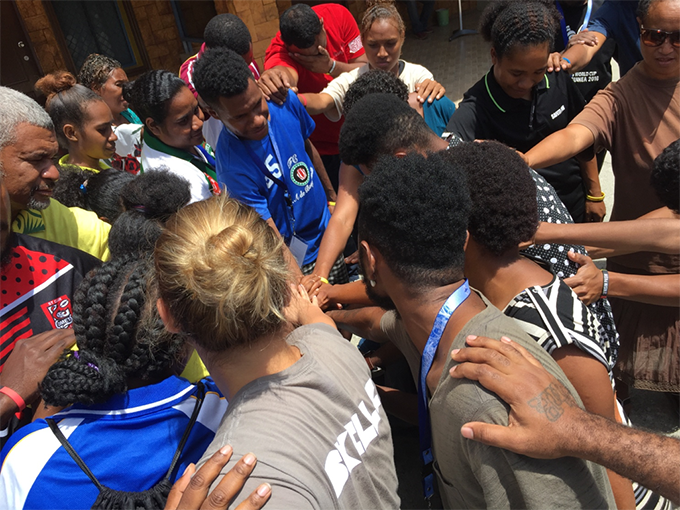 The countdown to the Asia-Pacific Economic Cooperation (APEC) summit in Papua New Guinea is well underway. As the PNG government finalises preparations for this high-level meeting next month, instability is growing from pressing development issues. But, reports Pauline Mago-King of Asia Pacific Journalism,  some of the youth are committed to strengthening their country's resilience.
The reoccurring theme in bridging various social gaps remains to be sensitisation for young people.
For Papua New Guinea, issues ranging from gender relations to health have worsened over the years, making them a norm for the people.
While the PNG government buckles down for the APEC summit, polio has emerged, tuberculosis persists due to multidrug resistance, and violations of human rights are ever-present as in cases like that of the Paga Hill villagers struggle.

Papus New Guinea's progress may seem obscure. However, this should not overshadow the mobilisation of young Papua New Guineans at the community level.
According to the United Nations Population Fund (UNFPA), around 60 percent of young people under 25 account for PNG's 8.5 million population.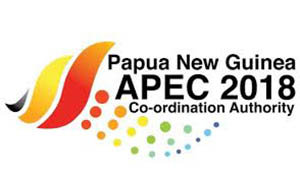 The disproportionate percentage of young Papua New Guineans calls for more engaging avenues that will translate into overall development at community levels.
Executive director of UNFPA Dr Natalia Kanem says the investment in young people's capabilities, as well as creating opportunities for them, will build peaceful, cohesive and resilient societies.
Cultural settings
Equally important, these opportunities require sustainability so that they are also contextually relevant to PNG's diverse cultural settings.
As the PNG government focuses on "unlocking" its economic potential, the mobilisation of youth largely rests with non-governmental and faith-based organisations such as The Voice Inc., Equal Playing Field, Youth Against Corruption Association – to name a few.
Last month, PNG's Foreign Minister Rimbink Pato told the United Nations General Assembly that the "government recognises the importance of putting in place the building blocks needed to enable inclusive and participatory development."
He added that it was their priority to create employment opportunities that would match the needs of Papua New Guinean youth.
Concrete action in this area, however, remain bleak, particularly in light of 500 procured APEC-vehicles, outbreak of preventable diseases and drug shortages in hospitals around PNG.
As such, the work of various organisations to equip youth in shaping civic affairs is paramount.
Education at the grassroots level, along with platforms to communicate the acquired information, provide a bridging factor for youth to spread "sensitisation" during a time when governance is questionable.
Changing mindsets
This can be seen in movements such as the newly homegrown project SKILLZ PNG.
Last month, the Young Women's Christian Association (YWCA) PNG in partnership with adolescent health organisation Grassroots Soccer, launched SKILLZ.
The project uses soccer as a vehicle for at-risk youth "to overcome their greatest health challenges… and be agents for change in their communities".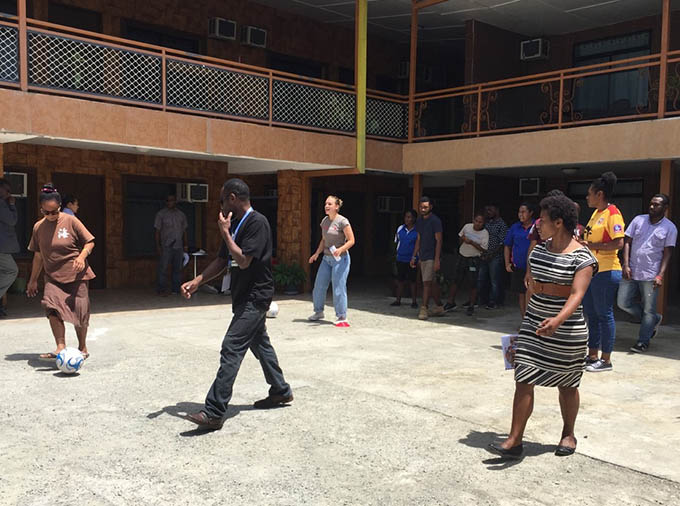 Grassroots Soccer Master trainer Nicole Banister says the project gives participants the platform to express themselves.
"It was incredible for me to see how some of the shyer participants really blossom throughout the training. They really found their voice in terms of facilitating, working with their peers, praise openly and build personal connections across organisations, different sexes, different ages and cultures – all of which are important to build a community in PNG."
For a country like PNG, SKILLZ offers a continuum of care for youth to combat prevalent issues such as gender-based violence.
In addition, it provides a conducive environment for youth to develop a better understanding of PNG's health system and their own health needs.
Training of coaches
Over a period of two weeks, 20 youth participants from varying backgrounds underwent SKILLZ PNG's "training of coaches" workshop.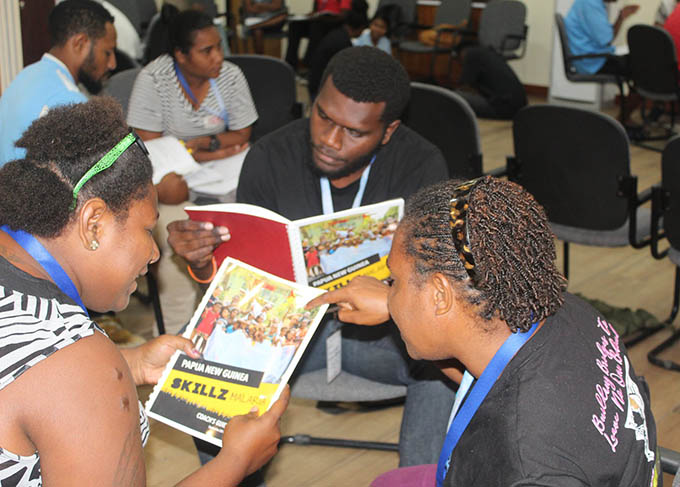 To an outsider, this workshop may seem just any other ordinary event.
It is, in fact, a necessary movement for young Papua New Guineans especially when high levels of violence can provide a sense of "disillusionment",  as stated by The Voice Inc.'s chairperson, Serena Sumanop.
For Joshua Ganeki, a 27-year-old participant, SKILLZ PNG gave him a chance to do something purposeful.
Having graduated from Port Moresby Business College in 2014, he found it difficult to secure employment and thus resorted to doing odd jobs, and then eventually volunteering with YWCA.
His passion for helping young people led him to SKILLZ PNG and prompted a self-reflection on gender expectations.
Rights, responsibilities
"One thing I learnt is our society has gender expectations, especially for women and that is wrong. We need to break these norms and become equal team players and partners in life.
"SKILLZ PNG is trying to make us more aware of our rights, responsibilities as men and women."
For others such as 21-year-old Kevlyne Yosia, the training strengthened her confidence in being an agent of change.
"Back in year 11, my class was having a discussion on politics and a male classmate told me that my place was in the kitchen so I have no place talking about such things. It made me feel bad because I knew other women are told the same thing.
"But it also made me stand my ground that I have a right to voice my opinion, and so do other women," said Yosia.
She added that the training enabled herself and others to realise that support and appreciation for genders is essential in fostering healthy relationships.
Development goals
While projects such as SKILLZ PNG are vital, so are their alignment with the United Nations Sustainable Development Goals (SDG).
For YWCA PNG, its work with Grassroots Soccer has empowered more youth to be SDG champions in a political climate that is self-serving.
SKILLZ PNG's coverage of goals such as "good health and wellbeing", "gender equality" and "partnership for goals" means that more young people will feel empowered and equipped to participate in civic engagements.
Although this project has seen only one group graduate onto becoming coaches in their communities, Grassroots Soccer master trainer Alex Bozwa said: "I'm incredibly optimistic for the work that these people will be doing with other young people."
SKILLZ PNG is currently limited to the capital of Port Moresby but it is a positive step towards leveraging Grassroots Soccer's large success in the African continent, so that youth on a national level can also participate.
In the meantime, hope remains in young people like Kevlyne Yosia.
"I want to see a better PNG, where I can feel safe as a woman."
Pauline Mago-King is a masters student based at Auckland University of Technology and is researching gender-based violence in Papua New Guinea. She compiled this report for the Pacific Media Centre's Asia-Pacific Journalism Studies course.
Twitter: @iamatalau04