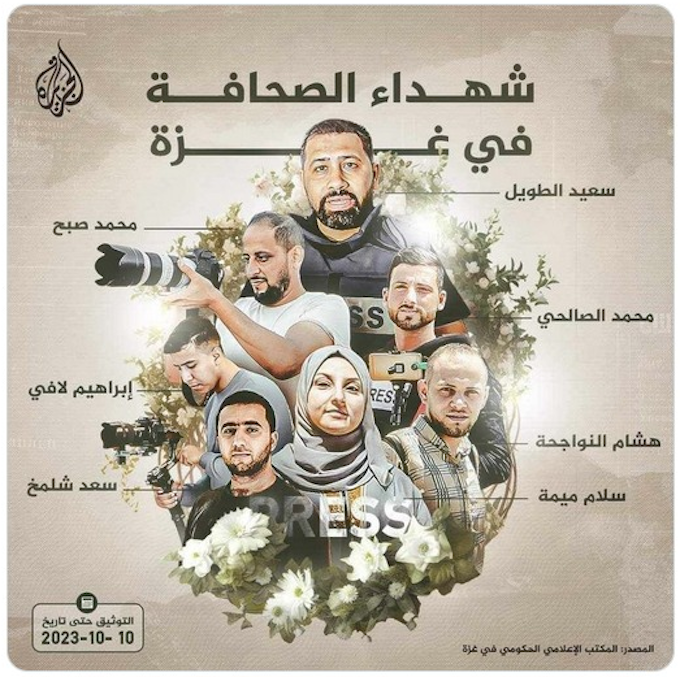 Israeli occupation forces are intentionally targeting Palestinian journalists in the besieged Gaza Strip, media outlets warned after three reporters were killed Tuesday bringing the total number of journalists killed since Saturday to seven, reports Middle East Monitor.
The Government Media Office's Monitoring and Follow-up Unit in Gaza has documented dozens of attacks and crimes against journalists and media outlets.
Israeli attacks have resulted in the killing of seven journalists: Ibrahim Lafi, Muhammad Jarghun, Muhammad Al-Salhi, Asaad Shamlikh, Saeed Al-Taweel, Muhammad Subh Abu Rizq and Hisham Al-Nawajaha.
In addition, "more than 10 journalists have been injured with varying degrees of severity, and they lost contact with two colleagues, Nidal Al-Wahidi and Haitham Abdul-Wahed".
The monitoring unit added that the homes of journalists Rami Al-Sharafi and Basel Khair Al-Din had been targeted and destroyed.
In contrast, the homes of dozens of other journalists were partially damaged.
Furthermore, dozens of media institutions were either completely or partially damaged by Israeli strikes including on Palestine Tower and Al-Watan Tower, with more than 40 media headquarters being affected, the unit reported.
Despite the risks, the government media office emphasised that their journalists will continue their professional role and national duty in covering the events, exposing the crimes of the occupation and debunking its false claims.