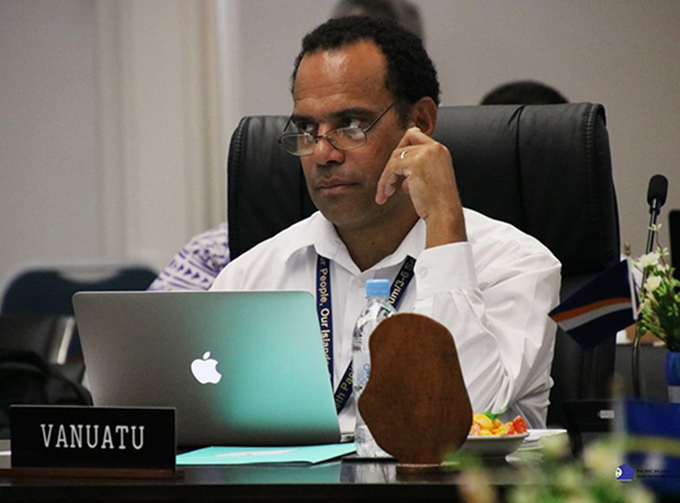 Vanuatu says New Zealand should get on the right side of history and support West Papuan self-determination. However, reports James Halpin of Asia Pacific Journalism, Indonesian diplomacy with its Pacific allies Australia, Fiji and Papua New Guinea are defiantly undermining Pacific "solidarity" on the issue.
Vanuatu's Foreign Minister Ralph Regenvanu has called on New Zealand to get on the right side of history when it comes to West Papua.
Reaffirming Prime Minister Charlot Salwai Tabimasmas' remarks at the UN General Assembly late last month, Regenvanu told Asia Pacific Report that the "people of West Papua have never had the opportunity to exercise their right of self-determination, which is an unalienable right under international law, and they must be given that opportunity".
Vanuatu was one of three countries – four less than in 2016 – whose leaders gave UN strong messages in support of West Papuan self-determination.
READ MORE: Background to the 1969 Act of Free Choice

Independence for Vanuatu was achieved from the co-colonisers France and the United Kingdom in 1980.
West Papua had been a colony of the Dutch New Guinea but was annexed by Indonesia with UN and Western support and a so-called Act of Free Choice in 1969 described by critics as fraudulent. This followed an unsuccessful Indonesian "invasion" by paratroopers in 1962.
Asked why Vanuatu has taken the lead in advocating for West Papua, Regenvanu says:
"We take this position because of our historical solidarity with the people of West Papua – we were once together and the struggles as colonies trying to become independent; we achieved ours and we will not forget our brothers-and-sisters-in-arms who have not got theirs."
Forum failure
For Prime Minister Salwai and Regenvanu, the recent Pacific Islands Forum was a failure at gaining Pacific support for West Papuan self-determination.
"We are disappointed at the position of Papua New Guinea, Fiji and Australia to vocally oppose self-determination for West Papua. We are pleased that most other countries support self-determination, however."
Regenvanu also criticises New Zealand for not following the advice that it gives to Pacific Island countries.
New Zealand should, "actively support with actions on this issue the 'international rules-based order' it is always promoting to PICs".
The Melanesian Spearhead Group, which shares an ethnicity with the people of West Papua, has also failed at achieving solidarity over the issue.
"PNG and Fiji have strong ties to Indonesia and work actively to ensure the MSG does not address the issue."
End colonialism call
Prime Minister Salwai introduced the issue of West Papua to the UN General Assembly this year.

Prime Minister  Charlot Salwai Tabimasmas addressing the UN General Assembly about West Papua. Video: UN
"For half a century now, the international community has been witnessing a gamut of torture, murder, exploitation, sexual violence, arbitrary detention inflicted on the nationals of West Papua perpetrated by Indonesia."
"We also call on our counterparts throughout the world to support the legal right of West Papua to self-determination."
For Prime Minister Salwai, it is an issue of justice and equality for the people of West Papua,
"I would like to get back to the principles in the charter of the United Nations to reaffirm that we believe in the fundamental rights of human beings in dignity and worth of the human person and in equality of rights between men and women and nations large and small."
Prime Minister Salwai has been the flag bearer of West Papuan self-determination. His aim is for West Papua to be placed back onto the decolonisation list under the UN charter.
However, Prime Minister Salwai was supported by two other Pacific leaders, Marshall Islands' President Hilda Heine of the Marshall Islands, and Enele Sopoaga of Tuvalu.
Sopoaga said: "The United Nations must also engage with the people of West Papua to find lasting solutions to their struggles."
Constructive engagement
President Heine staid that Pacific Island countries supported constructive engagement on the issue.
At the 2016 UN General Assembly, seven countries stated their supported for West Papuan self-determination. These were: Vanuatu, Solomon Islands, Nauru, Marshall Islands, Tuvalu, Tonga, Palau.
Decolonisation has become an important part of foreign relations in the Pacific with the New Caledonian independence vote on November 4.
After hundreds of years of European colonisation, the UN has provided a platform for and facilitated the self-determination of indigenous peoples across the world.
The Indonesian delegation denounced Vanuatu at the UN General Assembly just days ago. The Indonesia delegation used the entirety of their second right of reply in the general debate to deplore Vanuatu's support for West Papuan self-determination.
"Although being disguised with flowery human rights concern, Vanuatu's sole intention and action are directly challenging the internationally agreed principles of friendly relations between state, sovereignty and territorial integrity," UN General Assembly Vice-President Muhammad Kalla said on behalf of his country.

UN General Assembly Vice-President Muhammad Kalla giving his speech. Video: UN
He said: "Like any other country, Indonesia will firmly defend its territorial integrity."
The Indonesian representative, Aloysius Taborat, said: "respect for sovereignty and territorial integrity is the cardinal rule in the relation among nations and in the United Nations".
However, critics say Indonesia's handling of West Papua's vote in the 1969 Act of Free Choice "was rigged" so that West Papua would vote to join Indonesia. Therefore, many see hypocrisy in Indonesia's words, including in their reputation over press freedom.
Human rights abuses are a common occurrence in West Papua, according to human rights organisations. Simply raising the West Papuan flag can result in 15-years imprisonment.
James Halpin is a student journalist on the Postgraduate Diploma in Communication Studies course at AUT. He is filing articles in the Asia-Pacific Journalism Studies paper.