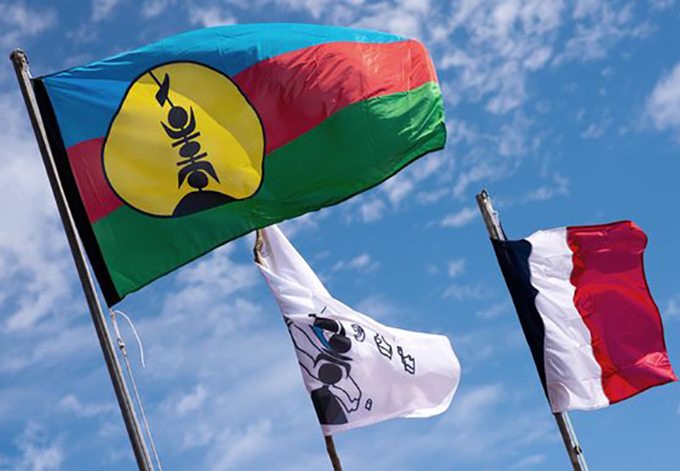 Kanaks and long-time New Caledonian settlers get to vote on their future on November 4. But, as Michael Andrew of Asia Pacific Journalism points out, if Kanaks don't get their wish for independence this time around, they have two more chances in 2020 and 2023 to vote for a new nation.
In Noumea, two main flags fly outside the Territorial Congress building of New Caledonia: the national Tricolore of France and the flag of the Kanak and Socialist National Liberation Front, or FLNKS.
With the long-awaited independence referendum set for just three months away – on November  4 – New Caledonia will have an opportunity to move into the future with the Kanak flag flying solo.
In keeping with the 1998 Noumea accord, the upcoming referendum is part of France's promise to restore political power to the original, indigenous population – the Kanaks.  If the result is no for independence, there will be an opportunity to vote again in 2020 and 2023.
READ MORE: Decolonisation vote looms – what lies ahead?

If the result is yes, the French territory will become a new Pacific country.
According to local woman Delphine Afchain, however, the consequences of such an outcome are causing concern and doubt in some sections of the community.
"The people don't know what will happen," she says. "The politicians haven't exposed to us what will happen if we get independence. It's a bit blurry to us."
Afchain lives in Kone, the provincial seat of the Northern Province of the main island, Grande Terre. Since the 1980s, the north, along with the Loyalty Islands has been administered with relative autonomy by the Kanaks, who elect representatives to the Territorial Congress.
Kanak pride, identity
Although Kanak pride and identity is widespread throughout the province, Afchain says many people have grown accustomed to the perks of French influence.
"Our young people are going to university in France to do studies. And they come back here to get jobs. That's the normal way," she says.
French education is one of several benefits granted Kanaks since the signing of the Noumea accord, and its predecessor, the Matignon accord, in 1988. Under those agreements – established to reduce historical unrest and division – Kanaks have been granted full French citizenship, special land rights, custom identity and access to healthcare and infrastructure in the wealthiest island state in the Pacific.
If the vote for independence succeeds, critics fear some of those  those benefits will be swept away.
Yet some Kanaks believe this is a necessary cost if it means they can have their own country. For these indépendantistes, too much has been sacrificed to falter so close to their goal.
Jaimie Waimo is a Kanak journalist who works for the territorial television channel Caledonia. He explains that although he doesn't know exactly what will happen if independence is achieved, he will still vote "yes" to honour the historical struggles of his people.
"As a Kanak person, I have the duty to follow what has been fought for in the past," he says through a translator. "My choice is there to mark the respect to the dead Kanaks who fought for it."
Hienghene massacre
The grievous deaths of independence campaigners in the 1980s remain a powerful reminder of the true cost of the campaign; in 1984, 10 unarmed Kanak militants were slaughtered by a group of white and mixed-race settlers, or Caldoches, in a premeditated ambush known as the Hienghene massacre.
A few years later, 19 Kanaks were slaughtered on Ouvéa Island after an offensive by the French military to free captured gendarme hostages.
Political leaders have even been assassinated; Jean-Marie Tjibaou, then leader of FLNKS, and his deputy Yeiwene Yeiwene were gunned down in 1989 not long after negotiating the Matignon Accord.
Another Northern resident, Sylvie Brier, likens the conflict during that period to civil war. However, she says much of it was necessary to enact the changes that came with the Matignon and Noumea accords.
"Since the Matignon-Oudinot agreement, there has been the creation of a training plan with funds for improving skills of the Kanak community in many sectors – public administration, business management, and teaching," says Brier.
Working for a Northern-based economic development organisation, she is neither pro nor anti-independence. She belongs to a third group who are in favour of independence but believe the move would be economically unwise at this time.
"I think we don't have enough information about the days after the referendum."
Crucial role
Economics plays a crucial role in the independence debate; New Caledonia is one of the five biggest producers of nickel in the world. Currently, five mines operate throughout the territory with the total output accounting for more than 80 percent of all export commodities and almost 10 percent of the GDP.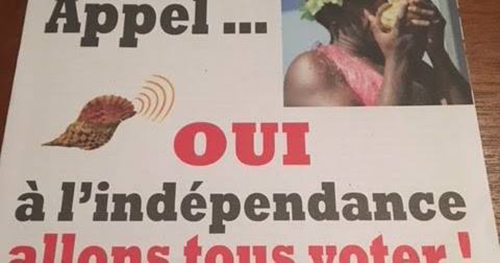 While pro-independence parties would like to use such wealth for the new country's benefit, some Kanaks are wary about doing this without the technology, investment and expertise provided by France.
The loss of French financial support in general concerns all parties involved in the independence debate.
For fourth generation Caldoches Stephane Nea and Cheryl Young, this is the main reason they will be voting "no". They say that although they don't have much allegiance to France and are proud to be from New Caledonia, the ramifications of independence are too unpredictable.
"No one has told us how they will replace the money France gives every year," they say through a translator.
"We're scared of the future."
This uncertainty is reflected in the latest opinion polls. Conducted in late April through I-Scope, the results show a "no" vote is likely with 22.5 percent for independence against 59.7 percent opposed and 17.8 percent undecided.
Peace outcome
However, according to academic and journalist Dr Lee Duffield, a research associate of the Pacific Media Centre and who visited New Caledonia last month, this result will not silence many indépendantistes.
"If it's no, it's the peaceful outcome of continuity but it doesn't solve the problem of the Kanak spiritual feeling," he says.
"They haven't got their own country. They can't take an equal place in the Melanesian world as a free sovereign state.
"Also they're very dissatisfied that they're poorer than the French."
With another referendum set for 2020 and many of these issues unlikely to be resolved by then, the quest for a sovereign country under one flag is certain to go on.
"They've got that burning fire," says Dr Duffield.
"It's in the hearts and in the passion."
Michael Andrew is a student journalist on the Postgraduate Diploma in Communication Studies (Journalism) reporting on the Asia-Pacific Journalism course at AUT University.