The trailer for Banabans of Rabi on the Pacific Media Centre YouTube page.
By Rahul Bhattarai in Auckland
Banabans of Rabi – A story of Survival, a short documentary film by the two Auckland University of Technology media students, has been premiered in the fourth Nuku'alofa International Film Festival that took place in Tonga this week.
This short documentary is a story about the people who have been first affected by the phosphate mining on their original home island of Banaba and now by climate change on their adopted island of Rabi.
The British Phosphate Commission forceful displaced them from Banaba during World War Two.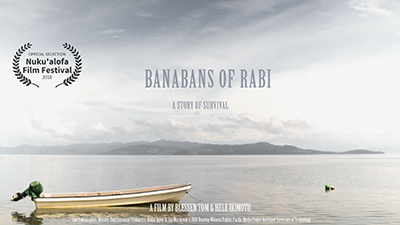 READ MORE: Life on Fiji's Rabi Island – simple, peaceful and full of smiles
Since 1945 after they first settled into their new home – Rabi, a remote northern island in Fiji – they are faced with a second and the most threatening man-made global problem, climate change.
Tom Corrie, one of the residents who had left Rabi as a young man and later returned, says Rabi has changed.
"The part of my history has been taken away from me, part of my livelihood, my enjoyment my pleasures have gone," he says in the documentary, pointing at his former playground that now has now been engulfed by the rising tides.
"We are the most effected by climate change," he says.
In solidarity
"People in Rabi and their struggle with climate change, they're not the cause of this but unfortunately they [have] had to face the consequences," says co-director Blessen Tom.
"I wanted the world to know about their struggle and wanted to let them know that they're not alone in this," says Tom.
The film was a part of the Pacific Media Centre's Bearing Witness climate change project, which was initiated by director Professor David Robie in 2016.
It has been made possible by collective support from the partners, University of South Pacific Journalism, the Pacific Centre for the Environment and Sustainable Development (PaCE-SD) and AUT's Te Ara Motuhenga documentary collective with senior and documentary maker Jim Marbrook.
Film makers Hele Ikimotu and Blessen Tom travelled to Tonga with the assistance of a funding grant from AUT's School of Communication Studies.