The trailer for Hele Ikimotu and Blessen Tom's short Bearing Witness documentary. Video: Banabans of Rabi
Pacific Media Watch Newsdesk
A short documentary, Banabans of Rabi – A Story of Survival, by Hele Ikimotu and Blessen Tom of Auckland University of Technology's Pacific Media Centre, has been selected for the 2018 Nuku'alofa Film Festival in Tonga next month.
This is a film produced out of the three-year-old Bearing Witness climate change project, a research and publication collaboration between the PMC and its documentary partner Te Ara Motuhenga, and the Pacific Centre for Environment-Sustainable Development (PaCE-SD) and the Regional Journalism Programme at the University of the South Pacific.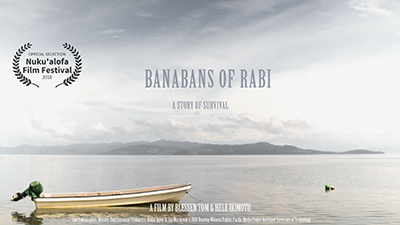 According to the filmmakers: "During the Second World War, the inhabitants of the island of Banaba were forcibly displaced to Rabi Island in Fiji due to phosphate mining by the British Phosphate Commission.
"The island of Banaba was decimated and the Banabans had to start afresh in Rabi. The documentary follows the people in Rabi and sheds light into the problems that they face now, especially with climate change."
Film maker Blessen Tom said on the documentary's Facebook page: "It's an amazing news for all of us. The festival will be the first time the full documentary is screened in public.
"Super excited for the Pacific screening. If you're in Tonga on November 22-23, be sure to visit us."
Documentary maker and senior lecturer Jim Marbrook said: "This is great and it's a very cool first step," adding that plans should be made for other film festival entries.
Pacific Media Centre director Professor David Robie said: "This is a tremendous achievement for starters and a reward for the really hard work that Blessen and Hele have put into making this quality and inspirational doco."