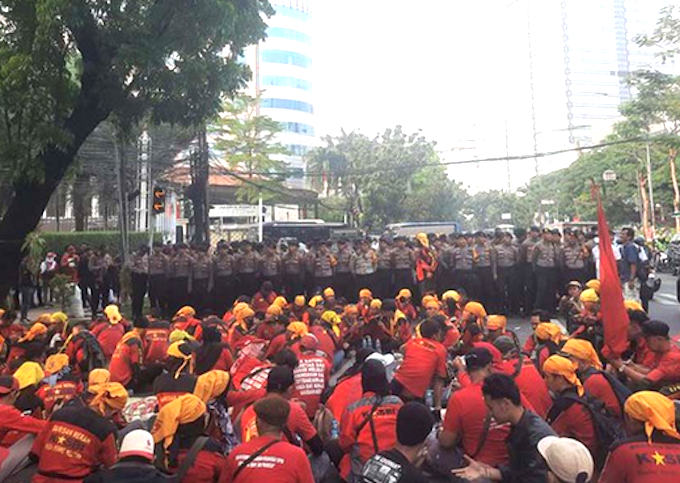 By Novianti Setuningsih in Jakarta
Many labour organisations have protested in front of the US Embassy in Central Jakarta, calling for an end to the Hamas-Israeli war — as protests in their tens of thousands have spread across the world.
The workers gathered across the street from the US Embassy with a command vehicle being used to give speeches.
Protesters could be seen putting up large banners with the message "Stop the Palestine-Israeli war".
"Today, the Labour Party and the KSPI (Confederation of Indonesian Trade Unions) are holding an action in front of the United States Embassy and later it will be continued at the United Nations offices in the context of calling for an end to the Palestine and Israeli war", Labour Party president Said Iqbal told the protesters.
Iqbal said they were asking US President Joe Biden not to send troops to Israel.
They gave speeches in front of the US Embassy so that the message they are conveying is immediately implemented by the UN General Assembly and the UN Security Council.
"The Labour Party and trade unions in Indonesia reject the presence of American troops entering Israel, and the American aircraft carrier that has already entered the Mediterranean," said Iqbal.
Heavy death toll
A heavy police presence was deployed around the event and the officers redirected traffic when it became too congested.
The Israel-Hamas conflict has been heating up since Saturday, October 7, when Hamas attacked Israel and since then the Israeli Defence Forces have been bombing the Gaza Strip enclave.
From Ireland to South Africa and from the U.S. to Pakistan, tens of thousands of people all around the world are taking to the streets to demand an end to Israel's attacks on occupied Gaza. pic.twitter.com/CKlNMVWXlT

— AJ+ (@ajplus) October 14, 2023
At least 2215 Palestinians have been killed and 8714 wounded in Israeli air attacks on Gaza in the past week,
reports Al Jazeera
.
The dead include more than 700 Palestinian children.
In the occupied West Bank, more than 50 Palestinians have been
killed
by Israeli fire in a matter of days.
In Israel, the death toll stands at some 1300 killed and more than 3400 wounded since last weekend's attack by Hamas.
Translated by James Balowski for IndoLeft News. The original title of the article was "Buruh Demo di Depan Kedubes AS, Serukan Hentikan Perang Hamas-Israel".