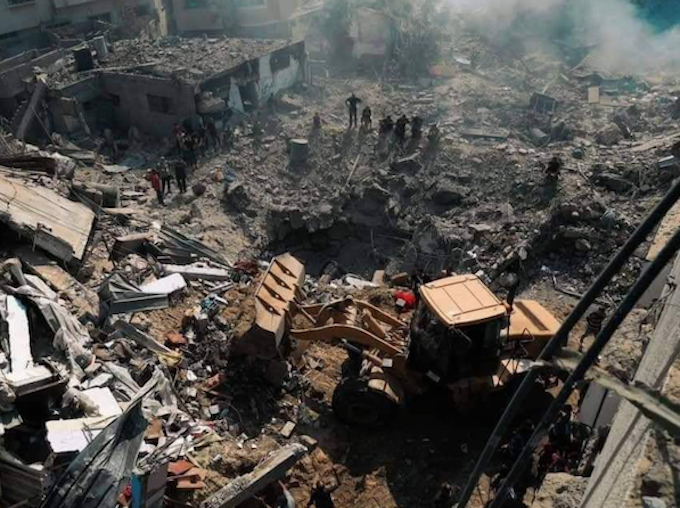 ANALYSIS: By Alexander Gillespie, University of Waikato
It was perhaps inevitable that the shock Hamas attack on Israel would become a minor election sideshow in New Zealand. Less than a week from the Aotearoa New Zealand polls, a crisis in the Middle East offered opposition parties a brief chance to criticise the foreign minister's initial reaction.
But if it was a fleeting and fairly trivial moment in the heat of a campaign, the crisis itself is far from it — and it will test the foreign policy positions of whichever parties manage to form a government after Saturday.
It can be tempting to see the latest eruption of violence in Gaza and Israel as somehow "normal", given the history of the region. But this is far from normal.
What appear to be intentional war crimes and crimes against humanity, involving the use of terror against citizens and guests of Israel, will provoke what will probably be an unprecedented response.
Israel's declaration of war and formation of an emergency war cabinet — backed by threats to "wipe this thing called Hamas off the face of the Earth" — were the start.
The bombardment and "complete siege" of Gaza, and preparation for a possible ground invasion, have catastrophic potential.
Hundreds of thousands may be forced towards Egypt or into the Mediterranean, with the fate of the hostages held by Hamas looking dire. Israel has now said there will be no humanitarian aid until the hostages are free.
There is a risk the war will spread over Israel's northern border with Lebanon, with Hezbollah (backed by Iran) now involved.
US President Joe Biden's warning to Iran to "be careful", and the deployment of a US carrier fleet to the Eastern Mediterranean, only ups the ante.
"The number of bombs that Israel has dropped on the Gaza Strip in the last six days is equal to the number of bombs that America has dropped in Afghanistan in a year."

– The Washington Post pic.twitter.com/0CiXPZKL1u

— PALESTINE ONLINE 🇵🇸 (@OnlinePalEng) October 13, 2023
Rules of war
Given the suspension of some commercial flights to and from Israel, New Zealand's most meaningful first response has been practical: arranging a special flight from Tel Aviv for citizens and Pacific Islanders, and their families, currently in Israel or the Palestinian territories who wish to leave.
Beyond these immediate concerns, however, the world is divided. Outrage in the West is matched by support in Arab countries for Palestinian "resistance". Despite US efforts to get a global consensus condemning the attack, the United Nations Security Council could not agree on a unified statement.
With no global consensus, New Zealand can do little more than assert and defend the established rules-based international order. This includes stating clearly that international humanitarian law and the rules of war are universal and must be applied impartially.
That's akin to New Zealand's position on the Russian invasion of Ukraine: the rules of war apply to all, both state and non-state forces (irrespective of whether those parties agree to them). War crimes are to be investigated, with accountability and consequences applied through the relevant international bodies.
This applies to crimes of terror, murder, hostage-taking and indiscriminate rocket attacks carried out by Hamas. But the government needs also to emphasise that war crimes do not justify further retaliatory war crimes.
Specifically, unless civilians take a direct part in the conflict, the distinction between them and combatants must be observed. Military action should be proportionate, with all feasible precautions taken to minimise incidental loss of civilian life.
International law prohibits collective punishments, and access for humanitarian relief should be permitted. To hold an entire population captive – as a siege of Gaza involves – for the crimes of a military organisation is not acceptable.
UNICEF: 447 Palestinian children have been killed in Gaza, there are reports that this number has already risen. #GazaUnderAttack pic.twitter.com/a2SNVqgOJg

— PALESTINE ONLINE 🇵🇸 (@OnlinePalEng) October 13, 2023
The two-state solution
It is also important that New Zealand carefully considers definitions of terrorism and legitimate force. Terrorists do not enjoy the political and legal legitimacy afforded by international law.
Unlike other members of the Five Eyes security network, New Zealand designates only the military wing of Hamas, not its political wing, as a prohibited "terrorist entity" under the Terrorism Suppression Act.
Whether this distinction is anything more than a fiction needs to be reviewed. If this were to change, it would mean the financing, participation in or recruitment to any branch of Hamas would be illegal. This might have implications for any future peace process, should Hamas be involved.
At some point, most people surely hope, the cycle of violence will end. The likeliest route to that will be the so-called "two-state solution", requiring security guarantees for Israel, negotiated land swaps and careful management of Jerusalem's holy sites.
New Zealand has long supported this initiative, despite its apparent diplomatic near-death status. An emergency meeting of the Arab League in Cairo this week urged Israel to resume talks to establish a viable Palestinian state, and China has also reiterated support such a solution.
New Zealand cannot stay silent when extreme, indiscriminate violence is committed by any group or nation. But joining any movement of like-minded nations to continue pushing for the two-state solution is still its best long-term strategy.

Dr Alexander Gillespie is professor of law, University of Waikato. This article is republished from The Conversation under a Creative Commons licence. Read the original article.