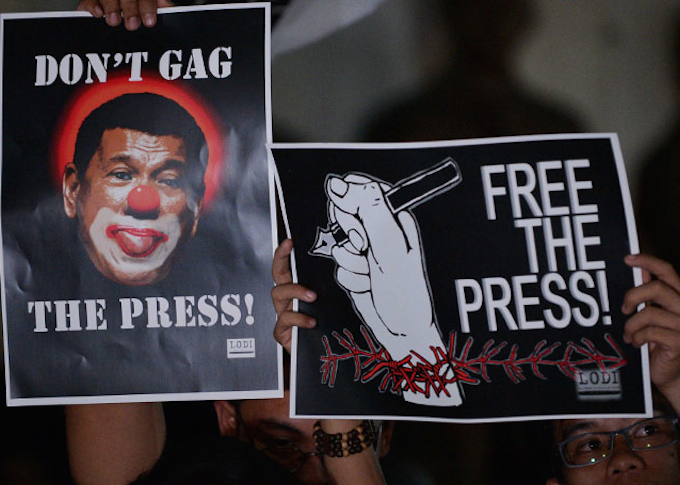 Pacific Media Watch Newsdesk
Kodao Productions, a Philippine alternative news website, is still down after being the target of a cyber-attack six days ago and Reporters Without Borders (RSF) has condemned this new assault on media freedom in the Philippines.
The Paris-based media freedom watchdog is worried about this latest blow to media freedom, which comes against a backdrop of government hostility towards critical media outlets, including Catholic Church radio stations.
"Site currently not available" was the error message seen when trying to access the Kodao website.
READ MORE: UN critics join global outrage over Duterte's Rappler 'free press' attack
But Pacific Media Watch reports that Kodao Productions now has a "defend press freedom" message posted on the page while the website's news coverage still cannot be accessed.
As a result of a cyber-attack consisting of a malicious code injection at around midnight on February 1, the site is no longer able to post new content and readers cannot access past content.
The attack has come amid mounting tension between allies of President Rodrigo Duterte and media outlets of various ideological tendencies whose common feature is a readiness to criticise the quick-tempered president's policies.
54 radio stations at risk
Concern is growing about the fate of Catholic Media Network, a nationwide network of 54 Catholic Church-run radio stations whose 25-year licence expired on 4 August 2017.
The licence renewal application was submitted on 24 January 2017 but has been blocked ever since in the House of Representatives, where it has yet to be put on the agenda of the relevant committee.
The Catholic Bishops' Conference of the Philippines, which runs the network, now fears that the 54 radio stations could be shut down at any time.
"We urge Philippine parliamentarians to address the Catholic Media Network application so that this licence can finally be renewed," said Daniel Bastard, head of RSF's Asia-Pacific desk.
"It should be a mere formality, nothing more than a stamp on a four-page document. Given the Catholic Church's criticism of the Duterte administration, this refusal to renew clearly seems to be politically motivated," he said.
"Meanwhile, as Kodao is well known for its uncompromising criticism of the authorities, its suspension also has all the hallmarks of a reprisal against the free press."
'Dutertards'
The cyber-attack on Kodao could have been the work of President Duterte's army of trolls, also known as "Dutertards". According to a recent University of Oxford study, the president spent $200,000 on recruiting them.
Founded in 2000, Kodao Productions is known for its coverage of human rights, the environment and the decades-old, on-off peace talks between successive governments and the Maoist left.
Catholic Media Network, for its part, has often referred to the extrajudicial killings linked to the "war on drugs" waged by Duterte, which has already had an estimated death toll of more than 7000, according to Philippine media freedom monitoring groups.
On January 15, a government spokesman announced the withdrawal of the licence of Rappler, the country's leading news website, which has appealed against the decision.
RSF referred the licence withdrawal to the United Nations, which responded 10 days later by expressing deep concern about this violation of media freedom.
The National Union of Journalists of the Philippines is now organising regular "Black Friday" demonstrations in support of media outlets that have been the victims of government hostility.
The Philippines is ranked 127th out of 180 countries in RSF's 2017 World Press Freedom Index.