Rappler's CEO and executive editor Maria Ressa says that the Philippine government spends a lot of effort to turn journalism into a crime which shouldn't be the case. Video: Rappler
BACKGROUNDER: By David Robie
Three United Nations special rapporteurs have added their voice to the global protests this week over the President Rodrigo Durterte government bureaucracy's attack on the independent online news website Rappler and a free press in the Philippines.
Rappler has been the latest media target for the administration's wrath over a tenacious public interest watchdog that has been relentless in its coverage of the republic's so-called "war on drugs" and state disinformation.
Some media freedom advocates claim that the Philippines is facing its worst free expression and security crisis since the Marcos dictatorship, with The New York Times denouncing the "ruthlessness" and "viciousness" of Duterte's disdain for democracy.
The death toll in the extrajudicial spate of killings range between 3993 (official) and more than 12,000 since Duterte took office on June 30, 2016, according to Human Rights Watch.
READ MORE: Licence to kill – Philippine police killings in Duterte's 'war on drugs'
Headlined "After killing spree, is a free press Mr Duterte's next victim?", the NY Times editorial said: "Even among that cast of illiberal leaders who rouse mobs with their ruthless policies and disdain for democratic protections, President Rodrigo Duterte of the Philippines stands out for his viciousness.
"He has effectively declared open season on those he and his minions accuse of being drug users and dealers … Exposing such brazen abuse of power is a hallowed mission of a free press, so it should come as no surprise that authoritarians like Mr Duterte usually go after independent media."
The NY Times described Rappler as a "tenacious critic of the President's vicious crackdown" and this had led to the government announcing on January 15 it was revoking the online news site's licence.
No hard evidence
Media freedom watchdogs say the Philippine Securities and Exchange Commission (SEC) has produced no hard evidence to support its "foreign ownership" in breach of the constitution accusations against Rappler and the company that owns it, Rappler Holding Corp. Rappler is challenging this SEC ruling through the courts.
Philippine Ambassador to the US Jose Manuel "Babe" Romualdez denied any "political motivation" behind the SEC ruling on Rappler.
In a letter to the editor published by The NY Times on January 24 in response to the editorial, Romualdez described SEC chairperson Teresita Herbosa as "a person of unimpeachable character".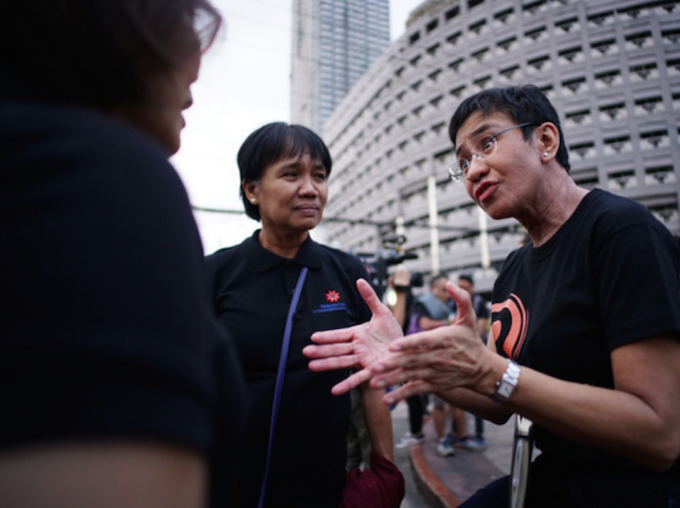 Rappler and many supporting news groups staged "Black Friday" demonstrations across the Philippines on January 19 when chief executive Maria Ressa declared her organisation would " hold the line" on press freedom, insisting journalism was "not a crime".
"We're doing journalism. We're speaking truth to power. We're not afraid and we won't be intimidated," she said.
Ressa has joined a group of courageous, outspoken and defiant women opposed to Duterte who are "being marginalised, silenced, or worse", according to The Diplomat.
They include Vice-President Leni Robredo (effectively gagged and whose office will be eliminated under Duterte's controversial "federalism" plans) and Senator Leila De Lima, a human rights advocate (jailed for the past year on trumped up charges that have yet to be tried in court).
Highly successful and innovative website
Ressa founded Rappler in 2011, originally on Facebook (now 3.6 million followers), after being CNN's leading Asia investigative journalist for several years. It has been a highly successful and innovative online and "citizen journalism" website, with an Indonesian edition and the slogan "independent journalism with impact".

Rappler currently faces a "cyber libel" complaint that is seen as highly dangerous for the media.
Duterte has also threatened to block renewal of ABS-CBN's franchise – the largest and most influential television network in the Philippines and publicly criticised the Philippines Daily Inquirer for its alleged "slanted reporting". (A Duterte crony, San Miguel beer baron Ramon Ang, then seized a majority ownership stake in the company).
University of the Philippines journalism professor Daniel Arao said the President's criticism echoed the martial law era, when then dictator Ferdinand Marcos ordered the shutdown of media outlets that were critical of his regime.
"The Duterte administration is being creative in terms of harassing and intimidating the media, but there is also the brutality, the bullying and the crassness," Dr Arao said.
"Right now, he might even end up worse than Marcos."
Other media freedom advocates have also warned that the Philippines is sliding into its "darkest chapter" of Philippine history between 1972 and 1986.
'Flagrant' violation
Describing the government's stance as a "flagrant" violation of press freedom, the Paris-based Reporters Without Borders watchdog announced it had asked the United Nations, UNESCO and the Association of Southeast Asian Nations (ASEAN) to take a stand.
"The decision to close Rappler is fraught with danger, hence the urgency of referring it to these international bodies," RSF deputy director-general Antoine Bernard said. "We are very concerned about the safety of its journalists and the protection of their sources, especially as Rappler is well known for the quality of its investigative reporting."
The watchdog's Asia-Pacific director Daniel Bastard added: "For more than a year, Duterte's notorious troll army has been spreading the rumour that Rappler is 100 percent foreign-owned."
In a joint statement on Thursday, the three UN special rapporteurs said they were "gravely concerned" about the government moves to revoke Rappler's licence.
"Rappler's work rests on its own freedom to impart information, and more importantly its vast readership to have access to public interest reporting," said the rapporteurs.
"As a matter of human rights law, there is no basis to block it from operating. Rappler and other independent outlets need particular protection because of the essential role they play in ensuring robust public debate."
The rapporteurs are: David Kaye (Special Rapporteur on the promotion and protection of the right to freedom of opinion and expression), Agnes Callamard (Special Rapporteur on extrajudicial, summary or arbitrary executions), and Michael Forst (Special Rapporteur on the situation of human rights defenders).
'Dangerous, risk of murder'
Writing in The Diplomat, University of Portsmouth academic Dr Tom Smith warned that journalism in the Philippines "has long been a dangerous trade, one that carries a very real risk of murder with little likelihood of accountability".
He reminded readers of the 2009 Maguindanao massacre when 58 people, including 32 journalists, were "hacked to death, allegedly by members of the Ampatuan clan". There had been no justice so far for the victims so far in a flawed prosecution case that has crawled over the past decade.
"Yet it is vitally important that Filipinos have a robust critical press to question a government up to its neck in human rights abuses."
This is why so many people are concerned for the future in the Philippines with the news that Duterte's administration is trying to ban Rappler.
Dr David Robie is editor of Asia Pacific Report, published by the Pacific Media Centre.