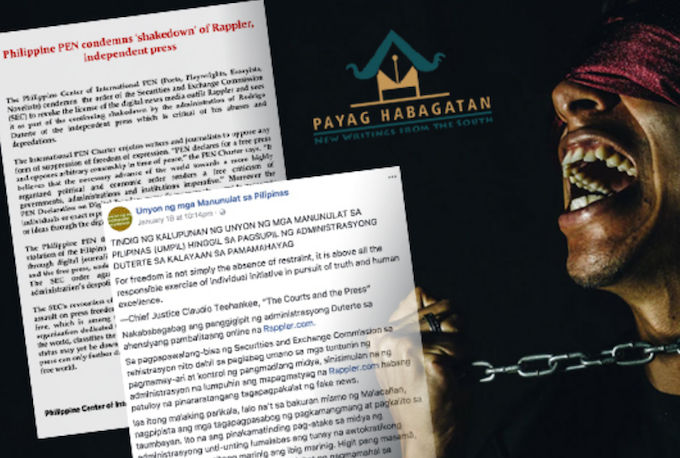 By Jee Y. Geronimo in Manila
After the Securities and Exchange Commission's (SEC) decision to revoke Rappler's licence to operate in a blow to press freedom in the Philippines last week, several literary writers groups have expressed their support for press freedom.
On January 18 – 3 days after the decision was made public – the Unyon ng Mga Manunulat sa Pilipinas (UMPIL) described the move to revoke Rappler's licence as the "worst attack on the media" by the Duterte administration.
"Ito na ang pinakamatinding pag-atake sa midya ng administrasyong unti-unting lumalabas ang tunay na awtokratikong kulay. Ibig lámang nitong marinig ang ibig marinig. Higit pang masamâ, ibig din nitong matakot at tumiklop ang lahat ng nagmamahal sa demokrasya," UMPIL said in a statement posted on their Facebook page.
(This is the worst attack on media by an administration whose true, autocratic colors are slowly showing. It only wants to hear what it wants to hear. What's worse, it also wants everyone who loves democracy to be afraid and to back down.)
READ MORE: Stand with Rappler for media freedom
According to the SEC, Rappler is violating the Constitution because of a clause in its Philippine Depositary Receipt (PDR) contract with Omidyar Network that allegedly gives it control over the company, a claim denied by Rappler.
The Constitution says that media companies should be 100 percent Filipino-owned.
Rappler has said it is 100 percent Filipino-owned and that it has not given nor sold control to Omidyar. The media company will appeal the decision before the courts.
Solidarity against harassment
UMPIL expressed solidarity with journalists and agencies that experience different forms of harassment. It also considers defending press freedom as its sacred duty.
"Hindi ito oras ng pananahimik. Hindi kailanman mananahimik at matatahimik ang Unyon ng mga Manunulat sa Pilipinas sa ganitong kalakaran. Naninindigan ang UMPIL para sa kabanalan ng karapatan sa pamamahayag, at sa pagtatanggol sa halaga ng pangmadlang midya bílang ikaapat na estado ng isang demokratikong lipunan," they added.
(This is not the time to be silent. The Unyon ng mga Manunulat sa Pilipinas will never be silent. UMPIL stands for freedom of the press, and for defending the value of mass media as the 4th estate in a democratic society.)
UMPIL also urged all writers and those who champion the arts to not stay silent and to oppose the suppression of press freedom.
'Time to speak truth to power'
The Philippine Center of International PEN (Poets, Playwrights, Essayists, Novelists) also condemned the SEC's decision, saying it sees the revocation of Rappler's licence as "part of the continuing shakedown by the administration of Rodrigo Duterte of the independent press which is critical of his abuses and depredations".
In a statement this week, the group called the decision "another assault on press freedom," adding that it violates Filipinos' right "to seek and receive information and opinion through digital journalism".
'Intolerance of dissent'
"The Duterte government, by targeting Rappler and the free press, undermines the universal right to freedom of expression. The SEC order against Rappler betrays once more the Duterte administration's despotism and its intolerance of dissent and contrary views," the Philippine PEN added.
More recently, several writers from southern Philippines wanted to "dispel the notion that all writers from the South, particularly Mindanao, support the Duterte regime" by encouraging people to "rally against those who seek to impede the pursuit of truth and justice."
"In the guise of citing the 'unconstitutionality' of Rappler's issuance of Philippine Depositary Receipts (PDRs) – which are legal financial instruments likewise issued by other media companies – fascist enablers seek to silence those who criticise Duterte and his policies, further upholding political hegemony," at least 53 writers said in a statement posted on the literary website Payag Habagatan.
They added: "Let us all stand as one: when freedom falls to tyranny, when truth is twisted to be a tool for political hegemony, when democracy crumbles under complicity, this is the time to speak truth to power. This is the time to unite against the subversion of the common good."
Jee Y. Geronimo is a journalist writing for Rappler.