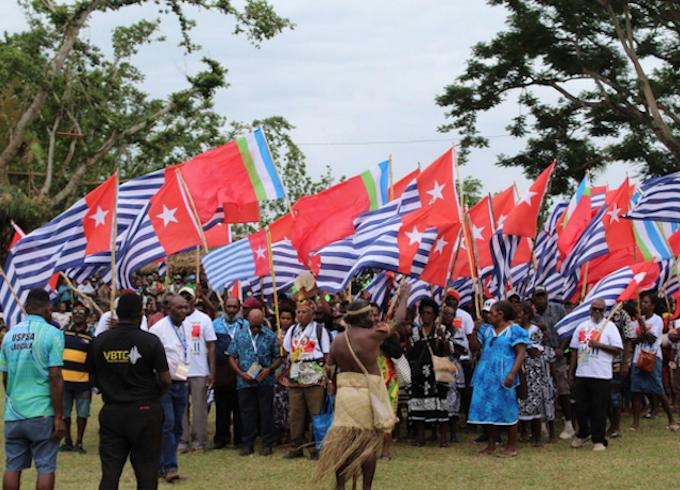 By Kelvin Anthony, RNZ Pacific lead digital and social media journalist
The Pacific region's focus will shift briefly to Port Vila next week when Vanuatu hosts the heads of governments from Fiji, Papua New Guinea, Solomon Islands and the leader of the FLNKS (Kanak and Socialist National Liberation Front) of New Caledonia for the 22nd Melanesian Spearhead Group Leaders' Summit.
The regional sub-group had met on the sidelines of the Pacific Islands Forum leaders' meeting in July last year for the handover of the chair's role from PNG to Vanuatu.
But next week will be its first full meeting since the leaders last gathered pre-covid in Port Moresby in February 2018.
The theme for this year's meet is "MSG, Being Relevant and Influential". It will be 15 years since Vanuatu last hosted the Leaders' Summit, which is the pre-eminent decision-making body of the MSG.
It is a group fundamentally established 35 years ago to represent and advance the interests of Melanesia and its people.
While the agenda for the meeting is yet to be released by the chair, one issue guaranteed to be on the table is West Papua full membership.
Momentum never stronger
The Leaders' Summit has for the past decade dabbled with the issue of indigenous Papuan calls for the United Liberation Movement for West Papua (ULMWP) to become a full member of the MSG.
But the momentum for that to happen seems to have never been stronger.
In 2018, the MSG leaders' approved the application by the ULMWP for full membership and referred it to the MSG Secretariat "for processing" under its new membership guidelines.
This week, Vanuatu's Prime Minister Alatoi Ishmael Kalsakau confirmed to RNZ Pacific that as the chair, Vanuatu would "appeal to the open mindedness of the MSG" concerning the atrocities in West Papua, adding that "hopefully it will go alright".
"It will be a two-day meeting where we can discuss issues of concern among the Melanesian family and come up with resolutions that will be able to assist us in maintaining and sustaining our membership as a group," Kalsakau said.
West Papua for full member of Melanesia Spearhead Group MSG. pic.twitter.com/vS3dlJfxvD

— Benny Wenda (@BennyWenda) August 15, 2023

'In Melanesia's hands'
Fiji Prime Minister Sitiveni Rabuka caused a stir in February when he met ULMWP's leader Benny Wenda in Suva on the margins of a special session of the Pacific Islands Forum.
Rabuka, wearing an independence flag Morning Star-branded bilum, became the first Fiji prime minister in 16 years to meet with Wenda for a one-on-one meeting, and assured his government's backing of the ULMWP bid to become a full member of the MSG, subject to "sovereignty issues".
"We will support them because they are Melanesians," he said.
Papua New Guinea, on the other hand, intends to continue building its relations with Indonesia, a MSG associate member.
Prime Minister James Marape believes Indonesia's control over Papua must be respected.
"We do not want to offset the balance and tempo," Marape said.
Decisions made at the MSG are by consensus of all the leaders. If they do not agree on any issue, they must continue to dialogue until they arrive at a decision.
This means Fiji, Papua New Guinea, Solomon Islands, Vanuatu and the FLNKS of New Caledonia will all need to agree that ULMWP can become a full member.
Pacific churches and civil society groups continue to campaign and call for MSG leaders to back the Free West Papua Movement's bid.
Wenda was present at the 7th Melanesian Festival of Arts and Culture — MGS's flagship event — last month to further lobby for support.
According to one West Papuan academic, the absence of "Indonesian flags or cultural symbols" at MACFEST "spoke volumes of the essence and characteristics of what constitutes Melanesian cultures and values".
"The Melanesian people must decide whether we are sufficiently united to support our brothers and sisters in West Papua, or whether our respective cultures are too diverse to be able to resist the charms offered by outsiders to look the other way," writes Yamin Kogoya, who is from the Lani tribe in the Papuan highlands.
However, Wenda is under no illusions that for indigenous Papuans to be accepted into the Melanesian family: "The issue now is in Melanesia's hands."
The Leaders' Summit will take place on August 23 and 24, and be preceeded by a senior officials meeting on Saturday and a foreign ministers meeting on Monday.
This article is republished under a community partnership agreement with RNZ.