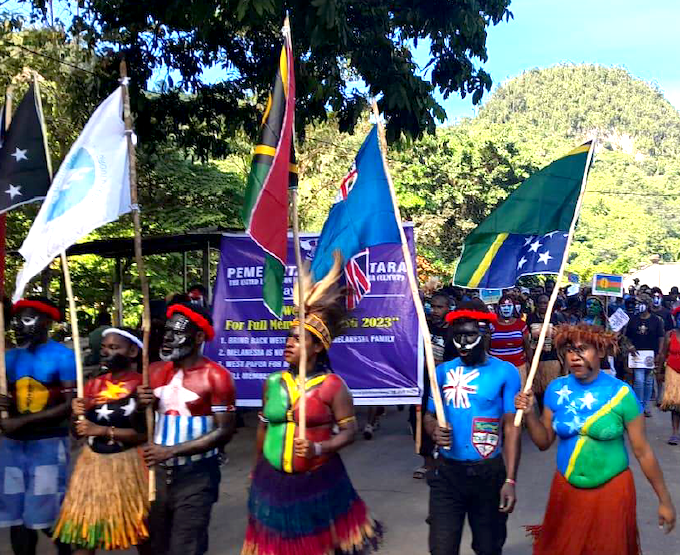 Papuan people throughout the territory of West Papua have held huge demonstrations of support for full membership of the United Liberation Movement for West Papua (ULMWP) in the Melanesian Spearhead Group (MSG).
Delighted with the response but disappointed with the delay, organisers appealed to supporters to "keep going" with the solidarity.
The national action was scheduled to be held simultaneously throughout West Papua's territory in seven provincial regions.
The MSG leaders summit was supposed to have opened on Monday but has now been postponed until August with the actual dates not yet decided.
In the highlands town of Wamena yesterday, thousands of people from the Laa-Pago Region thronged the municipality wearing traditional clothes and decorating their bodies with patterns of the Morning Star — Papua's flag banned by Indonesia — and the five flags of the permanent members of the MSG — Fiji, Kanaky (FLNKS), Papua New Guinea, Solomon Islands and Vanuatu.
Other actions supporting the same MSG membership agenda were also staged in Jayapura City — outsid the residence of the chair of the West Papua Council, Buchtar Tabuni, at Kamwolker.
There were also solidarity demonstrations throughout West Papua, including in the Yapen Islands, Sorong, Manokwari, Merauke, Timika, Kaimana, Paniai, Biak, Serui, Merauke and several other regencies.
The ULMWP solidarity groups also delivered a four-point statement:
The United Liberation Movement for West Papua (ULMWP) is a political organisation that legally represents the political aspirations of the Papuan people in an effort to fight for the right to self-determination for the people and nation of Papua in the western part of the island of New Guinea to gain independence and sovereignty from foreign colonialism.
We the people of West Papua declare that we fully support the ULMWP to become a full member of the Melanesian Spearhead Group (MSG) as the official representation of West Papua from Sorong-Merauke;
We the people of the West Papua firmly declare that the colonial existence of the Republic of Indonesia (NKRI) in the MSG does not represent the people and nation of Papua from Sorong-Merauke; and
We fully declare our support and recognition of the ULMWP, referred to as the West Papua Provisional Government, attending the MSG Leader Summit (KTT-MSG) or MSG Leader Summit in Port Vila, Vanuatu, representing the people and nation of Papua from Sorong-Merauke.