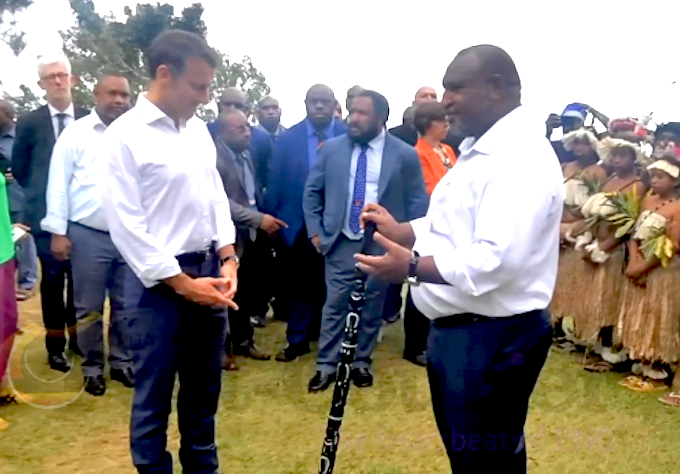 ANALYSIS: By Ravindra Singh Prasad
In a historic first visit to an independent Pacific state by a sitting French president, President Emmanuel Macron has denounced a "new imperialism" in the region during a stop in Vanuatu, warning of a threat to the sovereignty of smaller states.
But, earlier, during a two-day stop in France's colonial outpost, Kanaky New Caledonia, he refused to entertain demands by indigenous Kanak leaders to hold a new referendum on independence.
"There is in the Indo-Pacific and particularly in Oceania a new imperialism appearing, and a power logic that is threatening the sovereignty of several states — the smallest, often the most fragile," he said in a speech in the Vanuatu capital Port Vila on July 27.
"Our Indo-Pacific strategy is above all to defend through partnerships the independence and sovereignty of all states in the region that are ready to work with us," he added, conveniently ignoring the fact that France still has "colonies" in the Pacific (Oceania) that they refuse to let go.
Some 1.6 million French citizens live across seven overseas territories (colonies), including New Caledonia, French Polynesia (Tahiti), and the smaller Pacific atolls of Wallis and Futuna.
This gives them an exclusive economic zone spanning nine million sq km.
Macron uses this fact to claim that France is part of the region even though his country is more than 16,000 km from New Caledonia and Tahiti.
An 'alternative' offer
As the US and its allies seek to counter China's growing influence in the region, France offered an "alternative", claiming they have plans for expanded aid and development to confront natural catastrophes.
The French annexed New Caledonia in 1853, reserving the territory initially as a penal colony.
Indigenous Kanaks have lived in the islands for more than 3000 years, and the French uprooted them from the land and used them as forced labour in new French plantations and construction sites.
Tahiti's islands were occupied by migrating Polynesians around 500 BC, and in 1832 the French took over the islands. In 1946 it became an overseas territory of the French Republic.
China is gaining influence in the region with its development aid packages designed to address climate change, empowerment of grassroots communities, and promotion of trade, especially in the fisheries sector, under Chinese President Xi Jinping's new Global Development Initiative.
After neglecting the region for decades, the West has begun to woo the Pacific countries lately, especially after they were alarmed by a defence cooperation deal signed between China and Solomon Islands in April 2022, which the West suspect is a first step towards Beijing establishing a naval base in the Pacific.
In December 2020, there was a similar alarm, especially in Australia, when China offered a $200 million deal to Papua New Guinea to establish a fisheries harbour and a processing factory to supply fisheries products to China's seafood market, which is the world's largest.
Hysterical reactions in Australia
It created hysterical reactions in the Australian media and political circles in Canberra, claiming China was planning to build a naval base 200 km from Australia's shores.
A stream of Western leaders has visited the region since then while publicly claiming to help the small island nations in their development needs, but at the same time, arm-twisting local leaders to sign defence deals for their navies, in particular to gain access to Pacific harbours and military facilities.
While President Macron was on a five-day visit to New Caledonia, Vanuatu and PNG, US Secretary of State Anthony Blinken and Defence Secretary Lloyd Austin were in Tonga and PNG, respectively, negotiating secret military deals.
At the same time, Macron made the comments of a new imperialism in the Pacific.
Defence Secretary Austin was at pains to explain to sceptical journalists in PNG that the US was not seeking a permanent base in the Pacific Islands nation. It has been reported in the PNG media that the US was seeking access to PNG military bases under the pretext of training PNG forces for humanitarian operations in the Pacific.
Papua New Guinea and the US signed a defence cooperation agreement in May that sets a framework for the US to refurbish PNG ports and airports for military and civilian use. The text of the agreement shows that it allows the staging of US forces and equipment in PNG and covers the Lombrum Naval Base, which Australia and US are developing.
There have been protests over this deal in PNG, and the opposition has threatened to challenge some provisions of it legally.
China's 'problematic behavior'
Blinken, who was making the first visit to Tonga by a US Secretary of State, was there to open a new US embassy in the capital Nuku'alofa on July 26. At the event, he spoke about China's "problematic behavior" in the Pacific and warned about "predatory economic activities and also investments" from China, which he claimed was undermining "good governance and promote corruption".
Tonga is believed to be heavily indebted to China, but Tongan Prime Minister Siaosi Sovaleni later said at a press conference that Tonga had started to pay down its debt this year and had no concerns about its relationship with China.
Pacific leaders have repeatedly emphasised that they would welcome assistance from richer countries to confront the impact of climatic change in the region, but they do not want the region to be militarised and get embroiled in a geopolitical battle between the US and China.
This was stated bluntly by Fiji's Defence Minister at the Shangri-La Dialogue in Singapore last year. Other Pacific leaders have repeated this at various forums since then.
Though the Western media reports about these visits to the Pacific by Western leaders as attempts to protect a "rules-based order" in the region, many in the Pacific media are sceptical about this argument.
Fiji-based Island Business news magazine, in a report from the New Caledonian capital Noumea, pointed out how Macron ignored Kanaks' demands for independence instead of promoting a new deal.
President Macron has said in Noumea that "New Caledonia is French because it has chosen to remain French" after three referendums on self-determination there. In a lengthy speech, he has spoken of building a new political status in New Caledonia through a "path of apology and a path of the future".
Macron's pledges ring hollow
As IB reported, Macron's pledges of repentance and partnership rang hollow for many indigenous Kanak and other independence supporters.
In central Noumea, trade unionists and independence supporters rallied, flying the flag of Kanaky and displaying banners criticising the president's visit, and as IB noted, the speech was "a clear determination to push through reforms that will advantage France's colonial power in the Pacific".
Predominantly French, conservative New Caledonian citizens have called for the electoral register to be opened to some 40,000 French citizens who are resident there, and Macron has promised to consider that at a meeting of stakeholders in Paris in September.
Kanaky leaders fiercely oppose it, and they boycotted the third referendum on independence in December 2022, where the "No" vote won on a "landslide" which Macron claims is a verdict in favour of French rule there.
Kanaks boycotted the referendum (which they were favoured to win) because the French government refused to accept a one-year mourning period for covid-19 deaths among the Kanaks.
Kanaky independence movement workers' union USTKE's president Andre Forest told IB: "The electorate must remain as is because it affects citizens of this country. It's this very notion of citizenship that we want to retain."
Independence activists and negotiator Victor Tutugoro said: "I'm one of many people who were chased from our home. The collective memory of this loss continues to affect how people react, and this profoundly underlies their rejection of changes to the electorate."
'Prickly contentious issues'
In an editorial on the eve of Macron's visit to Papua New Guinea, the PNG Post-Courier newspaper sarcastically asked why "the serene beauty of our part of the globe is coming under intense scrutiny, and everyone wants a piece of Pasifica in their GPS system?"
"Macron is not coming to sip French wine on a deserted island in the middle of the Pacific," noted the Post-Courier. "France still has colonies in the Pacific which have been prickly contentious issues at the UN, especially on decolonisation of Tahiti and New Caledonia.
"France also used the Pacific for its nuclear testing until the 90s, most prominently at Moruroa, which had angered many Pacific Island nations."
Noting that the Chinese are subtle and making the Western allies have itchy feet, the Post-Courier argued that these visits were taking the geopolitics of the Pacific to the next level.
"Sooner or later, PNG can expect Air Force One to be hovering around PNG skies," it said.
China's Global Times, referring to President Macron's "new colonialism" comments, said it was "improper and ridiculous" to put China in the same seat as the "hegemonic US".
"Macron wants to convince regional countries that France is not an outsider but part of the region, as France has overseas territories there," Cui Hongjian, director of the Department of European Studies at the China Institute of International Studies told Global Times.
"But the validity of France's status in the region is, in fact, thin, as its territories there were obtained through colonialism, which is difficult for Macron to rationalise."
"This is why he avoids talking about it further and turns to another method of attacking other countries to help France build a positive image in the region."
Meanwhile, during his visit to the 7th Melanesia Arts and Cultural Festival in Port Vila, four chiefs from the disputed islands of Matthew and Hunter, about 190 km from New Caledonia, handed over to the French President what they called a "peaceful demand" for independence. IDN-InDepthNews
Ravindra Singh Prasad is a correspondent of InDepth News (IDN), the flagship agency of the International Press Syndicate. This article is republished with permission.