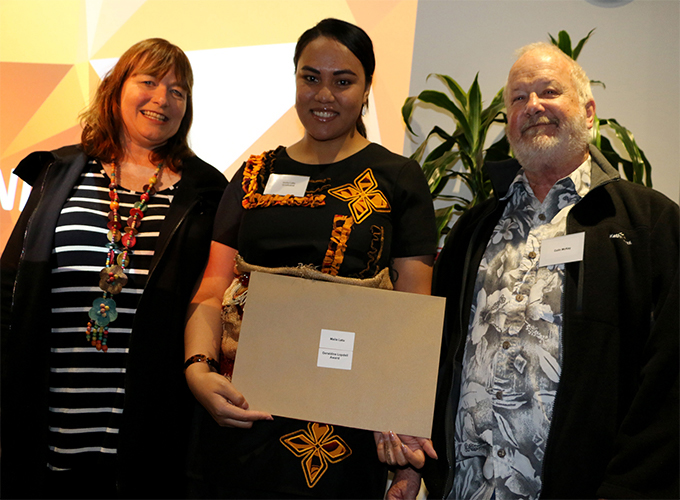 By Michael Andrew
Diversity was a winner at AUT's School of Communication Studies annual awards last night with several Pacific Media Centre contributors taking out top prizes.
Digital postgraduate student Sri Krishnamurthi was awarded the RNZ Pacific Prize for Asia-Pacific Journalism for his coverage of the Fijian general elections last year.
"It means a lot to me and it means a lot to Pacific people, in particular Pacific journalism," he said.
READ MORE: How can journalists improve diversity in the media?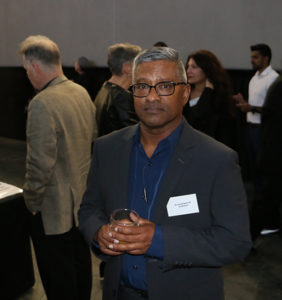 A strong sports news journalist working with a news agency for many years, last year was his first foray into Pacific political journalism.
He said there was a lack of awareness about the Pacific and its problems.
However, he plans to continue developing journalism in the region through doctoral studies.
"Asia-Pacific journalism is something that is very dear to my heart," he said.
A veteran journalist from Fiji, Krishnamurthi praised Dr David Robie and the Pacific Media Centre, which he said was invaluable to AUT and to New Zealand.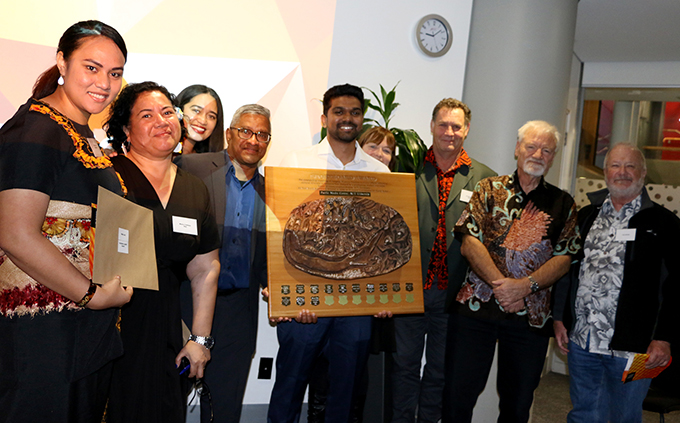 Coveted award
A former postgraduate student Blessen Tom was awarded the coveted Oceania Media's SPASIFIK Magazine Prize and the PMC Storyboard Award for diversity reporting.
Tom, who reported on a range of diversity stories lst year and also co-produced the climate change documentary Banabans of Rabi for the PMC's Bearing Witness project, said the award came as a surprise but it felt fantastic all the same.
"To get an award for diversity reporting is amazing because I never knew I could do it, and the New Zealand media is pretty white so I'm very proud."
Tom is now working as a junior producer for the TVNZ show Fair Go. He said he would use the experience to pursue his passion as a documentary filmmaker.
Geraldine Lopdell Prize
Perhaps the most auspicious award of the night was the new Geraldine Lopdell prize for Diversity in Communication, named after the teacher, artist and kitemaker who passed away a year ago.
She was a "captivating story teller" and a firm believer in the stories and views of Pasifika women.
The award was set up by her partner, Colin McKay, and daughters Alex and Anne Woodley, to celebrate her "life well lived" and to encourage Pasifika women to share their stories and pursue communication studies.
"We just felt that we should honour her in a way that would be appropriate," McKay said.
"And we feel a bit of sadness and a good deal of happiness today."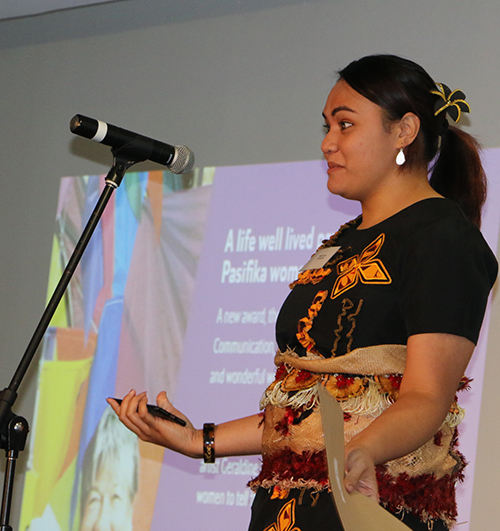 Reward for hard work
The inaugural winner of the $1200 award was Malia Latu, a master's student whose work explores the representation of Pasifika women and talanoa journalism.
She said winning the award made all her hard work worthwhile.
"It means everything, it means to push forward and it means to never give up even when you feel like nothings there. There is always something."
She said it was important to be vocal and to encourage Pasifika woman to speak up and share their stories, as many of them feared the judgment of others.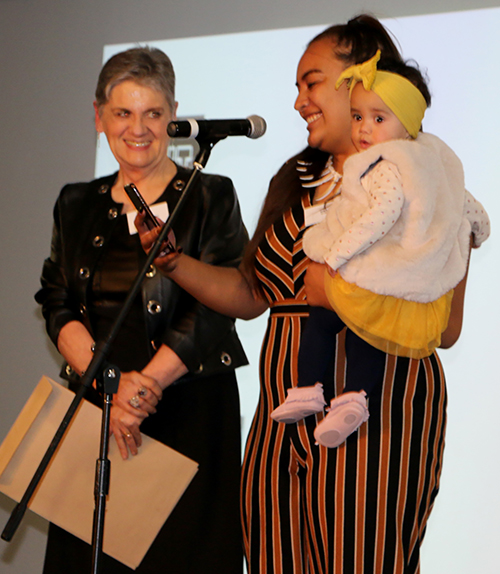 She also planned to continue her work and projects through doctoral studies.
Alex Woodley said that although the night was tough and full of mixed emotions, her mother, Geraldine, would have been honoured to see Malia receive the award.
"I think that mum and our whole family would be really excited that this incredible, vibrant, clever, gorgeous young woman is doing research on women in the Pacific. We are totally honoured."
PMC director Professor David Robie said he was delighted the Lopdell family had initiated this prize and the centre was able to play a part in supporting diversity awards.
He also thanked the AUT Foundation for its support.