By Mackenzie Smith in Auckland

Tokelau has suspended two of its public servants in Samoa, after a review into the purchase of two helicopters found the pair went behind officials' backs.
This follows restrictions on Tokelau's spending placed by Administrator David Nicholson after Minister Murray McCully slammed the millions of dollars spent on the helicopters, which Tokelau will now sell off.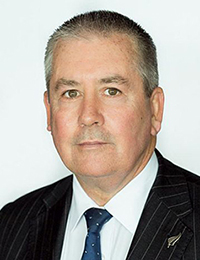 A summary of the review carried out by a New Zealand company on behalf of Administrator Nicholson found the Tokelau Public Service Commission, operating out of Apia, "did not have the authority to make the purchase".
Aleki Silao, an adviser to the public service, told Asia Pacific Report in an email that "two senior officials have been suspended" with full pay by Commissioner Casimilo Perez, pending the outcome of the commissioner's investigation into their actions.
Silao said the terms of reference for the investigation were still being considered by Tokelau's government and lawyers.
The review revealed the helicopters came as "a surprise" to both Tokelau's government and the administrator, who were not consulted by public service officials.
It said New Zealand also "offered technical assistance" which wasn't accepted by Tokelau but the review did not clarify what this was for.
Although the governments of New Zealand and Tokelau approved bigger picture plans for an interim transport solution, this was still thought to be in a "preparation phase". 
Also highlighted was the role the "disjoint" between public service officials in Apia and decision-makers in Tokelau had in the purchases.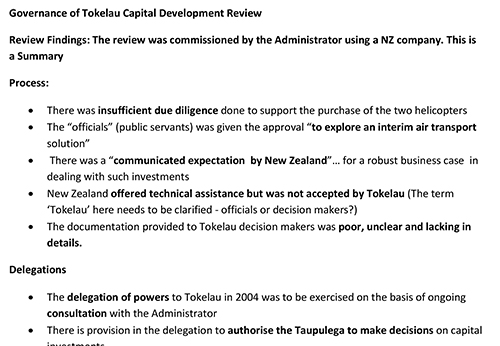 At Tokelau's General Fono in March, Ulu Siopili Perez announced the Apia public service offices would be relocated to Tokelau by the end of the year.
The review concluded by making a number of recommendations, including improving Tokelau's governance and undertaking "a capacity building programme to support the planning and implementing of capital development".