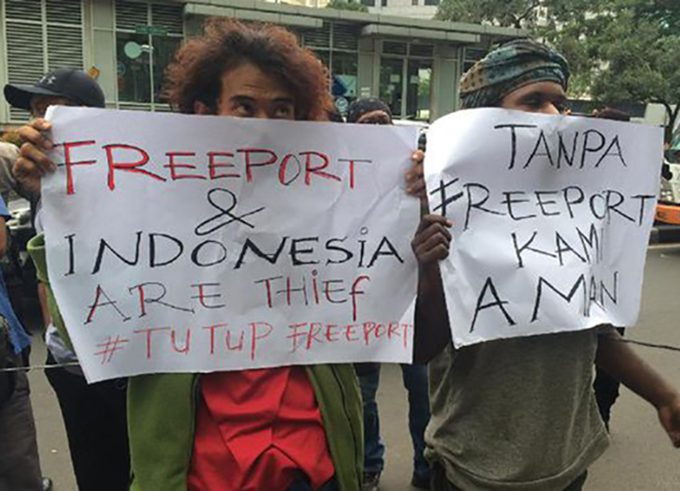 The Papuan Student Alliance (AMP) have held a joint action with the Indonesian People's Front for West Papua (FRI-West Papua] in front of the offices of PT Freeport Indonesia in Jakarta demanding that the mining company with headquarters in the United States halt its mining activities in Papua because it "harms the people".
In another protest in the central Javanese city of Yogyakarta on Friday, police moved in on students demanding the closure of the Freeport Indonesia and self-determination for the West Papuan nation near their university and broke up the rally.
Frans Nawipa from the AMP said that over the past 50 years in which Freeport had conducted mining activities on Papuan land there had not been the slightest benefit obtained by the Papuan people.
"What there has been has only been environmental destruction, what share of profits?"  Nawipa said in a speech in front of the PT Freeport Indonesia building in the Kuningan area of South Jakarta.
"All the profits have been taken by Jakarta. West Papua, which is poor, has instead become poorer."
Over the last 50 years the Papuan people had never been invited to be involved in decision making, said Nawipa.
Since the signing of the first work contract, the Papuan people had known nothing about the agreement.
"From the start when Freeport came to our land, it was illegal, the first work contract was illegal because West Papua had yet to officially become part of Indonesia."
The gold and copper company obtained its first mining permit in April 1967.
At the time the company was in the midst of a conflict with the Indonesian government over changes to the obligations and sale of company shares.
Police break up Yogyakarta rally
In Yogyakarta, police broke up a rally by students demanding the closure of the Freeport Indonesia and self-determination for the West Papuan nation at the University of Gajah Mada (UGM) traffic circle on Friday.
The head of the Sleman municipal police operational division, police commander Khundori said that the demonstration was broken up because the protesters, from FRI-West Papua and AMP, had not notified police beforehand.
"We immediately broke up [the rally] because there was no prior notification, [according to] regulations [there should be] a notification three days before a protest action," he said.
Khundori added that police were already on alert at the UGM traffic circle before the rally was held, which started at around 10am.
"Before [they moved off to the] UGM traffic circle we broke up [the rally] at the point where they were gathering near the UGM entrance gate", he added.
Translated by James Balowski for the Indoleft News Service.