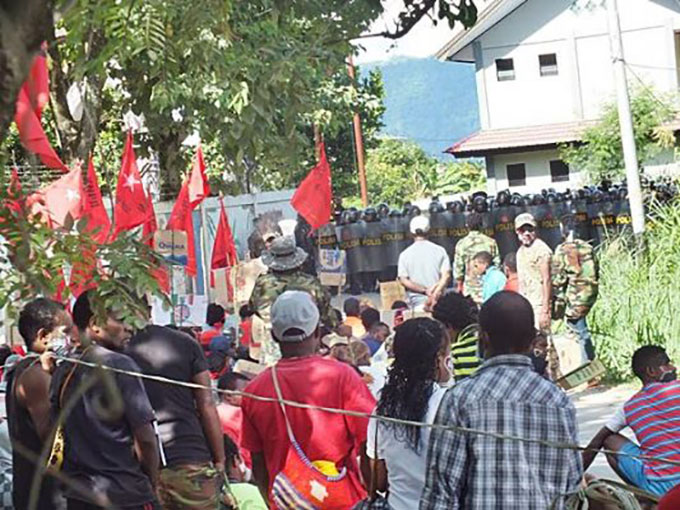 Reports of massive arrests #liveupdatesPapua
The Australia West Papua Association has called on Australian Foreign Minister Julie Bishop to condemn the arrests of peaceful demonstrators in West Papua.
About 178 activists from the West Papua National Committee (KNPB), the Regional Parliament (PRD) and students were taken to the City Police Resort (Police) in the Papuan capital Jayapura today, the AWPA said citing local Papuan media reports.
The rallies were called to show support for the meeting of the International Parliamentarians for West Papua (IPWP) in London tomorrow (May 3)  and to  support the  action by the people and government of Vanuatu who support ULMWP to become a full  member of the MSG.
In Sorong,  27  peaceful demonstrating KNPB members were arrested. Local journalists trying to cover the peaceful rallies were forbidden to do so.
The KNPB has been targeted by the security forces in the past month with its members being arrested at rallies on April 13 and 29, the AWPA said in a statement.
Joe Collins of AWPA said: "It's about time that governments stopped repeating the mantra of 'human rights abuses are a thing of the past and Indonesian is now a democracy'.
Continuous arrests
"The continuous arrests of peaceful demonstrators, intimidation of human rights defenders and journalists prove otherwise.
"The international community has to realise that the issue of West Papua is not going away.
"The recent rally in Port Vila calling for full membership for West Papua at the MSG shows this."
A civil society organisation forum on West Papua was also officially opened  in Port Vila yesterday
The AWPA said in its statement it was calling on minister Bishop to raise the crackdown by security forces on the latest peaceful rallies in West Papua with the Indonesian government.
"The crackdown is on West Papuans' right to freedom of speech and freedom to demonstrate," the statement said.
AWPA also urged the foreign minister to pressure Jakarta to allow a Pacific Islands Forum (PIF) fact-finding mission to West Papua, to listen to the tragic stories the West Papuan people have to tell.