Indonesian security forces stage a brutal attack on a Papuan taxi driver during this earlier rally in Jayapura on 13 April 2016 – see at 1min20sec. Video: A citizen journalist
The Australia West Papua Association today condemned the arrest of 41 KNPB (National Committee of West Papua) activists in Jayapura yesterday.
"The activists were arrested simply because they were handing out leaflets informing people of a rally to be held on May 2," said AWPA in a statement.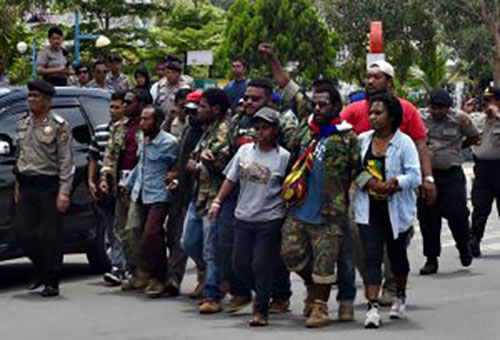 The purpose of the rally was to commemorate and protest the "tragic betrayal" of West Papua by the international community when West Papua was handed over by United Nations Temporary Executive Authority (UNTEA) to Indonesian administration on May 1, 1963, 53 years ago.
The KNPB also called on people to show support for the meeting of the International Parliamentarians for West Papua in London.
Suara Papua reported 41 had been arrested, while Tabloid Jubi cited 38 arrests.
The arrests followed an earlier incident on April 13 when 44 protesters were arrested.
Joe Collins of AWPA said: "Hopefully those arrested will be released and the security forces will not interfere with any peaceful rallies that take place on May 2.
"It should be remembered on May 1 last year up to 270 people were arrested. The arrests of activists [yesterday] are obviously an attempt by the security forces to intimidate local people into not taking part in any rallies called," Collins said.
"Hopefully the international community is beginning to realise that if West Papuans are continuing to protest after 53 years of Indonesian administration, willing to face arrest and torture, then their cries of help to the international community should be heeded.
"A good start would be for the Pacific Islands Forum (PIF) countries to continue to press Jakarta to allow a PIF fact finding [visit] to West Papua".
In Port Vila, Vanuatu, yesterday, the Melanesian Spearhead Group meeting scheduled for next week was postponed but a big rally in support of West Papua becoming full members of the MSG went ahead.