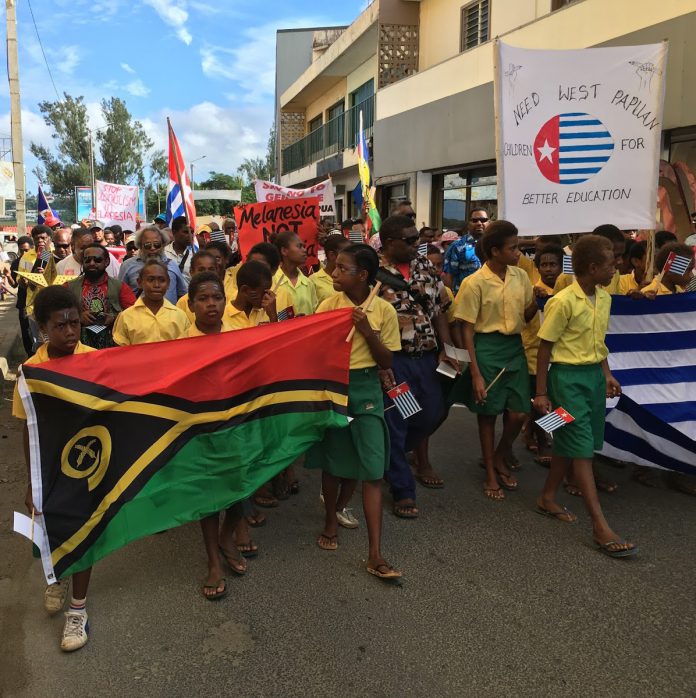 The Melanesian Spearhead Group Special Leaders Summit scheduled to be held in the Vanuatu capital of Port Vila next week has been postponed to a date yet to be confirmed.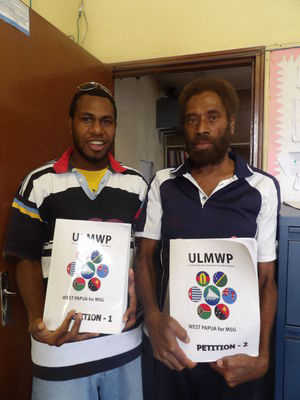 The Vanuatu Daily Post understands the MSG Summit will no longer be held from May 3-5 as initially planned and provisional dates (subject to change) may be May 30 to June 3, 2016 depending on the availability and commitments of the Leaders.
However, this did not trouble Vanuatu's Free West Papua Association's organised public march today, which was planned to happen on the brink of the MSG Leaders' Summit.
A big turnout bolstered the West Papua movement and will strengthen the support and determination nationwide.
On Tuesday, Fiji's Prime Minister Voreqe Bainimarama told the Fiji Sun that he would not be attending the MSG meeting in Port Vila as he would be going to the Queen's birthday celebrations at Windsor Castle in London with the Fiji Military Forces Band.
PM Bainimarama who said the appointment of Fijian diplomat Amena Yauvoli as MSG director-general would be discussed in the upcoming MSG Leaders' meeting also noted that Vanuatu and Papua New Guinea have questioned the system used to appoint Yauvoli.
He further indicated that Fiji's Minister of Foreign Affairs, Inoke Kubuabola, is likely to represent Fiji in the MSG meeting.
Envoy sent
In 2015, then Prime Minister Sato Kilman did not attend the MSG Leaders' Summit in Honiara, Solomon Islands, due to political developments and sent an envoy in his absence.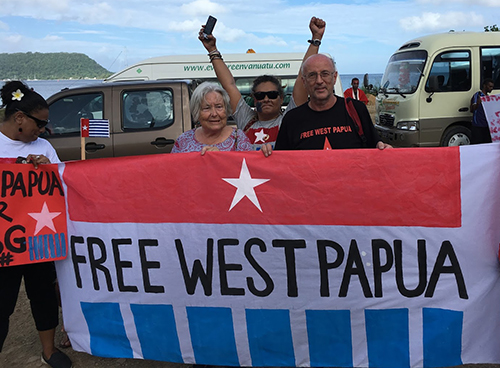 Nevertheless, the incumbent government led by Prime Minister Charlot Salwai has frankly confirmed its intention to see Indonesia out of the MSG and the United Liberation Movement for West Papua (ULMWP) gain full membership into MSG.
The process of the appointment of the new MSG DG has also come under scrutiny, an issue raised by PM Salwai.
This week Papua New Guinea's Prime Minister, Peter O'Neill, wrote to the chair of the MSG, Solomon Islands Prime Minister Manasseh Sogavare, saying the process of consensus through the MSG Leaders Summit by all members must be completed before such appointments could be announced.
Vanuatu Free West Papua Committee members Lai Sakita and Jacob Kintor appealed to "all real men, women and youths" to come out of their Facebook "comfort zones" to join the public march in Port Vila this morning.
They also calledon participants to demand that the Melanesian Spearhead Group Leaders full membership of MSG to the ULMWP, and terminate Indonesia from the sub-regional organisation.
The march started at Fung Kuei car park, opposite Anchor Inn, and continued along the Lini Highway to the MSG Secretariat at Independence Park today.