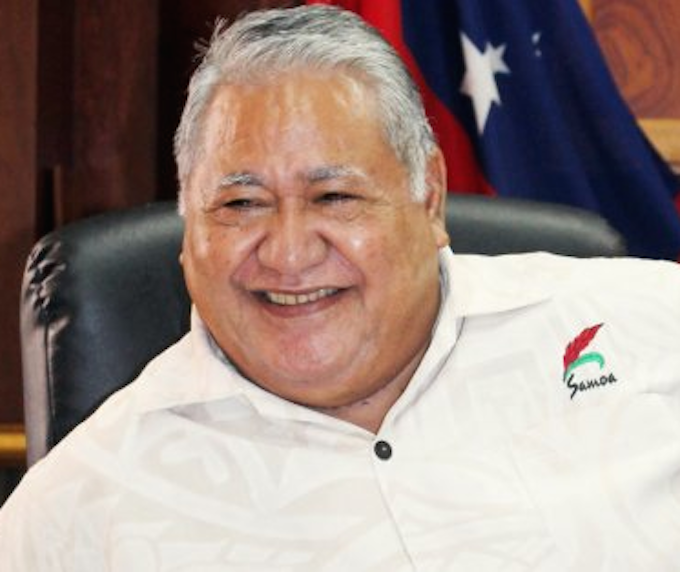 By Lanuola Tupufia and Sarafina Sanerivi in Apia
HRPP 47 – Tautua Samoa 2
Samoan Prime Minister Tuilaepa Sa'ilele Malielegaoi has achieved another first for his country.
As of early today, he has become the first leader of the Human Rights Protection Party (HRPP) to lead the party to a complete demolition of the Opposition in the General Elections.
Only two members of the Tautua Samoa Party survived the HRPP onslaught, giving Tuilaepa's party nearly all the seats in Parliament.
The unofficial count stands at 47 to the HRPP and 2 to the Tautua Samoa Party. The only remaining Tautua MP is deputy leader, Aeau Dr Peniamina. He is joined by new MP, Ili Setefano Ta'ateo.
Three of more than 20 women candidates won seats with Fiame Naomi Mata'afa making up four women in Parliament. It means one more woman will be added, taking the number of seats in Parliament to 50.
In his victory speech last night, Tuilaepa was one proud leader.
"As leader, and on behalf of the Human Rights Protection Party, I would like to extend my gratitude to all of Samoa for the support, and the overwhelming vote of confidence in our vision for this country," he said in a statement issued by his office.
'Not easy journey'
"I would also like to take a moment to acknowledge and commend the leadership of the Opposition, the Tautua Party.  This has not been an easy journey, and I congratulate you for the commitment and effort to representing your constituency and your party with such dedication."
Interestingly, while the HRPP secured the majority of seats, most of them will be filled by new members. Among the casualties are Cabinet Ministers and some long serving MPs.
"My sympathy goes out to the Members of Parliament, especially the Cabinet Ministers who have been unsuccessful in retaining their seats," Tuilaepa said.
"They deserve our thanks for their commitment and hard work to meet the needs of their constituents, as well as fulfilling their duties and service as Cabinet Ministers.
"But that is the nature of elections.  You can only do your best, and hope that voters will choose you again.  But as we see time and again, it's often unpredictable.
"Looking at the results, about half of Parliament's seats are going to change. This is democracy at work."
Tuilaepa said the support shown for the HRPP proves that the country trusted their leadership.
'Many developments'
"HRPP has been leading Samoa for a very long time and there are many developments done during that time. The country is mindful of it."
The Prime Minister said he knew the results way before they were announced.
The HRPP will hold its ava ceremony today to greet and congratulate all the winners. The special voting booths will also be counted today.
All the attention will now turn to the make up of the HRPP leadership, especially in terms of who will become the Deputy Prime Minister.
Lanuola Tupufia and Sarafina Sanerivi are journalists with the Samoa Observer covering the general election.