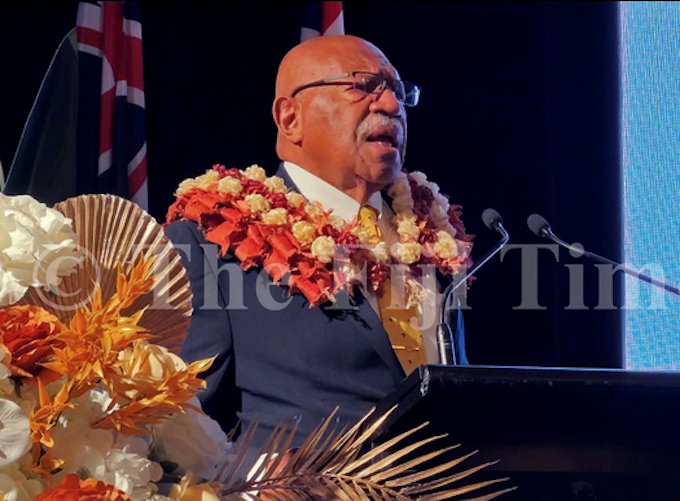 By Dionisia Tabureguci in Suva

The political superpowers of the world have been gently reminded this week of Fiji's intention to turn the Pacific islands region into a zone of peace and not be pawns in geopolitics.
In his address at a Lowy Institute event in Canberra on Tuesday afternoon, Fiji Prime Minister Sitiveni Rabuka emphasised the Pacific's peace stand in a world that has become riddled with volatile conflicts.
Referring to the US-China rivalry as "very evident" in the Blue Pacific, Rabuka said Fiji did not want to be caught in the middle.
"Fiji's position is very clear. We're friendly with China now. And with the US — always. And we do not want to be caught in the struggle between the superpowers," he said.
The Pacific region has become known as a contested region, with interest from the two conflicting superpowers increasing in recent times.
University of the South Pacific academic Professor Sandra Tarte said in an earlier interview with this newspaper that Fiji and other Pacific countries could turn the increased engagement from these countries into economic opportunities to benefit them.
"I think certainly countries want to retain their independence to do what they want and who they deal with," she said.
'We don't want to provoke'
"I think while you can applaud that, there is also the question: how can our countries actually work more collectively on this sort of thing? And we don't want to provoke any anything.
"We don't want to create more tension. We are a region of peace or zone of peace, as our prime minister said, so how can we as a Pacific Island region actually work together to make that happen?"
Rabuka said this would be discussed at the next Pacific Islands Forum (PIF) leader's meeting in Cook Islands next month.
"I envisage the basic foundation built on refraining from actions that may jeorpadise regional order and stability. And maintaining respects for each other's sovereignty and territorial integrity," he said.
"There will be continued emphasis on the Pacific way of dialogue, diplomacy and consensus. We will continue to promote our concept of the vuvale cooperation and our vuvale way of resolving our differences," Rabuka said.
After bilateral talks in Canberra on Wednesday, Rabuka and Australia's Prime Minister Anthony Albanese signed a "renewed and elevated Vuvale Partnership, with a pledge of A$68 million (F$98 million) in budgetary support to Fiji.
Dionisia Tabureguci is a Fiji Times reporter. Republished with permission.