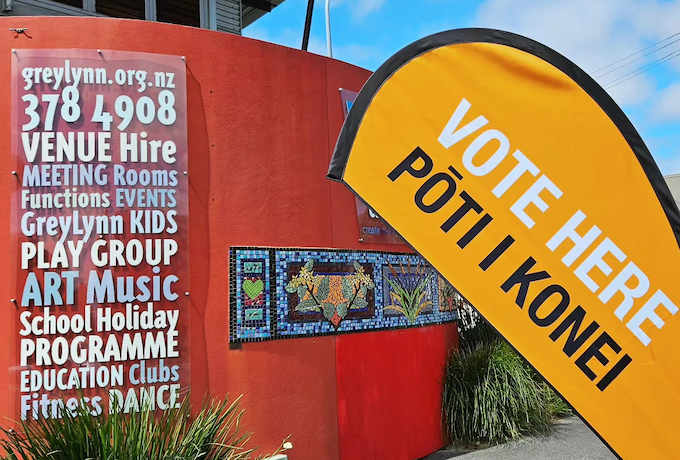 ANALYSIS: By Adrian Beaumont, The University of Melbourne
While the tide well and truly went out on Labour on election night in Aotearoa New Zealand, there are still several factors complicating the formation of a National and ACT coalition government.
Special votes are yet to be counted, with the official final result still three weeks away.
In past elections special votes have boosted the left parties. If that is the case this year, we will not know by how much until November 3. Consequently, the preliminary results may be slightly skewed against the left.
On these figures, National won 50 seats (up 17 since the 2020 election), Labour 34 (down 31), the Greens 14 (up four), ACT 11 (up one), NZ First eight (returning to Parliament), and Te Pāti Māori/the Māori party four (up two).
There are 121 seats overall (up one from the last parliament with a byelection to come).
While National and ACT currently have 61 combined seats, enough for a right majority, if past patterns hold they will lose one or two seats when the special votes are counted — and thus their majority.

Several variables in play
There are two other complications. First, there will be a November 25 byelection in Port Waikato after the death last Monday of an ACT candidate. The winner of that byelection will be added as an additional seat.
National is almost certain to win the byelection.
An honour and privilege to receive another mandate from our beautiful rohe.

Ngā mihi ❤️🤍🖤 pic.twitter.com/HwkgKAnBB3

— Rawiri Waititi MP (@Rawiri_Waititi) October 14, 2023
Second, Te Pāti Māori won four of the seven Māori-roll electorates and Labour one. In the other two, Labour is leading by under 500 votes.
If Te Pāti Māori wins both these seats after special votes are counted, it would win six single-member seats, three above its proportional entitlement of three.
The new Parliament already has one overhang seat due to Te Pāti Māori's electorate success. If it wins six, the new Parliament will have 124 members (including the Port Waikato byelection winner).
That would mean 63 seats would be needed for a majority.
National, though, would be assisted if Te Pāti Māori's party vote increases from the provisional 2.6 percent to around 3 percent after special votes are counted, but it wins no more single-member seats. That would increase Te Pāti Māori's seat entitlement to four and eliminate the overhang.
Then, if the right drops only one seat after special votes and National wins the byelection, National and ACT would have a majority.
While National performed better than anticipated given the late trend to the left in the polls, National and ACT are unlikely to have a combined majority once all votes are counted, and National will likely depend on NZ First in some way.
Polls understated the right
Party vote shares on the night were 39.0 percent National (up 13.4 percent), 26.9 percent Labour (down 23.1 percent), 10.8 percent Greens (up 2.9 percent), 9.0 percent ACT (up 1.4 percent), 6.5 percent NZ First (up 3.9 percent) and 2.6 percent Te Pāti Māori (up 1.4 percent).
For the purposes of this analysis, the right coalition is defined as National and ACT, and the left as Labour, the Greens and Te Pāti Māori. NZ First has sided with both left and right in the past, and supported the left from 2017 to 2020, so it is not counted with either left or right.
On the preliminary results, the right coalition won this election by 7.7 percentage points, enough for a majority despite NZ First's 6.5 percent. In 2020, left parties defeated the right by a combined 25.9 points. But it is likely the right's lead will drop on special votes.
The two poll graphs below include a late poll release from Morgan conducted between September 4 and October 8. I have used September 22 as the midpoint. This poll gave the left parties a two-point lead over the right, a reversal of an 8.5-point right lead in Morgan's August poll.
The current result is comparable to the polling until late September and early October when there was a late movement to the left.
Overall, it looks as if the polls overstated the Greens and understated National. The polls that came closest to the provisional result were the 1News-Verian poll and the Curia poll for the Taxpayers' Union.
In 2020, polls greatly understated the left; this time the right was understated.
It's possible media coverage of the possibility of NZ First being the kingmaker drove voters back to National in the final days. By 48 percent to 26 percent, respondents in the Guardian Essential poll thought NZ First holding the balance of power would be bad for New Zealand rather than good. For now, any such concerns are on hold.
Adrian Beaumont, election analyst (psephologist) at The Conversation; and Honorary Associate, School of Mathematics and Statistics, The University of Melbourne. This article is republished from The Conversation under a Creative Commons licence. Read the original article.