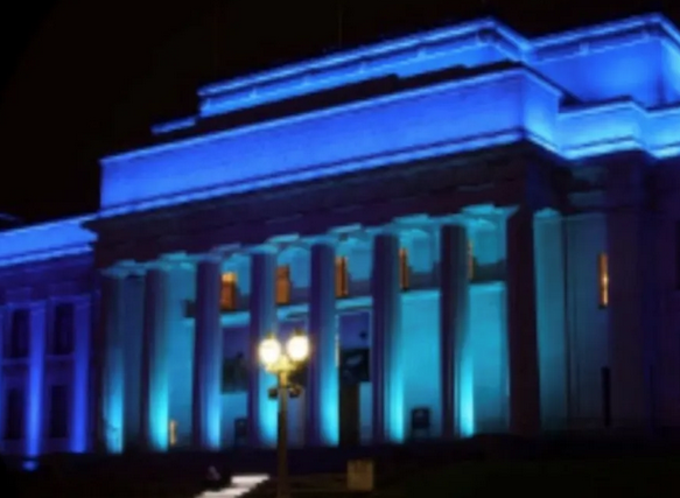 Auckland Museum has apologised for the hurt caused after it staged a light display in support of Israel on Sunday night.
Auckland Museum lit its building up in blue and white. On social media, the museum said it had lit up "in solidarity with Israel".
"Our thoughts go out to the many civilians impacted as a result of the terrorist attack a week ago," the museum had said.
"As a war memorial, we value the importance of peaceful dialogue and understanding.
"We condemn all acts of violence and terrorism. This evening the museum is lit in blue and white in condemnation and as an expression of hope for peace."
Researcher Dr Arama Rata said within hours, about 100 people had gathered outside the museum, many holding Palestine flags and chanting "Free Palestine".
She said a verbal confrontation arose between the Palestine supporters and a group of Israel supporters.
Red fabric-covered lights
Dr Rata said Palestine supporters subsequently covered the lights with red fabric blacking out the display.
She said the museum must issue a formal apology to the community, saying its actions have caused deep divisions for people who are already hurting.
Alternative Jewish Voices co-founder Marilyn Garson, a Jewish woman who spent four years in Gaza providing humanitarian aid to shelters, said the board of the War Memorial Museun was either partisan, or uninformed.
"They feel solidarity only with Israel. So they single out one acknowledged crime while massive crimes against Palestinians are unfolding. I don't understand how Palestinian civilians can be invisible to the board of a war museum," she said.
"It seems to me that it is the antithesis of a war memorial's mission to downgrade some human lives. They're saying that they feel for these civilians and not those civilians. So someone really doesn't understand the concept of civilian safety.
"A war memorial should act to hold back the violence, they need to learn into their blind spot. I want them to call for the end of this horror."
Personally apologised
In a statement, chief executive David Reeves said he personally apologised and they were reviewing the feedback they had received from Sunday night.
"I acknowledge the depth of feeling around our decision to light the museum on Sunday night," Reeves said.
"We wanted this to be an expression of hope for peace — our approach was wrong, and I personally apologise for the distress and hurt caused to members of our community," he said.
"I am carefully reviewing and reflecting on all of the feedback we have received. As a War Memorial Museum, we continue to hope for deeper understanding and a peaceful resolution to conflict."
This article is republished under a community partnership agreement with RNZ.