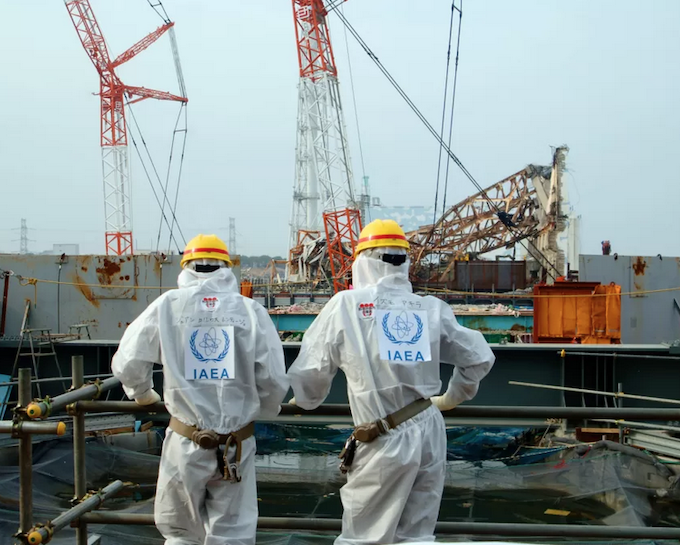 Japan plans to start releasing treated nuclear wastewater from the tsunami-wrecked Fukushima nuclear power plant into the ocean as soon as later this month, Japan's Asahi Shimbun daily is reporting, citing government sources.
The newspaper said the release was likely to come shortly after Prime Minister Fumio Kishida meets US President Joe Biden and the South Korean President, Yoon Suk-yeol, next week in the US, where Kishida planned to explain the safety of the wastewater.
Japan's nuclear regulator last month granted approval for plant operator Tokyo Electric Power (TEPCO) to start releasing the water, which Japan and the International Atomic Energy Agency (IAEA) say is safe but nearby countries fear may contaminate food.
Bottom-trawling fishing was scheduled to start off Fukushima, north-east of Tokyo, in September, and the government aimed to start the water discharge before the fishing season got under way, the newspaper said.
In July the UN's nuclear watchdog approved plans by Japan to release the water, despite objections from local fishing communities and other countries in the region.
About 1.3m tonnes of water stored in huge tanks on the site has been filtered through TEPCO's advanced liquid processing system (ALPS) to remove most radioactive elements except for tritium, an isotope of hydrogen that is difficult to separate from water.
500 Olympic pool sized
The treated water will be diluted with seawater so that the concentration of tritium is well below internationally approved levels before being released into the ocean 1km from the shoreline via an undersea tunnel.
The water — enough to fill 500 Olympic-sized swimming pools — became contaminated when it was used to cool fuel rods that melted after the power plant was hit by a powerful earthquake and tsunami in March 2011.
Discharging the water is expected to take 30 to 40 years to complete.
Attempts by Japanese government officials to win regional support for the plan have had limited success.
China denounced the plan as "extremely irresponsible" when it was announced in 2021. Hong Kong has threatened to ban food imports from 10 Japanese prefectures if the water release goes ahead as planned.
This article is republished under a community partnership agreement with RNZ.