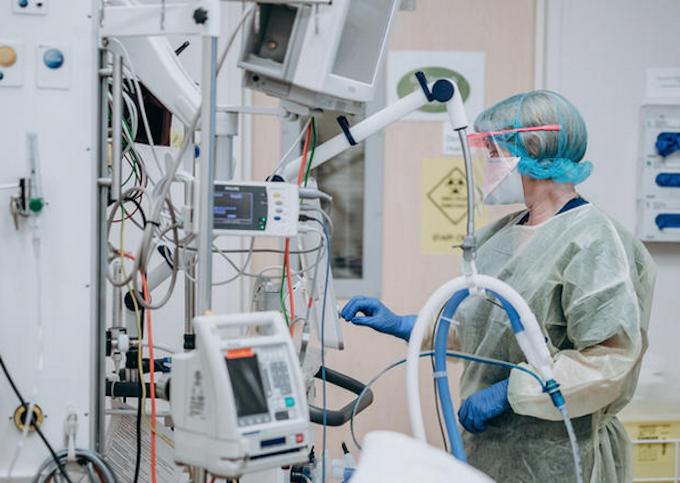 New Zealand does not have enough nurses or ICU beds, warn healthcare figures as their workforce braces for omicron.
The College of Critical Care Nurses told RNZ Morning Report that the country was currently short of at least 90 ICU beds if there was a major omicron outbreak.
Chair Tania Mitchell said intensive care capacity had been a sticking point for other countries during the outbreak, and New Zealand was under-prepared.
"We know compared to other areas in the OECD that, even for business as usual, we have a low number of intensive care beds per head compared to other countries, and that puts us on the back foot going into this."
She said more beds were always welcome, and there was a $644 million increase in funding to hospitals and ICUs from the government to cope with covid-19 that was announced in December.
But there was real concern it would not be enough, and there were not enough intensive care nurses.
"In intensive care we're actually struggling to cope with business as usual," Mitchell said.
"That's to do with bed numbers, but most importantly nursing numbers — you can build new building, and increase more beds much easier than you can create the nursing resources."
It is likely more cardiac and cancer patients would have surgery delayed, to help free up ICU beds.
Urgent work on immigration could help, she said, and nurses wanting to come to or remain in New Zealand should be prioritised, and assistance with shifting here made available.
Quarter of nursing workforce could be out of action
Nurses and other health workers becoming sick with omicron as an outbreak spreads was going to strain healthcare provisions, Nurses Organisation industrial officer Glenda Alexander said.
"If we lost a quarter of them even, at any one time … which is predicted, it is going to put immense strain on already tight staffing levels.
"But it's not just hospital nurses, our workforce who work in aged care, primary health care, those people on the frontline doing vaccinations and taking tests — it's right across.
"If you imagine a quarter — at least, of those people not being able to be a work, because it won't just be their own health, it's the health of their families as well, that they have to address."
Alexander said nurses were already carrying the burden of long understaffing problems, and they would likely have to prioritise only urgent and necessary work — "just life preserving services only, so no elective surgery".
"If we'd planned for a pandemic five years ago, as we were predicting nursing shortages, that would have helped immensely right now, but we can't actually grow [nurses] as quickly as we need right now. It is a stressful situation."
Māori vaccination rates still a concern to health sector
Māori health providers are in a race to vaccinate children and boost adult immunisations before omicron spreads widely.
They expect the number of people getting booster shots and vaccinations for their children to increase now people are coming back from holiday.
Māngere health provider Turuki Health chief executive Te Puea Winiata told Morning Report many people were working on pulling the rate up.
Ministry of Health data shows 93 percent of the wider Counties Manukau DHB population is fully vaccinated, but Māori lag behind at 84 percent.
Manurewa, Papakura and parts of Māngere were particularly low, Winiata said, and mobile vaccination clinics were being used to help reach some of those areas.
"What we've done is to focus on particular suburbs or particular areas in those suburbs, to do a bit of a boost to those areas.
"On an ongoing basis [we're using] communication, messaging to our communities, making sure that we understand the issues on whānau perhaps not coming forward."
Vaccine rollout still 'good numbers'
Covid-19 Response Minister Chris Hipkins earlier told Morning Report there were still good numbers of people coming forward for vaccinations, particularly for boosters, but the summer break had slowed that rate for all New Zealanders.
Winiata said staff have reported that vaccination slow-down is now recovering for Māori in her area.
"We had a big surge of people getting boosters before Christmas. And interestingly the surge in weekends before Christmas is now reversed — lots of people are coming in during the week and fewer at the weekend.
"But … in the week of the 17th when a number of people were coming back to work that was a bit of a leverage for people to think about being vaccinated, who weren't."
This article is republished under a community partnership agreement with RNZ.