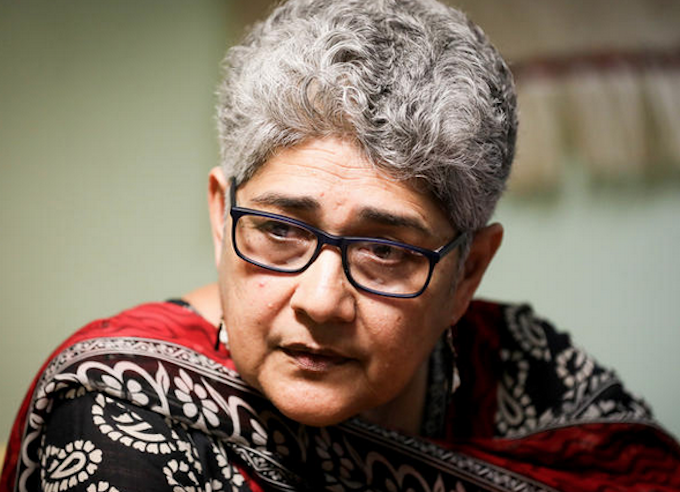 By Christine Rovoi, RNZ Pacific journalist
A human rights advocate in Fiji says the country should be ashamed of the exile of the now dead celebrated academic professor Brij Lal and his family.
Professor Lal was expelled from Fiji in 2009 after speaking out against coup leader Prime Minister Voreqe Bainimarama's FijiFirst government.
Lal died at his home in Brisbane on Christmas Day. Tributes have been pouring in since.
Rights advocate Shamima Ali, coordinator of the Fiji Women's Crisis Centre, said that while the region mourned Professor Lal's death, people should not forget the injustice meted out to him and his wife.
Ali said the government disrespected academia and the contributions academics made to Fiji's development.
In the case of the Lals, Ali said there had been a "miscarriage of justice and a gross violation of their basic human rights — the right to nationality and citizenship and to a fair trial".
Ali said Lal's "writings and utterances irked the government" so they banned him from Fiji.
'Smacks of sexism'
"And Dr Padma Lal, along with her husband, was also banned from Fiji.
"This smacks of sexism and once again disregards Dr Lal's illustrious career as an ecological economist and her work on the sugar industry and environment.
"I urge the Fiji Human Rights and Anti Discrimination Commission to step up and challenge this draconian decision of arbitrarily banning citizens and taking away their birthright."
Lal's legacy would live on as an upstanding human being and citizen of our country, Ali said.
"Shame on you, Fiji. Those who violated his and Padma's rights will surely live in ignominy and infamy.
"There is still time for a change, to amend the wrongs, too late for Brij but not for his family."
Sad day for Fiji, says Sodelpa
Fiji's main opposition party said the death of Professor Lal in exile was a sad time for Fiji.
The Social Democratic Liberal Party said Lal had hoped that he would one day return to his homeland.
Fiji claimed to have democracy but it still has a very long way to go, said Sodelpa leader Viliame Gavoka.
"The news of Professor Brij Lal's passing fills me with great pain," he said.
"We all know about him, a favourite son of Fiji who was refused permission to return home.
"He lived and hoped that he would one day come home and many of us pleaded for his case."
But Gavoka said now he had died in a foreign land, away from his people and loved ones.
"How can our hearts be so hardened that we denied someone the right to his homeland and all because he expressed views different from those at the helm of leadership.
"Professor Brij Lal was loved by many and his legacy will live on in Fiji."
Fiji poorer with loss of academic, says NFP
Among historians and scholars, Professor Lal stood tall around the world, said the National Federation Party.
From a poor farming family in Tabia, Vanua Levu, NFP leader Professor Biman Prasad said Professor Lal rose to be an emeritus professor of Pacific and Asian history at the Australian National University, one of the world's highest-ranked places of learning.
"He was an acknowledged expert on the Indian diaspora around the world.
He was recognised as the pre-eminent historian on the history of indenture and Girmitiya."
In his obituary to Professor Lal, Dr Prasad said Fiji was poorer with the passing of the academic.
"Professor Brij Lal banished from the land of his birth by the Bainimarama government in November 2009 for championing democracy and barred from entering Fiji upon the orders of the prime minister, has died, 12 years after the draconian act of a heartless government," Dr Prasad said.
"The sudden and shocking death of Professor Brij Lal at the age of 69 should create a moment for all Fiji citizens to pause and reflect, even while we are distracted by our many personal challenges brought on by the pandemic and our other deep national problems."
Dr Prasad said Lal was "a giant on the international academic stage" who was banned by the Bainimarama and FijiFirst government from returning to the place of his birth.
"But the pettiness of our leaders will not take away Prof Lal's towering achievements and scholarship, for which he will one day be fully recognised in the place he was born.
"All of us in Fiji are the poorer for his irreplaceable loss."
Dr Prasad said the NFP had organised a condolence gathering to remember Professor Lal.
This article is republished under a community partnership agreement with RNZ.