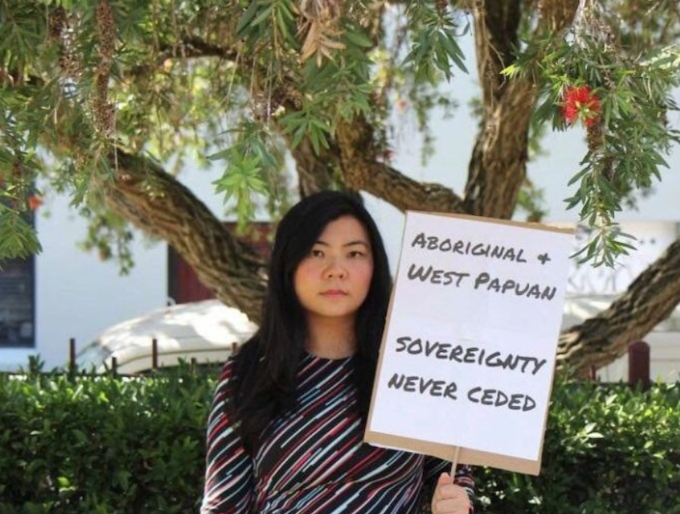 Pacific Media Watch newsdesk
The Alliance of Independent Journalists (AJI) has appealed to news media that reported on intimidation against the parents and relatives of human rights lawyer Veronica Koman to immediately make corrections.
Some media have revealed the identity and addresses exposing them to further violence, reports Tabloid Jubi in Jayapura.
The plea comes amid many protests among civil society groups about the harassment and the London-based Indonesian human rights organisation TAPOL condemned the increasing threats and attacks against Koman's family in Jakarta.
Koman, a prominent advocate for West Papuan human rights, lives in Australia in self-imposed exile.
AJI chairman Sasminto Madrim said that mentioning the identity, names, and addresses of Koman's family members in the news would lead to further "terrorism" acts.
"Regarding the news that reveals the identity of Veronica Koman's family, we want to convey that there is no news worth a life," Madrim said during an online media conference.
"The safety of the informants is paramount."
Journalism code of ethics
Article 2 of Indonesia's Journalism Code of Ethics (KEJ) reads: "Indonesian journalists use professional methods in carrying out journalistic duties."
Madrim said that "being professional' meant respecting the privacy of the source in certain cases, such as victims of terrorism, violence, or sexual violence.
Madrim further mentioned Article 10, which says: "Indonesian journalists immediately retract, rectify, and correct false and inaccurate news accompanied by apologies to readers, listeners, or viewers."
In London, TAPOL issued a statement saying that is was "deeply concerned" about a series of escalating threats and attacks made against Koman's family in Jakarta.
"These threats and attacks indicate a worsening situation for human rights lawyers and defenders in Indonesia, with other prominent human rights defenders being subjected to police investigations," TAPOL said.
"The incidents against Koman's family have in recent weeks involved an arson attack outside the house of her parents on October 24.
Explosive device
"Two weeks later, on Sunday, November 7, assailants left an explosive device outside her parents' house. A package containing a dead chicken was also sent to a different relative, with a note stating that 'anyone who helps to hide Veronica Koman will end up like this'.
"TAPOL is concerned that, particularly in Koman's case, the police are responsible for conducting an investigation into the attacks on the family but had also previously paid unsolicited visits to the same family residence in Jakarta."
Koman was put on a so-called "police search list" (Daftar Pencarian Orang, DPO) following social media posts she had made in support of West Papuan students who were subjected to racial abuse in 2019.
"Other human rights defenders are now being subjected to police investigations with complaints having been initiated by government ministers," said TAPOL.
"Furthermore, in October 2020, prominent environmental activist Golfrid Siregar died [in] suspicious circumstances in North Sumatra.
One conclusion to be drawn about at least some of these incidents is that the police, due to their previous record in relation to Koman and others, and willingness to pursue dubious investigations at the behest of politicians, may require careful independent scrutiny to ensure that its investigations are carried out objectively."
TAPOL added that human rights defenders and activists in Indonesia were facing increasing risks to their own personal safety and the safety of their family members.
The human rights agency called for a "thorough investigation" of the attacks against Koman and her family, and to stop criminalising human rights defenders.
Joe Collins of the Australia West Papua Association (AWPA) has appealed to the Australian government to press Indonesia to "conduct an investigation into the attacks against Veronica's family and that the police investigation must be impartial and subject to independent oversight".
Same energy here:

A day after the explosion in @VeronicaKoman parents house became an international news, journalists receive dozen of mentions from pro-government bots. They claim that the incidents could be a false flag that will benefit the West Papua freedom campaign. https://t.co/oCvhQeckO7 pic.twitter.com/q8C6fIbECp

— Febriana Firdaus (@febrofirdaus) November 9, 2021