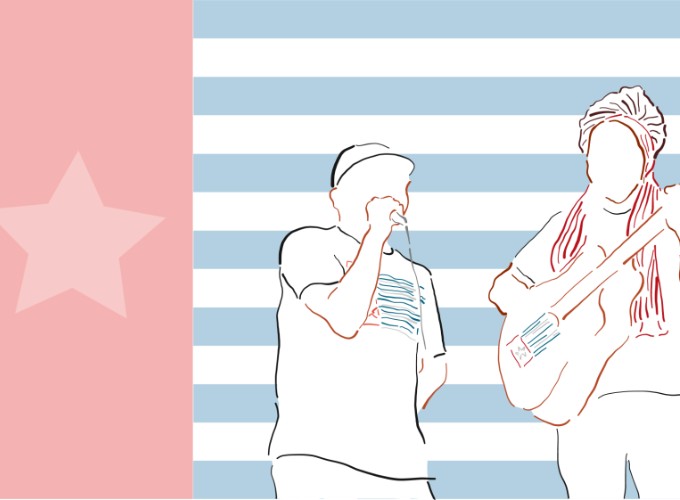 By Moale James
"West Papuans are being denied their basic human rights … Human beings have a right to freedom. Freedom to be treated fairly like a human being. Freedom to be respected. To have your own dignity and pride. This is being taken away from West Papuans."
Richard Mogu is a Papua New Guinean musician and activist currently touring with fellow Papuans and West Papuans in the band, Rize of the Morning Star. For the last decade Rize has been spreading the message: "Sorong Samarai. One people, one soul, one destiny."
In 2016 the song Sorong Samarai composed by Airileke Ingram featuring the duo Twin Tribe was released. The song itself leaves the listener feeling empowered and inspired to create change as the lyrics sing.
READ MORE: Moale James: Citizen journalism countering 'deliberate' media silence on West Papua
"Rise up freedom fighter. Rise up and take your stand again. Bird of paradise never die in vain. Melanesia you, me rise up again. For those who live in darkness, consider the light afar. Dawn of a new day come. With the rise of the morning star … Sorong Samarai. One people. One soul. One destiny."
The video shows powerful footage of men, women and children proudly raising the Morning Star flag, painting it across their bodies in protest against the Indonesian government. This act is a chargeable offence in West Papua, with people having been persecuted for this simple act of freedom, to be able to fly the Morning Star Flag.
The message of Sorong Samarai itself suggests that from the tip of West Papua, Sorong, to the Eastern point of Papua New Guinea, Samarai, the people of New Guinea are one, with the same destiny, to be free.
This song is a rally cry for all Papua New Guineas to unite and stand together for the freedom of all their people.
'Echos' of abuses
There are many who echo stories of these human rights abuses under the hand of the Indonesian government and militia.
"There is a war going on next door. People here [in Australia and Papua New Guinea] they don't know about it…. My Father went to jail for 10 years for speaking out for West Papuans. He was charged with a death sentence… Activists and independent journalists are being taken [by Indonesian military]. They are killed and then thrown in rivers."
These are the words of West Papuan refugee and dancer, Sam Roem. At 15 years-old Sam fled the genocide in his hometown of Merauke in Papua in a small dinghy with his older brother and 41 others.
After being lost at sea for a week with only food scraps to eat, their canoe came to rest on the shore of Cape York Australia. At thirty years old, you can now find him performing with Rize of the Morning Star sharing his art as a dancer and his story as a refugee.
"My parents were tortured by Indonesian military. I felt then and still feel now anger and pain. I want to do something in my home. But what can I do? I don't want to be stupid and get myself killed."
Nicclaude Domini (stage name, Ukam Maniczy) is twenty-two year old West Papuan musician and rapper. Nicclaude is currently wanted by Indonesian authorities for speaking out against the government's abuse.
'Forced to flee'
Despite calling many places in Indonesia home, people like Sam and Nicclaude have been forced to either flee or go into hiding due to the threat of persecution back in their home country. Research shows that today there are more than 11,000 West Papuans living in refugee camps or in exile overseas.
At times, for these men and many others the battle can seem helpless and hopeless as the years continue. Today, in 2019 despite the efforts of many West Papuans, activists, government officials and even the United Nations, the Indonesian government is still in control.
West Papuans are still trying to survive the genocide being committed by the Indonesian Government and associated militia. At this point in time, 528,000 West Papuans have lost their lives and their fight for freedom at the hands of brutal military and government abuse since Indonesian occupation in 1963.
Research has found that many West Papuans have been killed, raped, tortured, imprisoned and have witnessed the burning down of their villages and many other atrocities (Elmsie, 2010).
Journalist and chief editor of West Papua media, Nick Chesterfield has been working with Rize of the Morning Star and other independent journalists for the last thirteen years.
'Issue of genocide'
"This is an issue of genocide," he said.
"There are 250 language groups in West Papua alone. It is the most linguistically and culturally diverse place on earth. There is a complete human uniqueness that has been lost in this genocide. The loss of old knowledge and the loss of ancient land custodianship. When the primary human right of self-determination is suppressed that is a tragedy for everyone."
West Papuans have been protesting more frequently and powerfully than ever before.
Since the anniversary of the 1962 New York Agreement in August there have been a number of rallies and protests by West Papuans. The response from Indonesian militia and the government has been severe.
Many civilians have been arrested, militia have opened fire on demonstrators, and cases of mutilations, killings and sexual assaults have increased. It reached a point where there was a complete internet blackout across West Papua, preventing any international media attention and support.
The fight for freedom and independence for West Papua is not over. It has not been an easy fight and there have been many sacrifices and consequences for those brave enough to protest. Although, there has been so much pain, West Papuans still hope for their freedom. The members of Rize of the Morning Star still have hope as they continue to spread their message.
Sorong Samarai. One people, one soul, one destiny.
Moale James is a student at the University of Queensland undertaking her Bachelor in Journalism. Moale also proudly identifies as a mixed-race Papua New Guinean-Australian.