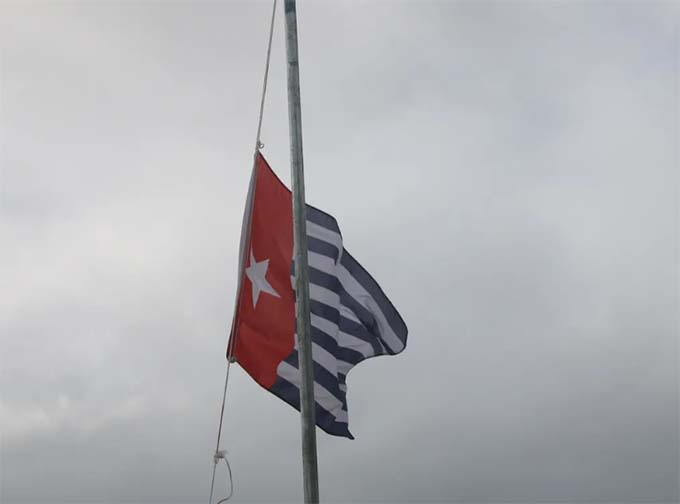 Pacific Media Watch Newdesk
Fijian police have reportedly cautioned the Pacific Conference of Churches Secretariat
from flying the Morning Star – the West Papuan flag of Independence – on private property in Suva.
According to an article on the PCC website, officers attempted to seize the flag earlier this week "after it was raised in protest against the killing of Papua protesters by Indonesian security force and pro-Jakarta militia".
The flag had been hoisted on property which was clearly visible from the Indonesian Embassy and the Office of the Prime Minister.
READ MORE: Indonesian police arrest Papuan activists for 'treason'
Fijian police officers also visited PCC General Secretary Reverend James Bhagwan on the orders of Fiji's Ministry of Defence to warn that flying the flag was a breach of Fiji's Public Order Act.
According to the PCC, in November 2014 police seized a Morning Star flag from the same property at the request of the Defence Ministry and the Office of the Prime Minister.
At least eight people have been arrested for allegedly raising the Morning Star in parts of Indonesia over the past week, as protests against racism and for West Papuan self-determination sweep across the region.
The PCC has been outspoken in its support of West Papuan human rights and its condemnation of the racism that sparked the ongoing protests.
"In the context of Pacific regionalism or the Pacific family, to call our Melanesian sisters and brothers in West Papua 'Monkeys' is to call all Pacific Islanders 'Monkeys'," said Bhagwan.
The organisation also called for immediate United Nations intervention in the region, echoing the consensus from the latest Pacific Islands Forum in Tuvalu.
"We call on Indonesia to immediately allow access to Papua by the UN Commissioner for Human Rights and other UN mandate holders. We call on those Pacific Island countries with relations with Indonesia to leverage their relationships to make this happen now."
Earlier this week the PCC reiterated its call for intervention, saying that a peace keeping force was now needed to stop the ongoing violence between Papuan demonstrators and Indonesian militia and security forces which had seen at least six people killed.
"Australia, Fiji and PNG are quite close to Indonesia so we urge them – in the name of justice and humanity – to use their influence to stop the bloodshed," said Bagwhan.