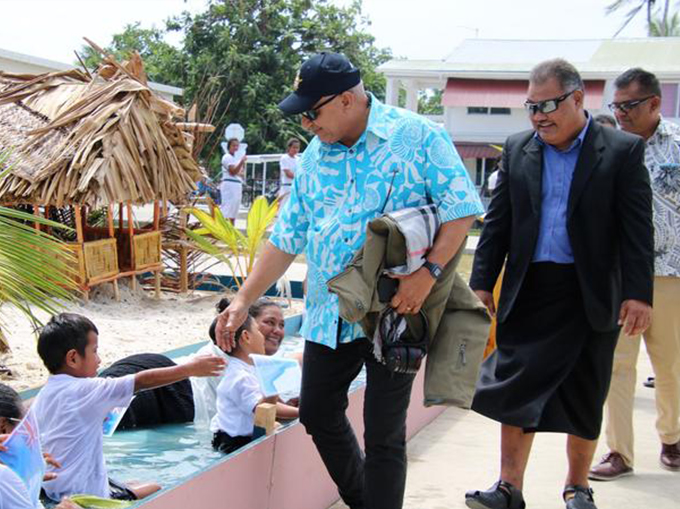 By Jamie Tahana of RNZ Pacific
There was a frenetic energy outside the Sir Tomasi Puapua Convention Centre on Sunday, where the finishing touches were being hurriedly put to the newly-built centre on reclaimed land here on Tuvalu's main atoll, Funafuti.
People were sweeping the freshly-laid pavement, laying out the desks inside, finishing off the wiring. Only on Thursday was a crane out front, hoisting the flagpoles into place.
Over the weekend, dozens of people painted walls, fences and even the roads, which had newly-planted shrubs along their length. Kids were enlisted in the island-wide spruce up, too, shooing dogs off the airport runway and rehearsing their welcoming songs.
READ MORE: West Papua, climate to top agenda at Pacific Islands Forum
They're not quite finished, but they will be by the time Tuesday comes, said Enele Sopoaga, Prime Minister of Tuvalu, as he inspected progress on Saturday.
On Tuesday, Funafuti, a slither of an atoll just south of the equator, will see its population increase by about 10 percent as delegates pour in for the Pacific Islands Forum summit, an annual meeting that brings together the leaders from every country in the Pacific, and Australia and New Zealand.
For Tuvalu, it's a daunting task. Nine atolls with a population of 11,000, it's one of the world's smallest countries. Accommodation is tight, and extra flights have been put on, (there's normally only three a week), to get everybody here. They've built new accommodation and a convention centre.
The Secretary-General of the PIF, Dame Meg Taylor, was confident: "As the priest at mass this morning said, 'a courageous effort to host this meeting,' and he was right."
That's because it's also one of Tuvalu's greatest opportunities. Hosting the Forum gives it an opportunity to bask in the spotlight, to highlight the issues pertinent to it. Being on the front line of climate change, Sopoaga is hoping to hammer home his country's push for greater commitments – particularly from the region's largest economies, Australia and New Zealand.
But this year's forum also comes at a time when the world's attention is drawing in, with great powers competing for a slice of the pie. There are so-called pivots, resets, uplifts and step-ups, and they're all likely to come with open arms and wallets.
But with that comes competing interests. The United States' interest is in large part because of its contest with the rise of China. Australia and New Zealand's are in part because of that too, while also making up for years of neglect.
China's coming in part to win influence and allies, but also to finally end Taiwan's support, while Taiwan's here to maintain that support, as most of its dwindling international allies are here in the Pacific, Tuvalu among them. The UK's here, looking for friends in a post-Brexit world, and others are coming too.
It could also be a recipe for a testy forum, especially when the leaders meet for the day-long retreat on Thursday, highlighting a growing chasm between the island states and the western ones, (Australia, in particular), on several matters.
Climate Change
On Saturday, Sopoaga stood out the back of the convention centre and gestured towards the lagoon. "This is our biggest threat," he said. Then, the sea was a placid blue, but the threat it poses to Tuvalu is great.
Tuvalu is one of the most vulnerable countries in the world. Its highest point is little more than four metres, its widest point about the same — a causeway at the northern end of the main island of Funafuti, scarred by sand and debris washed across every time there's a storm or king tide.
Hire a scooter or hitch a ride to travel the length of Funafuti, (it only takes about 20 minutes), and the signs of its vulnerability are everywhere. Wilted crops, palm trees leaning, their roots exposed, the ground hollowed out by a sea nibbling at their base.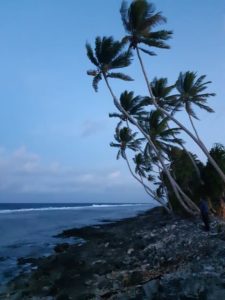 When Cyclone Pam hit Vanuatu in 2015, Tuvalu suffered gravely. The ferocious seas whipped up by the category five storm inundated about 40 percent of the country, the government estimated. As sea levels rise, and the effects of climate change bed in, such events could become all the more frequent.
'Save Tuvalu, save the world'
Sopoaga has made a name for himself bringing Tuvalu's plight to the world, he's been one of the key figures at climate talks, urging countries to commit to reducing carbon emissions, to increase their climate financing, and, in some cases, to even acknowledge the threat it poses. "Save Tuvalu, save the world," has been his slogan.
Now, the leaders of the Pacific are coming to Tuvalu. The hall where the Presidents and Prime Ministers of the 18 countries will retreat to sits near that washed over causeway, in sight of the island's narrowest point. There's a reason for that.
"We have a big job to do this week. The job is to review where we are? Where do we want to go to, and how are we going to get there?" he said.
This year is the 50th Pacific Islands Forum, and Sopoaga – who is about to take over as chair, (for now, Tuvalu has elections on 9 September) – is looking to make climate change the key focus. He wants strong commitments in this year's communiqué, to follow on from last year's summit in which the Boe Declaration declared climate change the region's single greatest security threat, and for a united statement to take to a major UN climate summit next month.
And that could bring some heat on the region's two largest economies: New Zealand and Australia, both in the midst of trying to reinvent their relationships with their respective Pacific resets and Pacific step-ups.
NZ and Australia
New Zealand's Prime Minister, Jacinda Ardern, will arrive on Wednesday, ready to tout her coalition government's policy to cut carbon emissions, and its increased aid and support for climate diplomacy. The Pacific, however, is also aware that New Zealand's emissions continue to rise, and will be asking whether what's been announced is enough.
But she'll get off lightly compared to Australia's Scott Morrison, the recently re-elected conservative Prime Minister, who once famously raised a lump of coal in parliament, to the ire of Pacific leaders including Sopoaga.
Australia has come under fire from several Pacific countries for its climate stance in the lead-up to the forum, both in veiled criticism and explicit statements. Just in the past month, some Pacific leaders have issued a communiqué calling for it to end its support for coal and to avoid trying to water down climate commitments, as happened at last year's summit in Nauru. Separately, Palau's president Tommy Remengesau made a plea for further climate action.
Morrison, for his part, is fond of talking of the family relationship between the countries. He's already visited the region three times since becoming Prime Minister, and will be keen to stress whatever ties he can, dodging the climate issue.
But that's unlikely to placate countries who are demanding the region's biggest player do more.
New friends and old foes
This year's forum also comes at a time of simmering geopolitical tensions between powers on the ocean's edges: mainly, the United States and China, which are both sending sizeable delegations to Funafuti. The US is understood to be sending an entire plane-load of officials.
Geopolitical plays have always been a part of the forum, but with the rise of China, things have taken on a new dynamic as some of the older powers – Australia, New Zealand and the United States – start to get jittery.
And that will be the key issue Morrison is likely to bring to the forum: security. Already, there has been a swathe of announcements. A Pacific security college, a range of new patrol boats for Pacific countries, joint military training, an Australian Pacific Force, and a naval presence – with the US – on Manus Island.
There is validity to that, as in the drug problems that are emerging in Pacific countries as a result of increased drug trafficking across the ocean, protecting vulnerable fisheries with few resources and vast oceans, and, to an extent, the threat of unrest.
But Canberra is a signatory to the Boe Declaration. That means it too must have acknowledged that climate change is the greatest security threat, and attention is likely to be drawn to that.
On different pages
This forum could show how much Australia, New Zealand and the regional states are reading from completely different pages.
Beyond that, the Taiwan issue could prove to be a thorn again. The island – which is regarded as a renegade state by China – is recognised by Tuvalu, as was the case for last year's host, Nauru. There, there was a commotion when the Chinese delegation demanded speaking rights and stormed out after a confrontation with President Baron Waqa. It's understood work's been done to ensure such a scene is avoided this year.
But none of those things are what Sopoaga wants the focus to be on.
Children's greeting
As leaders and delegates arrive at the airport, they walk off the plane to be greeted by a display. Children sit in a swimming pool, smiling and waving flags, behind them is a pile of sand, with wilted palm trees and a leaning fale.
The leaders are asked to pause and read a sign:
"Before us we see the devastating effects of climate change on our children; Sea level rising, land erosion, cyclone damage.
In your meetings this week remember: We must act before it is too late. We must save Tuvalu to save the world."
Sopoaga said on Saturday: "We don't care about that C [China], we're only interested in doing something about that sea," gesturing to the ocean.
Bainimarama returns
Voreqe Bainimarama strutted off the plane with a wide grin to arrive at his first forum in 12 years. Fiji was suspended in 2009 after his then-military government abrogated the constitution, three years after he took power in a military coup.
And, if statements in recent weeks are anything to go by, he's looking to make his return count.
The Pacific Islands Development Forum, which Bainimarama established after Fiji's suspension, met last month, where the strongly-worded Nadi Declaration was released. It declared a climate crisis, demanded an end to the use of coal, called on high-emitting countries to stop hindering climate change efforts, and demanded PIF members stop subsidising fossil fuels.
There, Bainimarama said this week's forum should expect nothing less than concrete commitments to cut emissions.
"We cannot allow climate commitments to be watered down at a meeting hosted in a nation whose very existence is threatened by the rising waters lapping at its shores," he said.
Bainimarama has in the past said he wouldn't return to a forum meeting until Australia and New Zealand were no longer full members, criticising what he called an outsize influence. He's back anyway, but that doesn't mean he'll make it easy for them.
But what does that mean for the hordes of Tuvaluans who raced to the runway to welcome the plane loads of dignitaries buzzing in? Lazing in a hammock beneath a tree on Sunday afternoon, watching the planes come in and out while escaping the searing midday sun, lay 14-year-old Saugali Koveu.
She'd been gripped by the spectacle; it had rarely been this busy before, she said.
"I hope they will take them back home, remembering the forum," she said shyly. "Especially for the children's future."
This article is published under the Pacific Media Centre's content partnership with Radio New Zealand