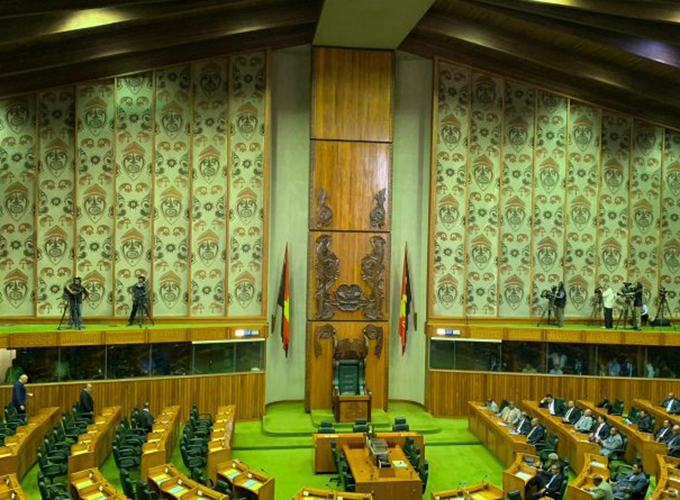 By EMTV News
Papua New Guinea's political opposition has gone on the offensive, accusing Prime Minister Peter O'Neill's government of attempting to delay and defeat the vote of no confidence motion outside Parliamentary process.
Senior opposition members delivered the vote of no confidence motion to the Speaker yesterday afternoon.
But there are serious concerns that the government is "tampering" with the process. The vote has been delayed until May 28.
READ MORE: Papua New Guinea's leadership crisis
The opposition's nominee for Prime Minister, Tari-Pori MP and former Finance Minister James Marape, was furious at the manner in which the Speaker ruled against an early resumption of Parliament.
Marape also told the news media that the government removed opposition MPs who were on a Parliamentary Private Members committee that decides on the validity of votes of no confidence motions.
"What has happened today is that you saw a ploy by Prime Minister Peter O'Neill's government to sabotage the process of a vote of no confidence motion," he said.
"They removed membership of the private members committee which had Hela Governor Phillip Undialu and Southern Highlands Governor William Powi.
"They put members on the committee who are pro-government. We are appealing to the Speaker that they must not stand against the will of the people."
Opposition dismay
In Parliament, Speaker Job Pomat allowed a motion to adjourn the Haus to May 28, much to the dismay of the opposition which sought to have the next session on the week of May 15.
"What showed today was that the Prime Minister was not confident on the numbers on the government side."
After Parliament rose, Speaker Pomat held his own news conference to explain parliamentary processes, saying he had received the vote of no confidence motion and that due process would have to be followed.
"Today I made rulings that I had to make. The rulings were based on votes. The numbers showed it. I want the people of Papua New Guinea to know that this is the process of democracy. I was not forced. It was my decision."
In previous years, Speakers have faced the brunt of the opposition's ire for making decisions seen to be in favour of the government side. Speaking in the that context, Pomat said the democratic process demanded that decisions followed parliamentary process.
The government plans to use period between now and May 28 to reorganise its numbers.
Prime Minister O'Neill said ministries would be allocated to new people to fill in vacancies.
In PNG politics, some of those ministries will be offered to coalition and opposition members to boost and maintain the government's numbers.
This article is published in collaboration with EMTV News.