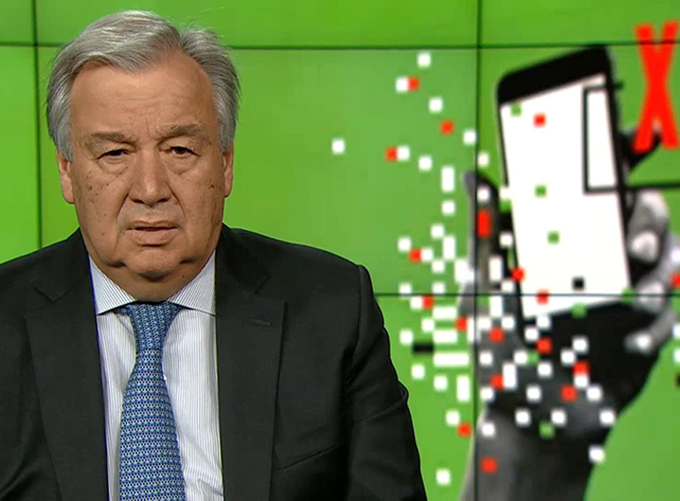 Pacific Media Watch Newsdesk
The head of an Auckland-based Pacific media watchdog says New Zealand "takes media freedom for granted" and could learn a lot from its Pacific neighbours.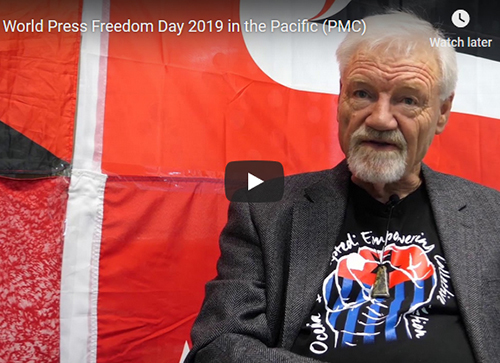 "For the last few years we have been sitting fairly pretty in the world press freedom index where we are seventh at the moment – we have gone up one place from last year and we just take it for granted," said Pacific Media Centre director Professor David Robie.
"Everything's fine. Hunky-dory here.
"But around most of the world, particularly in the Pacific, World Press Freedom Day is a really important thing because there is a constant struggle going on."
WATCH VIDEO: UN Secretary-General António Guterres speaks out for World Press Freedom Day

Radio 95bFM's The Wire host Jemima Huston was asking Dr Robie on a pre-Media Freedom Day special of the Pacific Media Centre's Southern Cross programme about why the event was barely observed in New Zealand.
Also being interviewed was Pacific Media Watch contributing editor Michael Andrew. He said last month's call by traditional chiefs on the Federated States of Micronesia island of Yap for the expulsion of a local US journalist had "opened up a whole bunch of scrutiny from abroad to see what is actually going on there".
Asked by Huston why he thought media freedom stories did not get covered as well in New Zealand as in the Pacific, he replied coverage of Micronesia was "in the shadows" because of US colonisation history which had kept the region out of Australian and New Zealand attention.
Listen to PMC's Southern Cross programme.
Across the Asia-Pacific region, many events are happening to mark World Press Freedom Day.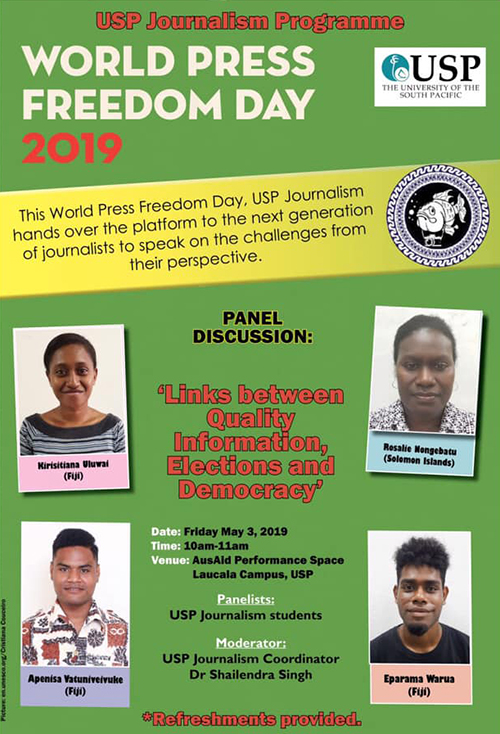 In Fiji, University of the South Pacific student journalists are staging a debate on the theme of "links between quality information, elections and democracy."
The panel will be led by the Wansolwara journalism training newspaper editor Rosalie Nongebatu, of the Solomon Islands, and she will be joined by Kirisitiana Viuwai, Apenisa Vatuniveivuka and Eparama Warua (all of Fiji).
In the Philippines, where journalists and the media have been under severe pressure for many months, with award-winning editor Maria Ressa of the popular Rappler digital media website being arrested on trumped up charges, a lively programme is being planned.
Staging a "freedom festival", the organisers, including from the Philippine Centre for Investigative Journalism (PCIJ), described the government attacks on the media as "grave and more direct".
"We, a community of journalists, photojournalists, and artists, have come together to #fightback and mark the day in hope, courage, and unity, so we may all protect and defend our fundamental freedoms and the people's right to know," the organisers declared.
The activities include the release of a "State of the Philippine Media" report on the "Killings, attacks, and threats on the Philippine media, June 30, 2016 to April 30, 2019″, a protest at the Department of Defence in Aguinaldo military camp in Manila, and an online screening of the documentary Portraits of Mosquito Press.

The PMC Southern cross radio programme on media freedom.
In Timor-Leste, an all-day World Press Freedom Day event is planned and one of the keynote speakers is former PNG Post-Courier publisher and Asia-Pacific media training consultant Bob Howarth.
Addressing hate speech, he praises New Zealand in his keynote.
"New Zealand's media are setting an example for the rest of the world as a result of the Christchurch mosque killings in March. They have agreed to focus reporting on the massacre victims and not the white supremacist currently facing justice," he says.
He also speaks with pride about the Timor-Leste Press Council launching a campaign to lobby Google and Facebook to add Tetum to the list of languages they can translate automatically to other languages.