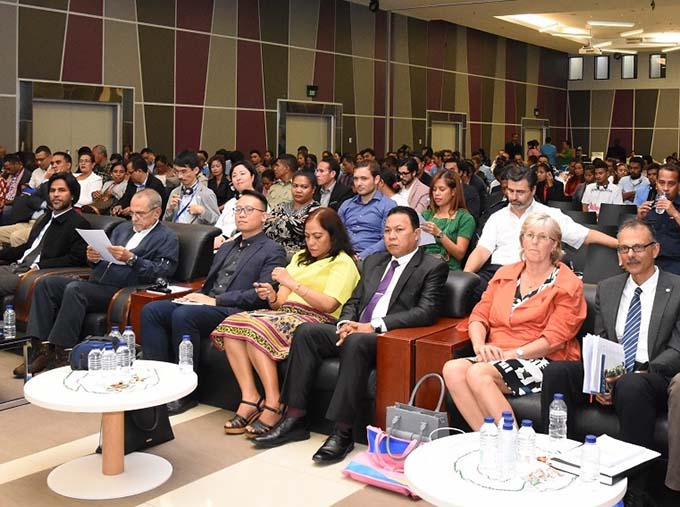 By Bob Howarth in Dili, Timor-Leste
The Dili Dialogue Forum, sponsored by UNESCO and organised by the Timor-Leste Press Council, will be held again next year after the inaugural successful one last week.
It is a forum of Asia/Pacific press councils and it hopes to become an alliance of all press councils in the region by next May. May 3 is World Press Freedom Day.
This year Indonesia, Papua New Guinea, Philippines, South East Asia Press Alliance (SEAPA) and Thailand were represented. It was held in an US$8 million auditorium (capacity 400) in the high-rise new Ministry of Finance building.
Topics included country reports of press freedom, ethics, training, social media issues and cybersecurity for journalists.
The TL Press Council impressed delegates.
Timor-Leste at 95 has the highest Asian ranking in Reporters Sans Frontiers World Press Freedom Index.
The TL Press Council was established two years ago with seven directors (two appointed by the government but possibly for the last time), mostly veteran newsmen.
Solid funding
It has solid funding sourced from the Timor-Leste government, United Nations Development Programme (UNDP), New Zealand, Japan and the Netherlands (but not Australia).
The council has 38 full time staff including media monitors, trainers, IT and a transport team with nine cars and 21 motorbikes in well-equipped premises (50 PCs) opposite Dili University.
The government has no influence over its operations and has enshrined freedom of speech in its national constitution.
The council runs regular monthly training and certification of graduates, backed by UNDP, for young reporters and students in all formats of print, TV and the most popular medium radio.
One objective is to become an avenue for resolution of media complaints instead of costly legal action, similar to Australia's Press Council and New Zealand's Media Council.
Current campaigns include lobbying Google to include Tetum, one official language alongside Portuguese, and seeking assistance from Facebook to include Tetum-speaking content monitors to quickly react to reported offensive posts, a major issue in the country's recent elections.
Next year it is hoped countries such as Australia, New Zealand, Fiji, Samoa, Solomon islands and Vanuatu will attend the Dili Dialogue.
The next forum will be held on May 9-10 next year.
Bob Howarth, a media consultant and correspondent for Reporters Without Borders, was a delegate at the Dili Dialogue Forum and is a regular contributor to Pacific Media Watch.