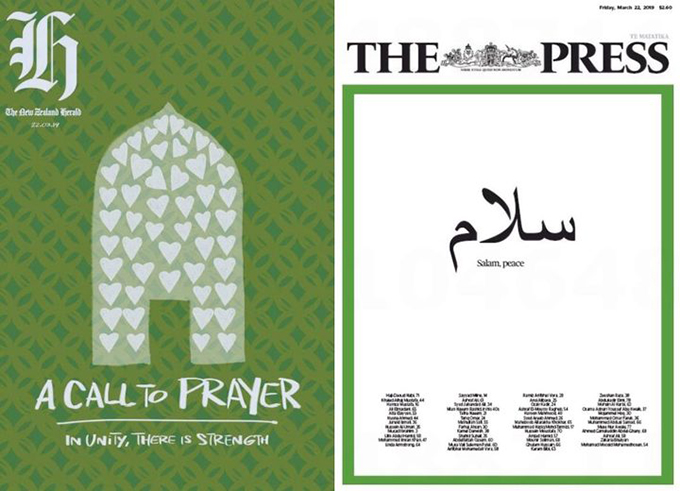 By Colin Peacock, editor of Mediawatch NZ
The attack in Christchurch has forced New Zealand news media to rethink the way they work, whose voices they amplify – and why.
Telcos, bloggers, advertisers and the government have all reacted in ways that could change what we see see, hear and read in our media in the future – and we have also had a stark reminder of the power of the big online platform.
LISTEN: RNZ Mediawatch Podcast
Calling Facebook to account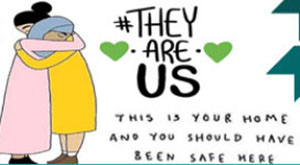 Questions about Facebook's livestreaming moderation failure were met with deafening silence at first and then a few written statements.
And not just here in New Zealand.
"No-one on any continent has gone on camera to answer any questions", said Channel 4 News in the UK last Tuesday.
It couldn't get a response from Facebook's head of global affairs Nick Clegg.
He was Deputy Prime Minister of the United Kingdom from 2010 to 2015. He is perfectly capable of handling questions from the media.
He was following the lead of Facebook's actual head of global affairs – CEO Mark Zuckerberg- who has not said, or posted, a word.
It took five days for a "VP of Product Management" to come up with this.
One spokesperson eventually told RNZ some people may have shared the video "for good reasons".
"Such an absence of respect and engagement from a company whose tools were fundamental parts of a plan to inflict such pain and savagery in this country are an intolerable insult," wrote long-time business reporter Pattrick Smellie.
Facebook eventually said the offending livestream had only 4000 views while it was live.
But it also said 1.5 million attempts to post it later were blocked, and it was reposted in many other places online by thousands of people.
Clearly there is a problem – one that the company top brass have not addressed.
But it's not just here that the demands for Facebook to act have been long and loud. It's a global story and it could be a big moment in tech history.
New rules for criminal digital content
The gunman's sickening live-streamed video and his "manifesto" have now been deemed "objectionable" by the Office of The Chief Censor.
While it does not sound like a strong condemnation, it's effectively made possessing and distributing them a crime.
But long before that – indeed before the PM had confirmed at least 40 people were dead on Friday, March 15 – some people had already seen bits of it on screen here in the media.
Many media organisations weren't sure what to do when they discovered the content online not long after the shooting.
In Australia, the two most popular mainstream TV channels ran small sections of the video and told their viewers they would see no more, but both went on to air more of it in their evening news.
Rolling news operation Sky News Australia ran footage from inside the mosque with the bodies blurred, prompting Sky TV here to take the whole channel off air for four days.
TVNZ's head of news John Gillespie told Mediawatch 1 News showed a few non-violent seconds of the footage to show "the high degree of pre-meditation and planning . . . and judiciously since then in light of the national discussion on gun reform".
Newsroom.co.nz – which urged Mark Zuckerberg to shut down livestreaming – said it erred by posting footage for a short time. It was pulled down after complaints came in.
Australia's public broadcaster the ABC said it would not make the manifesto public, but a correspondent read aloud from it on air.
RNZ's Checkpoint special that day also detailed key claims in the manifesto and described the images of weapons. RNZ decided not to broadcast or publish those details after that.
In Turkey – which was mentioned in the manifesto – state-backed English-language news channel TRT made a video about it people could watch it they really wanted to know more.
That was posted the day after the shootings – after some time for reflection.
There's no shortage of articles pointing out the gunman's digital stuff was "made to go viral".
Hopefully media that ran the content will now have in-house rules to rule it out in future – or at least wait until they're sure they know what they're dealing with and why they think the public needs to see it or hear about it.
Internet providers club together to reduce the risk
New Zealand's biggest ISPs jointly blocked access to websites circulating the video and manifesto, including notorious forums 4Chan and 8Chan.
It was a bold but unprecedented move driven by the big social media companies failure to stop the spread of the propaganda.
But some internet and media freedom activists will be wondering whether legitimate use of the internet could be curbed in the future when they concur that a crisis demands extra-ordinary action.
The next day they wrote to the bosses of Facebook, Twitter and Google.
"We call on you to be to join at the table and be part of the solution," they said.
They haven't taken up the invitation.
Advertisers pull back – and ponder a change of direction
In a joint statement the the Association of New Zealand Advertisers and the Commercial Communications Council pointed out that "advertising funds social media".
"Businesses are already asking if they wish to be associated with social media platforms unable or unwilling to take responsibility for content on those sites," they said.
Some big brands here took action this week themselves suspended their social media promotions.
But none said how extensive the pull-back will be – or for how long. Some – like big spender Lotto for example – said it was all about tone and not really a moral move.
Ad agency boss James Mok said it was time to better reflect cultural change in New Zealand
"Our work should represent New Zealanders with respect. We can no longer avoid the responsibility to be diligent about every little choice we make. The stories we tell and the people we feature in advertising are our chance to show New Zealanders who we really are," he said.
Government to pull the plug on digital ads?
The biggest spender on social media advertising here is the New Zealand Government.
On Monday, Jacinda Ardern was non-committal when Newsroom's Bernard Hickey asked if the spending of an estimated $100m a year would be withheld from the platforms she'd criticised.
But on Wednesday the Minister for State Services Chris Hipkins told media the government has asked for urgent advice on its advertising spending with Facebook.
It would not cripple what Toby Manhire called "the world's first genuinely megalithic media company" (in one of several unanswered – and probably unopened – open letters) but the gesture would be noticed here and overseas.
Cash-strapped mainstream media companies would welcome some of that spending if it was siphoned away from social media in their direction.
But our media companies – public and private – also pay Facebook to host and boost their content. Maybe it's time for a rethink to match this week's editorials excoriating the company and its leader.
Soapbox-style media reflects on itself
This week National Business Review journalist Brent Edwards wrote this about the upcoming official inquiry into the Christchurch attack:
"It might include the role of news media, particularly of media personalities who used public platforms to promote intolerance. And was the news media too focused on Islamic terrorism to notice the threats here at home?"
That's a surprising suggestion from a journalists' union stalwart and committed media freedom guardian.
But the media he had in mind may be reassessing themselves already.
For example, Newstalk ZB deleted a 2017 opinion column in which its Christchurch-based host Chris Lynch asked "Does Islam have any place in public swimming pools?"
Last Wednesday, he apologised for it.
But there has been plenty more on Newstalk ZB where that came from in recent years.
NZME head of talk radio Jason Winstanley told Stuff several items had been pulled from ZB's websites because – he said – it was "upsetting people."
Some of that content was there for precisely that purpose in the first place.
Katie Hopkins was an occasional guest on NZTB, until she was sacked by her paper and radio station in the UK after calling for a "final solution" in the wake of the Manchester bombing in May 2017 – and for Western men to "rise up."
When news reached ZB morning host Leighton Smith that the UK police were investigating her, he was furious about the incursion into free speech.
But that was fake news from Infowars, the mouthpiece of anti-Islamic, far-right radio host Alex Jones, who was kicked off every major global online social media platform last year.
Leighton Smith isn't on the air any more, but NZME hosts and promotes his weekly podcast and the Weekend Herald prints his opinions on the op-ed page every Saturday.
Heather du Plessis-Allan is a current host and when she tweeted that she was "standing with our Muslim community" at the vigil in Wellington last weekend, some followers reminded her she called the Pacific Islands "leeches on us" last year – and doubled down on the comment when criticised.
"Our priority is to do the best we can for all New Zealanders, and honour those who have lost their lives," NZME's head of talk radio Jason Winstanley said this week.
It remains to be seen what that means on air at Newstalk ZB, and whether other talkback radio hosts and opinion writers with a track record of stirring up controversy over race and immigration will be more moderate.
"Let's build this amazing country into a truly multicultural power base with our actions. Words only do so much, but actions last a lifetime," wrote Duncan Garner enthusiastically in this weekend's Dominion Post.
Fourteen months ago, a majority of the Media Council upheld a complaint against his fretful column about "Indians, Pakistanis, Sri Lankans, Syrians, and many others" in a snake-shaped queue at Kmart under the headline: Dear NZ: How do we want to look in 20 years?
Dialing down the comments
Comments sections in mainstream media often turn toxic, even under stories which aren't especially controversial. Stuff turned off it comments after the attack for three days.
"We're giving a lot of thought right now to the best approach for our comments," Stuff editor Patrick Crewdson said on Twitter this week.
"That's also a non-committal answer, I know, because it's still a live discussion. Extra care, yes, but exactly how that works is what we're discussing," he said.
Watch that space below the line
Kiwiblog – where a lot of offensive comments have been posted anonymously – is also changing its policy.
Publisher and founder David Farrar said this week only people using their real names will be able to publish comments automatically – so readers will know who they are.
Journalists step up
Another challenge for the media now is investigating extremism and communities and cultures here in which it thrives — or which may even be camouflaging it.
The day after the attack Herald senior investigative reporter Matt Nippert made this call.
Four days later, he said he had been "overwhelmed" with responses.
A pool of Herald staff was working on immediate tasks, he said, but he envisaged a journalistic project "that could run for years".
Stories have already appeared in the Herald leading to prosecutions.
In the long run it is no easy task.
There will also be emotional debates about gun control, and internet regulation played out in the media – and more intense and divisive debates about free speech, freedom and religion.
Journalists at other media companies have been inspired to investigate too. Maybe young journalists whose names we don't yet know will be inspired too.
We will – as the Herald's Matt Nippert said – see where it takes us.
This article was republished under the Pacific Media Centre's content partnership with Radio New Zealand.