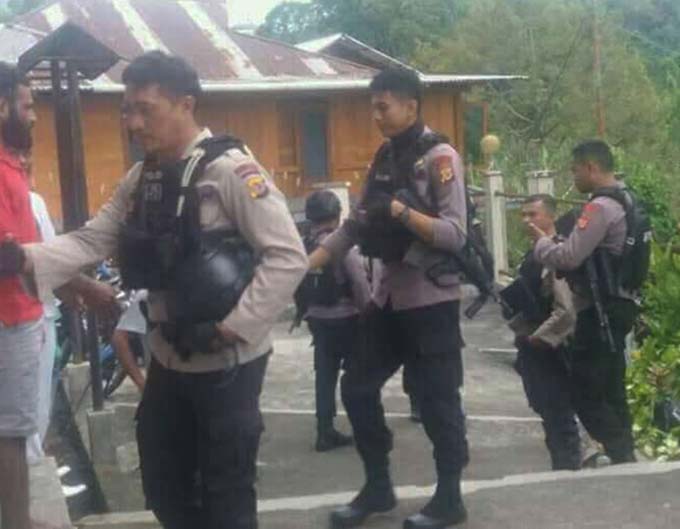 West Papua has been sidestepped by both the the Melanesian Spearhead Group and the Pacific Islands Forum. But, reports James Halpin of Asia Pacific Journalism, Vanuatu is undeterred as leading champion for the West Papuan cause and is pressing for United Nations support.

After the failure of the Pacific Islands Forum to move on the issue of West Papuan self-determination earlier this month, Vanuatu is now taking the issue to the United Nations next week
Vanuatu raised the plight of political prisoners charged with treason at a UN working group of arbitrary detention and involuntary disappearances, reports RNZ.
Ninety three West Papuans have been arrested this month for their involvement in peaceful protests.
READ MORE: Contrasting accounts of Indonesian genocide and betrayal in West Papua

Simply peacefully raising the Morning Star flag representing an independent West Papua risks 15 years' imprisonment.
Vanuatu has traditionally been the major supporter for West Papuan self-determination but has recently stepped up his diplomacy with the appointment of Lora Lini, daughter of the late founding prime minister Father Walter Lini, as special envoy for West Papua.
Port Vila wants West Papua to be added to the UN decolonisation list. Netherlands New Guinea had previously been on the UN decolonisation list but was annexed by Indonesia in 1969 in controversial circumstances.
The UN decolonisation list, or officially the United Nations List of Non-Self-Governing Territories, engages member states in charge of those territories to move towards granting self-determination.
Tokelau on list
Currently, Tokelau, which is a dependency of New Zealand, is on the decolonisation list.
Support from the Melanesian Spearhead Group bloc is divided with the Papua New Guinean government declaring this week it would not support Vanuatu, reports the PNG Post-Courier.
The Pacific Islands Forum has failed to bring change for the issue of self-determination and West Papua.
"I can't say there's been a huge amount of success," says Marie Leadbeater, spokesperson of West Papua Action Auckland and author of a recent book See No Evil: New Zealand's Betrayal of the People of West Papua.
Vanuatu brought a draft resolution for the UN to the Pacific Islands Forum in Nauru, reports the Vanuatu Daily Post.
The draft was labelled the "Realisation of the right of Papuan peoples' self-determination in the former colony of the Netherlands New Guinea (West New Guinea)".
However, the West Papua issue was not supported by other Pacific nations and was left off the outcomes document of the Forum, reports Asia Pacific Report.
Limited goals
The Forum has been a place to push for limited goals, such as fact-finding when it comes to West Papua.
Leadbeater says New Zealand following Vanuatu's lead could be a "game changer", but it is not willing to challenge Indonesian sovereignty.
Similarly, on the recent issue of returning the Chagos archipelago to Mauritius, New Zealand did not support the case to be considered by the International Criminal Court.
Leadbeater is critical of the Ardern government not shifting policy towards West Papua self-determination, "realistically, so far they haven't."
At a meeting in Nauru as part of the Forum, Foreign Minister Winston Peters said New Zealand recognised Indonesian sovereignty over West Papua.
Peters added that New Zealand would follow PNG's lead as its nearest neighbour, reports the Vanuatu Daily Post.
"I think as a Polynesian, or Melanesian or Pacific concept, the first person I'd be consulting on an issue like that is the nearest neighbour to the issue that might be a problem, namely PNG."
Support from NZ MPs
However, Leadbeater did identify a large number of NZ government MPs who would support West Papuan self-determination, including all of the Greens and high profile Labour MP Louisa Wall.
Associate Professor Stephen Hoadley of the University of Auckland says that since West Papua's integration into Indonesia in 1969, the cards have been stacked against them.
"You have to go back to 1963. The UN urged Indonesia to hold an act of free association. Indonesia allegedly manipulated the vote."
Indonesia claimed that Papuans were not advanced enough to deal with democracy and instituted a meeting of tribal elders.
"They handpicked tribal leaders. This vote was contested by local folk who accused Indonesia of manipulation, bribes, and intimidation."
After the flawed vote, Indonesia instituted a policy of transmigration into West Papua where Javanese were moved from Java to colonise less populated provinces around Indonesia, including West Papua. This policy was ended by current president Joko Widodo in 2015.
However, discrimination against the indigenous Melanesians had become endemic. For example, the courts were stacked with Javanese judges and Javanese got favourable preference.
Little appetite for criticism
Because of examples such as this, an independence movement sprang up in 1963 called the Free Papua Movement.
In the realm of international relations there was no appetite to criticise Indonesia in the 1960s.
Indonesia was sidelined during the cold war and US mining multinationals hadn't started drilling in the province yet, says Professor Hoadley.
But, things haven't changed in the past 50 years.
Dr Hoadley says liberal Western countries such as the Australia, New Zealand, United States, and the United Kingdom are status quo powers.
"If you redraw one boundary, then all boundaries are up for change. Better to leave things as they are."
A consensus among Western nations is that Indonesia has "things under control" and their transgressions against human rights in West Papua are not bad enough to consider attention, claims Dr Hoadley.
Success story
After the end of the Suharto regime in 1999, Indonesia was seen as a success story; a Muslim country that has adopted political parties, elections, and freedom of the press.
"The US thinking is that they're on a good track and we shouldn't criticise them too much," he says.
Ominously, nothing has come of the Rohingya genocide and there is no foreseeable future for West Papuan self-determination unless outside international influence or domestic upheaval forces Indonesia to start the process of decolonising.
James Halpin is a student journalist on the Postgraduate Diploma in Communication Studies (Journalism) reporting on the Asia-Pacific Journalism course at AUT University.