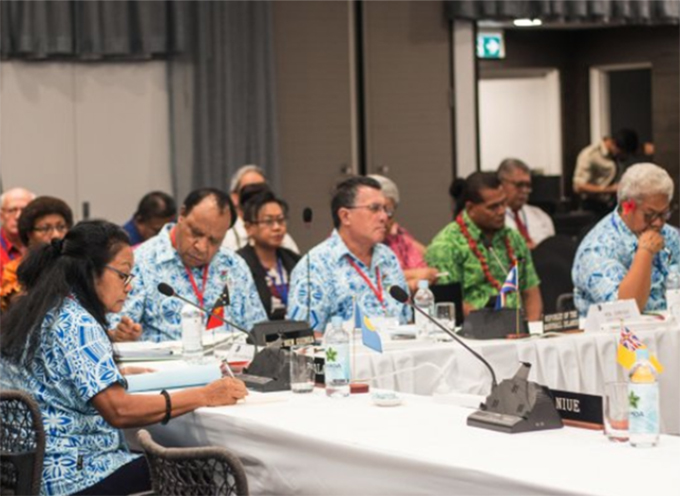 By Alexander Rheeney in Apia
Vanuatu has asked Pacific Islands Forum member states to support its resolution to the United Nations General Assembly next year to grant West Papuans self-determination.
The plight of the indigenous population in Indonesia's two restive provinces – Papua and West Papua – continues to be highlighted on the international stage by the Vanuatu government, despite the Melanesian Spearhead Group secretariat Director-General Amena Yauvoli declaring recently that the issue could not be raised at the Port Vila-based subregional grouping.
The issue of West Papua was put forward by Vanuatu as part of its agenda, which went before the Forum Officials Committee in its Pre-Forum Session in Apia, Samoa, this week.
According to the committee, Vanuatu had asked for the support of member states for the resolution to the UN General Assembly in 2019.
Listed under "other matters" of agenda 9(b), the committee stated that it: "Considered Vanuatu's request for support from Members on a draft resolution to the UN General Assembly ('Realisation of the right of the Papuan peoples self-determination in the former colony of the Netherlands New Guinea (West New Guinea)').
"Recalling the Leaders' current position regarding Papua (West Papua), the Committee noted Vanuatu's intention to take the resolution forward at the UNGA in 2019."
The outcomes from the two-day forum officials conference were put to the Forum Foreign Ministers conference in Apia yesterday, which then used it to determine the agenda for next month's Pacific Islands Forum Leaders Summit in Nauru.
No reference to West Papua
There was no reference to West Papua in the outcomes document that was distributed to the media, following a press conference that was convened after the conference.
However, the joint statement released by the Forum Foreign Ministers conference late yesterday does make reference to the Biketawa Plus Declaration, wherein the foreign ministers meeting in Apia agreed to a draft recommendation to address "emerging security issues" which will be put to leaders in Nauru.
The region continues to be divided on the West Papua issue, with the Papua New Guinea Foreign Minister Rimbink Pato, last month reportedly assuring the Indonesian government in a meeting in Jakarta that PNG supports Indonesian control of West Papua.
Alexander Rheeney is co-editor of the Samoa Observer and was formerly editor-in-chief of the PNG Post-Courier.