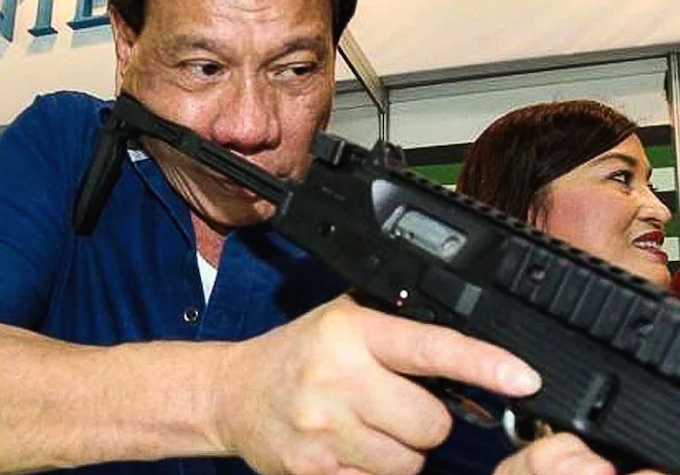 Summary execution-style killings between 1982 and 1985, known locally as penembakan misterius (mysterious shootings), or Petrus, were infamous as a means of bringing down crime rates in the country during the dictatorial regime of former president Soeharto.
More than three decades later, Petrus, considered one of Indonesia's past gross human rights violations, is said to be an inspiration for President Rodrigo Duterte, the leader of the Philippines, in his notorious war on drugs.
This claim was made by Coordinating Political, Legal and Security Affairs Minister Wiranto, who was also a former Defence Minister and Armed Forces (ABRI) commander before the fall of the New Order regime in 1998.
According to Wiranto, Duterte revealed the source of inspiration behind his "shooting-spree" of drug traffickers to President Joko "Jokowi" Widodo during their casual conversations on the sidelines of the 30th ASEAN Summit in Manila on Saturday last week.
"Duterte joked 'I learned from Indonesia.' President Jokowi was confused [and asked] when President Duterte came to learn about Indonesia," Wiranto said as quoted by kompas.com on Friday.
"President Duterte answered, 'No, I learned from Petrus [during the administration] of Soeharto'," he added.
"Apparently, Petrus, which in Indonesia is thought of as an unresolved case of past human rights abuse, has become an example in [the Philippines]," Wiranto said.
Operation Sickle
The Petrus shootings started in August 1982 under the command of then chief of the Operational Command for the Restoration of Security and Order (Kopkamtib), the late Admiral Soedomo. The operation was codenamed "Operasi Clurit" (Operation Sickle).
In March 1983, General Benny Moerdani, who replaced Soedomo as commander of Kopkamtib, took over the security operation.
The operation targeted recidivists, local gangs, unemployed youths and others considered sources of violent crime. Some were targeted by the operation simply because they had tattoos, considered a mark of criminals.
After a four-year investigation that started in 2008, the National Commission on Human Rights (Komnas HAM) announced in 2012 that the Petrus shootings were a gross violation of human rights as they involved systematic extra-judicial killings, torture and abduction.
The Indonesian Military and their territorial commanders as well as the National Police were mostly responsible for carrying out the widespread killings, which resulted in the deaths of at least 2000 people according to the state rights body.
In the Philippines, up to 9000 people have been killed in extrajudicial executions by police and vigilantes working in Duterte's drug war campaign, according to Amnesty International.
More than 2500 people have been killed in shoot-outs during raids since Duterte took office on June 30 last year. His war on drugs has been condemned by human rights groups for what they claim amounts to crimes against humanity.
Poor targeted
Amnesty International's report released in January reveals that the Philippine police have systematically targeted mostly poor and defenceless people across the country and have paid others to kill thousands of alleged drug offenders.
In an alarming development, Duterte's brutal crackdown on the drug trade has inspired Indonesian security officials, including National Narcotics Agency (BNN) head General Budi Waseso, to take a tougher stance on drugs.
Recently, Jokowi instructed law enforcement officers to impose the sternest sanctions on drug dealers operating in Indonesia. The President has given law enforcement bodies the permission to gun down suspected drug dealers in the streets if necessary.