Pacific Cooperation Foundation media interns Shivika Mala and Linda Filiai visit the Pacific Media Centre. Video: PMC

By Kendall Hutt in Auckland 
Student journalists from across the Pacific region have wrapped-up their 2017 internships.
Brandon Ulfsby, Joshua Lafoai, Linda Filiai, Safia Archer and Shivika Mala say their internships have "opened their eyes" to one another's journalism cultures and opened future doors.
"The contacts you gain are the most beneficial for the future," says Archer, a final-year journalism student from Massey University in Wellington.
Organised by the Pacific Cooperation Foundation as part of its media programme — now in its third year — three journalists from the Pacific and two journalists from New Zealand were given the opportunity to experience one another's media cultures.
WATCH MORE: PCF interns at the America's Cup Parade
Travelling to Apia and Suva respectively, Ulfsby and Archer say they enjoyed the "slower pace" of the newsrooms they visited.
"They process stories a lot more slowly, but that ups the quality of the storytelling," says Ulfbsy, a Bachelor of Communication Studies journalism major at Auckland University of Technology.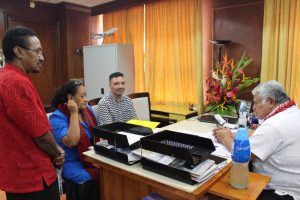 "In New Zealand there are commercial pressures that can alter the telling of the story."
Highlight 'was the people'
While in Samoa, Ulfsby interned with TV3 Samoa, Samoa Observer, Talamua (Radio Samoa) and Savali and says the highlight "was the people".
"I'd say Samoa is the people, that's how I see it. Going there for a media exchange, it's really about getting to know the people and understanding the cultural context that they're in — their stories, their perspectives — and presenting it in a really authentic way."
Despite an apparent lack of resources, Ulfbsy says, "journalists in the Pacific have a sense of freedom we don't have in New Zealand. Freedom in the sense that they can select the stories that they want to write about, cover, and they can present it in a way they feel best represents it".
Ulfbsy's thoughts were similarly echoed by Archer:
"The resources that the journalists are using, we're so spoiled here. We can do things so easily. They do things when they're relatively under-resourced compared to us, but they still manage to produce good content in a relatively timely manner."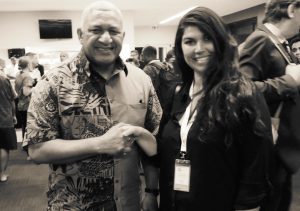 For Archer, however, the highlight of her time in Fiji was spending a day in the village of Nayavutoka in the northern province of Ra.
She says the village of 57 families was "ground zero" for Cyclone Winston in 2016.
'They're still rebuilding'
"It's three hours on a dirt road, barely accessible, and had been completely ravaged by Cyclone Winston and 17 months later they're still rebuilding."
Interviewing villagers with the crew of MaiLife magazine "was amazing", Archer says.
"The whole major part of me wanting to do this internship was actually to give, or see, that human side of climate change and development that we don't see.
"We just see the high-level talks, so having access to the villagers through a magazine that they trusted, people that they trusted, they warmed up to me and were able to speak to me about their experiences."
Archer also interned with CFL Radio, FBCTV, and Fiji Television.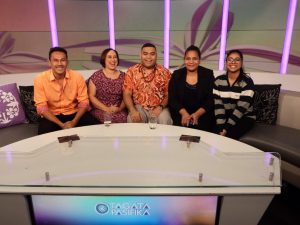 But while Ulfsby and Archer enjoyed the slower place of newsrooms in the Pacific, Filiai, Lafoai and Mala say they enjoyed the switch to New Zealand's faster-paced industry.
"We were all over the place. We did print, radio, television," says Lafoai of the National University of Samoa.
'That was intense'
"We did a week's work in our first two days at NZME. I did three stories alone, that was intense."
Filiai reflects New Zealand's fast-paced media industry also plays into access of information and sources.
"In the Pacific, if we were to work on a story it would take days, weeks, even up to a month because we find it really hard to chase our sources. It's so hard to get information out of the government ministry.
"Here, I find it really interesting because you send an email and they will respond to you and you can work on your story in a day or a few hours."
Filiai, Lafoai and Mala all agree they will be taking what they have learnt over the past two weeks back to the Pacific.
"We have a really big challenge ahead of us. We need to match up, we need to step-up our game in journalism. Not just in writing or reporting, but in also how we do our job," says Lafoai.
Cultural, media experience
For young journalists thinking of covering the Pacific region, Ulfbsy advises them to snap-up the PCF's unique opportunity, both for its cultural and media experience.
"For me the exchange is more of a cultural experience as opposed to a media experience, but that's essential to being a journalist who wants to cover the Pacific.
"Go to the Pacific itself and gain that perspective and that understanding so that we can authenticate our stories."