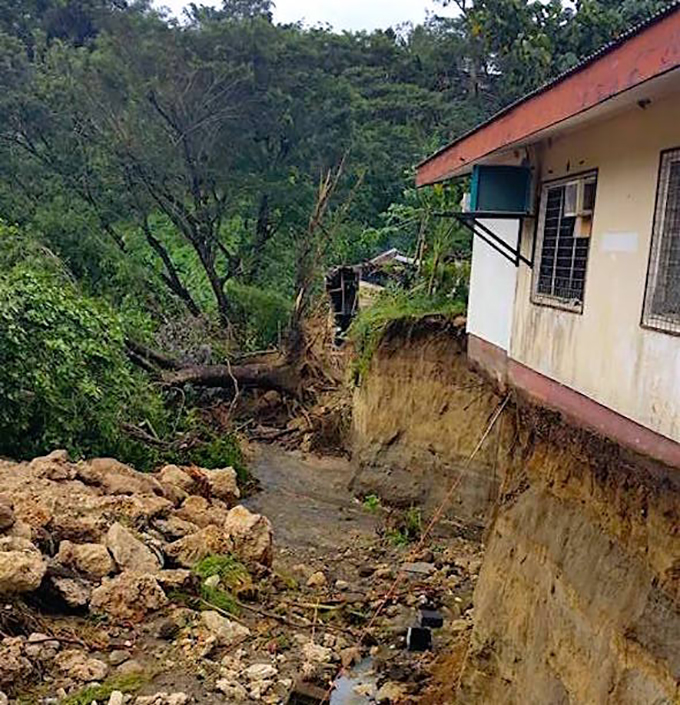 By Bob Makin in Port Vila
Cyclone Donna has moved on from Vanuatu towards New Caledonia and is now weakening.
And Cyclone Ella is gathering strength as it approaches Fiji and Tonga.
The only major damage so far reported – except for garden damage – was along the length of the Forestry Department HQ at Tagabe, where a deep gorge has been carved out by floodwater from Cyclone Donna overflowing the Bauerfield international airport runway stormwater drain.
The Forestry Department's building, untouched by the cyclone, now sits precariously on the edge of the eroded drain, reports the Vanuatu Daily Post.
Knowing the extent of damage in the Torres after a cyclone is never easy, their mobile phone tower generally being the first victim.
However, the teleradio service remained effective, said the Daily Post and with it the Red Cross had reported that 165 households — which total about 1022 people — had just a two-week supply of food remaining.
Both the NDMO and Red Cross are planning their first rollouts of shelter kits. About 1000 Torres islands people sheltered in emergency evacuation centres such as the large cave on Loh.
Food assistance will depend on surveillance flights of all affected areas from the Torres down through the Banks and western sides of Santo and Malekula.
Such flights will determine the damage on extremely isolated hillsides, and coast roads, will most likely be photographed too.
Schools and public buildings, especially those which had reported damage would also be assessed from the air, said the Daily Post.
Cyclone Donna spares New Caledonia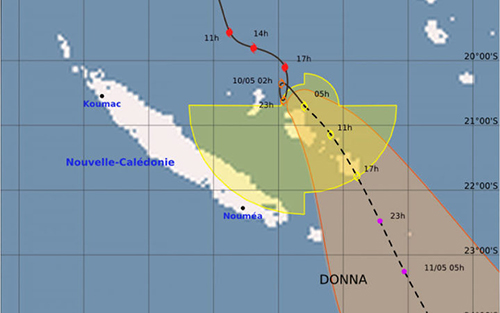 Radio NZ International reports that civil defence authorities in New Caledonia have lifted all alerts for the territory as Cyclone Donna moves south.
"The storm is now a category 2 and weakening as it moves southeast over cooler waters.
"The cyclone has moved on a more easterly path than predicted and spared the islands of Ouvea and Lifou a direct hit with the storm's centre," says RNZ International.
But gales and high seas were still likely to affect the southern Loyalty Islands later today.