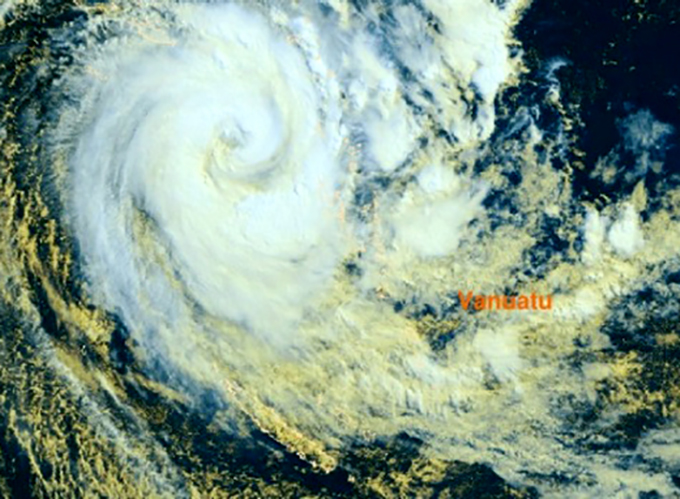 Cyclone Donna has left destruction in its wake in Vanuatu's north and is now tracking towards New Caledonia.
Authorities have issued a level one alert for New Caledonia's northern province and the islands of Ouvea and Lifou, Radio New Zealand International reported.
This alert was extended to the rest of New Caledonia from 2pm today, requiring people to prepare for the cyclone's impact.
But as New Caledonia prepares to face the now category 5 cyclone – the most powerful in the Southern Hemisphere ever recorded in May – Vanuatu's northern islands have not quite escaped her wrath just yet.
The Torba, Sanma and Malampa provinces continue to be affected, as strong winds and flash flooding are expected to prevail over the course of this week.
Vanuatu hard-hit
Cyclone Donna battered Vanuatu's northern islands for three consecutive days since it made landfall on Friday.
A "yellow alert" had been issued for the provinces of Torba and Penama, requiring people to take shelter as 185km/h winds were expected.
Meanwhile, a 'blue alert' had been put in place further south and west in the provinces of Sanma and Malampa.
Authorities advised people to secure homes and valuables, cut down dangerous trees, organise food and water, and have charged phones and torches available ahead of the cyclone's landfall.
However, reports over the last couple of days have revealed it is the Torres islands which have been the worst hit.
Reports of damage initially emerged on Saturday, as the northern part of Vanuatu continued to be battered for the second consecutive day.
Vanuatu Daily Post's Glenda Willie reported a number of homes had been destroyed in various islands across Torba Province while the roof was torn off a school classroom in Vanua Lava.
Limited communication
Winds that ranged from 165km/h to 235km/h tore through the region, resulting in limited communication.
Both the National Disaster Management Office and the Red Cross have confirmed trees and houses have toppled, while food crops have been destroyed.
In Torba, people on the islands of Banks and Torres were forced to take shelter in caves and evacuation centres.
Glenda Willie of the Daily Post reported all schools in the provinces Torba, Penama and Malampa closed their doors last Thursday, following instructions from the Ministry of Education and Training.

The move was to ensure students remained safe as Cyclone Donna battered the northern part of the country.
Domestic flights have been grounded until tomorrow, while international flights continued to fly out during the cyclone but on a case-by-case basis as the cyclone's movements were "closely monitored", reported Anita Roberts of the Daily Post.
Bad weather in the area continues to hamper relief efforts and attempts to gauge the damage.
Climate change blamed
Professor Jim Salinger, a climate scientist with Otago University, told Radio New Zealand International that Cyclone Donna's late appearance and intensity was indicative of a changing climate.
Dr Salinger said sea temperatures around Vanuatu and New Caledonia were too warm for this time of year, being temperatures normally seen in March.
"Well we're not in an El Niño and we're not in a La Niña, so you would not expect temperatures to be that warm, though they can be on occasions. So what we're seeing happening here is, I'd say, there's a bit of global warming going on," he said.
Scientific predictions of stronger, more intense cyclones over a longer season as a result of climate change were starting to be borne out, Dr Salinger added.
Cyclone Donna had sustained winds of 185km/h at its centre, gusting as high as 235km/h, while it pummeled Vanuatu. 
It was expected to weaken as it headed toward New Caledonia.