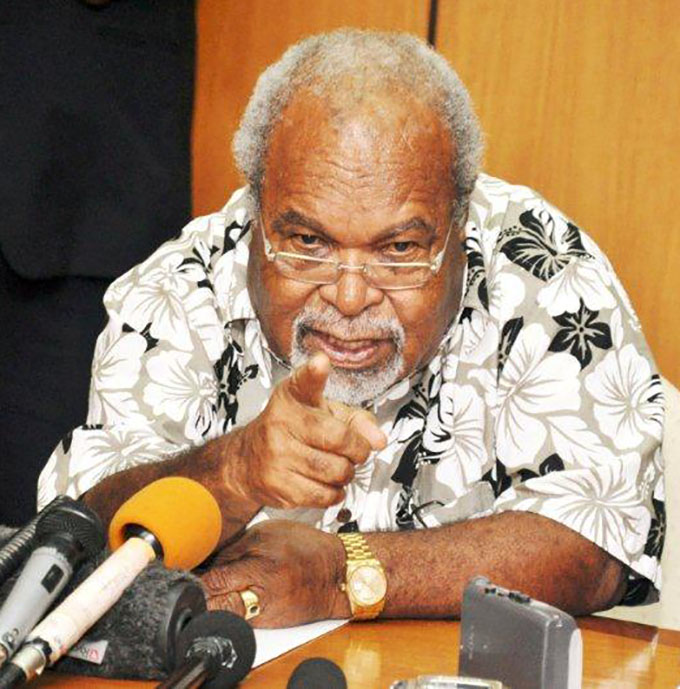 Sir Michael apologised in a statement to the people of East Sepik and the country as a whole for the shame and embarrassment caused by a report in Singapore about a money laundering case that names him.
A Singaporean woman and her American husband were both jailed for sentences for five years or longer in a money laundering case involving US$3.6 million, according to The Straits Times. They reportedly plan to appeal.
The Grand Chief said he would be seeking legal advice on the matter in a few days' time.
"I wish to make this address to the nation of Papua New Guinea in response to recent reports from Singapore.
"A court case has found two persons in Singapore guilty of money laundering offences and subsequently names me as a recipient of some funds.
"I have taken steps to get clarification and legal advice on this matter, but I would like to state from the outset that at no time in my political career have I received inducements or bribes.
"At first glance these charges say otherwise. Therefore, during the next few days, I will consult with my family and legal counsel and consider how to address this matter.
Apology to the nation
"Nonetheless, I take this opportunity to apologise to the people of Papua New Guinea, my people of East Sepik and my family for the shame and embarrassment these reports may have caused.
"I have no further remarks to make at this time."
The Singapore court found a married couple guilty for laundering US$3.6 million from Papua New Guinea in 2010 meant to set up community colleges in the country – then gave US$784,000 of it to the country's then Prime Minister, Sir Michael.
According to The Straits Times, Singaporean Lim Ai Wah, 61, was given five years' jail last Thursday (September 1), while her 68-year-old American husband Thomas Doehrman got five years and 10 months.
They were each found guilty on one count of falsification of accounts and five charges of transferring the benefits of criminal conduct.
Doehrman had been the trustee of a fund set up by the PNG government to establish community colleges in the country.
The Straits Times reported that in June 2010, the trust hired ZTE Corporation for US$35 million to supply telecom equipment for the project and the couple conspired with a ZTE employee, Li Weiming, 34, for the company to pay a secret "commission" to them.
Concealing payment
The news source stated that to conceal the true nature of the payment, Doehrman and Lim acquired a British Virgin Islands shell company, Questzone Offshore, and signed a fictitious US$3.6 million contract with ZTE.
No services were provided, but a Questzone invoice was created.
Doehrman and Lim gave Li, a Chinese national, US$850,000 via two transactions to his wife's Hong Kong bank account, according to the newspaper account of the case.
They gave Sir Michael three cheques worth a total of USD$784,000 in late 2010, all of which were paid into his Singapore bank account.
In their police statements, Lim and Doehrman said bribes had to be paid to the then-Prime Minister, Sir Michael, in order to get business from PNG.
Freddy Mou is chief reporter of Loop PNG.