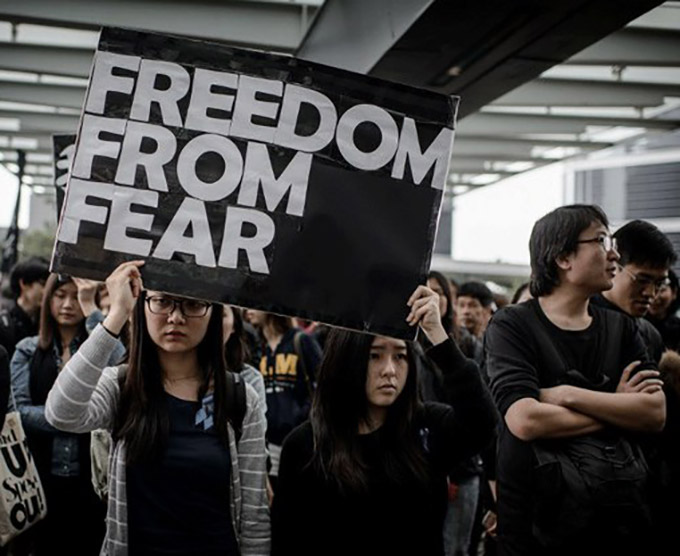 With media freedoms on the decline in Hong Kong, amid growing fears of "mainlandisation", is the press still performing its function as a watchdog? And can new media pick up the slack? Dominic Pink inquires for Asia Pacific Report.
The vibrant city of Hong Kong, once regarded as a haven for free speech, is experiencing a steady erosion of press freedom.
The former British colony was promised a high degree of economic and social autonomy upon its handover to China in 1997 — including freedom of the press — with the Hong Kong special administrative region operating under a "one country, two systems" principle. However, despite initially enjoying one of the most free media climates in the region, the situation appears to have deteriorated in recent years.
In the annual world press freedom index compiled by the Paris-based NGO Reporters Without Borders — or Reporters Sans Frontières (RSF) — Hong Kong has slumped in the rankings from 18th in 2002 to 69th in 2016 (China sits at number 176 of 180 countries).
Further cause for concern can be found in the latest survey by the Hong Kong Journalists Association (HKJA), which reports that both journalists and the general public believe that press freedom in Hong Kong has worsened for second year in a row.
Self-censorship has been stressed as one of the major issues facing the media; when the HKJA asked journalists to evaluate the level of self-censorship on a scale of 1 to 10, their average rating was 7.
Benjamin Ismaïl, head of RSF's Asia-Pacific desk, found Hong Kong's media freedom situation troubling enough to warrant an in-depth report. Aiming to draw attention to self-censorship and editorial interference issues, the report calls on the special administrative region's authorities to "reverse their insidious policies towards the media as a matter of urgency".
Despite noting that there is no incontrovertible evidence of Beijing's hand in undermining Hong Kong's press freedom, the report raises questions about several distressing developments.
Triad-style attack
Chief among these is a growing number of physical attacks on journalists, the most shocking of which occurred in February 2014 when Kevin Lau was brutally stabbed in a triad-style attack. During his two-year stint as editor-in-chief of Ming Pao, a muckraking Chinese-language daily, the newspaper contributed investigative work to the International Consortium of Investigative Journalists' (ICIJ) expose on the offshore holdings of China's elites, which was widely speculated on to be the motivation behind the attack.
"The unfortunate truth is that for many physical attacks and other 'legal' violations of press freedom, it has been impossible to prove the intention of the perpetrators, and in the case of this attack, to identify the individuals who gave the order," says Ismaïl.
Lau's two assailants were jailed for 19 years in August 2015, confessing that they had been offered HK$100,000 each to "teach Lau a lesson", but refusing to reveal who hired them. The Foreign Correspondents' Club quoted Lau as saying that only when the perpetrator behind his attack is found "will the shadow cast on journalists by this violent attack be lifted."
"We've seen ways that people can be pressured," says veteran journalist Francis Moriarty.
"Kevin Lau is an example: pushed out of his job and physically attacked in the streets to within an inch of his life. His successor was marched out of the office at midnight and told don't come back … You can see the results, even if you can't always see the hand at work."
Ming Pao has come to the fore of Hong Kong's press freedom debate once again as their latest editor-in-chief, Keung Kwok-yuen, was suddenly fired last month after running a front-page story on local politicians and businessmen named in the Panama Papers. Following Keung's dismissal, Ming Pao columnists submitted blank columns in protest, but to no avail.
Another disconcerting example of Beijing's invisible hand at work, according to the RSF report, is the acquisition of the South China Morning Post (SCMP) — Hong Kong's leading English-language newspaper — by billionaire Jack Ma, founder and chairman of the Chinese e-commerce giant Alibaba. Company executives have said that they aim to counter the "negative" perception of China in the Western media. This move raised such fears of mainland interference that Ma felt it necessary to defend the decision in a recent SCMP interview.
'Legal' violations
As well as physical attacks and editorial interference, the RSF report details "legal" press freedom violations, such as the withdrawal of advertising to asphyxiate a publication and the demoting of critical journalists, as major causes behind growing self-censorship. Ismaïl says that for some journalists, "making no compromise will mean losing their job".
Hong Kong journalist and press freedom advocate Mak Yin-ting fears that self-censorship may become "endemic" in Hong Kong, irreparably weakening the watchdog role of the Fourth Estate. "According to the [HKJA] surveys, the most self-censored issues are those sensitive to the central government in Beijing," says Mak, who served as the HKJA chairperson for several years.
Stories regarding the independence of Tibet, Taiwan and Xinjian are considered to be the most sensitive to Beijing, and therefore most likely to go unpublished. Mak also points to human rights suppressions in China and Hong Kong's vocal localist movement as further examples of issues less covered by Hong Kong media.
"This makes it impossible to play its watchdog role, it's as simple as that," says Ismaïl. "This happens the moment a journalist starts to balance the interest of the public with the interest of the state." He contends that the "poor" local coverage of Chief Executive Leung Chun-ying's secret A$7 million payout is one such example.
The HKJA's current chairperson, Sham Yee-lan, is renewing calls for the government to introduce a Freedom to Information Act, which Mak says is something journalists have been demanding for decades. Hong Kong's existing information laws are "insufficient" for journalists to report effectively, according to the HKJA.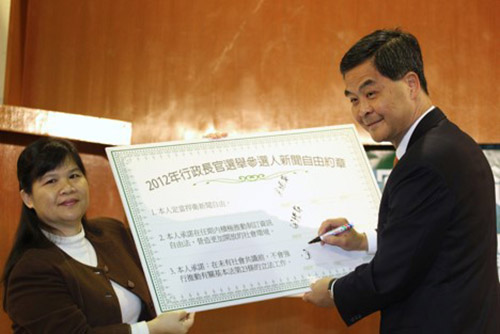 Mak "condemns" Leung for failing to keep his promise on this legislation once he became Chief Executive, as he signed a freedom of press charter in 2012 stating his commitment to implementing the act.
Leung made overtures towards defending press freedom at the annual Hong Kong News Awards last month, saying, "the SAR government will continue to maintain freedom of speech in Hong Kong … because it is a necessary condition for Hong Kong as an international city. Freedom of the press is essential to maintain Hong Kong's competitiveness and free society. In other words, protecting freedom of the press means protecting Hong Kong's way of life."
Harshly criticised
This speech was harshly criticised by the Hong Kong Free Press. "Nowhere in his administration do we see these inspirational words put into action. In fact, Leung has presided over a troubling erosion of the very core value to which he was so keen to give lip service," wrote Kent Ewing.
"One of the things for which many people in Hong Kong fault CY Leung is that he takes the mainland's side in issues," says Moriarty. "He couldn't even bring himself to root for the Hong Kong soccer team when it played against China." Leung's growing unpopularity is on display on his Facebook page, where the public have taken to express their anger.
Polarising public dissatisfaction and accusations of Leung's mainland-bias have been renewed over his administration's inactive response to the missing booksellers, one of the most sensational freedom of speech cases in recent years. Five men with links to a Hong Kong bookstore — Causeway Bay Books, known for publishing scandalous material critical of China's senior party officials — disappeared without trace over the course of several months late last year, only to resurface sporadically on Chinese state television giving what appear to be forced confessions.
The ongoing saga has dominated Hong Kong media for months and is threatening to become an international incident now that Angela Gui, daughter of one of the missing men, has gone public with an appeal for help in the United States. She has accused China of carrying out "illegal operations" beyond its borders, and urged the international community to respond.
"Almost nothing ever gets solved in China quietly," says Moriarty. "Every case I've ever seen when something was resolved and somebody ultimately was freed was because there was a campaign, there were people in the family that wouldn't give up, the public got behind them and wouldn't give up — keeping quiet doesn't help people."
Timothy Hamlett is another veteran Hong Kong journalist critical of Leung's pro-Beijing administration. "Hong Kong does not have a state of democracy," he says. "Leung's predecessors were quite successful in obscuring this fact by an ostentatious display of concern for public opinion. Leung doesn't care what anyone thinks about him and makes this obvious. He is regarded as a shameless puppet."
Hamlett says that the silence of Leung's administration on the disappeared booksellers — one of whom, Lee Bo, is believed to have been illegally abducted from Hong Kong — is viewed as complicitous by many. "It is clear that the Chinese government is trying by a variety of ways to muzzle the Hong Kong media, and to a considerable extent it has succeeded," he says.
Worrisome figures
Considering the worrisome figures presented by the HKJA and RSF, Hamlett says they do not present an accurate reflection of the media landscape, as "the reality is worse… Journalists and editors try to hide in areas like business where accuracy is still valued and 'sensitive' topics do not come up, or they consider alternative careers."
While Hamlett bemoans the decline of Hong Kong's traditional media, he says several new media outlets are picking up the watchdog baton, such as the newly-established Hong Kong Free Press, for which he is a contributor, and the pro-democracy Next Media websites — whose outspoken founder, Jimmy Lai, has often found himself a target.
Tim Summers, an adjunct assistant professor at the Chinese University of Hong Kong, offers a "slightly counter-consensus view" on the issue, arguing that it is more complicated than "a critical one-dimensional decline in media freedom."
"One of the things mixed into this debate is the changing nature of the media here," he says, "and I think that makes it difficult to evaluate." According to Summers, most people in Hong Kong now get their news and information from a wider range of sources, including social media and online chat groups, where "freedom of expression and information transfer are healthy."
Summers suggests the extensive local coverage of the 2014 Umbrella movement as a positive example, during which all media outlets were live streaming the protests as they unfolded without restrictions, including the oft-criticised SCMP. "I'm not saying there are no issues around … there is perhaps less variety and diversity of outspoken views across the traditional media in Hong Kong, but I would argue that that is more than compensated by the emergence of new media."
This more measured take on the state of Hong Kong's press freedom is echoed by Dr Judith Clarke, a seasoned professor at the Hong Kong Baptist University's journalism department. "There is certainly a lot of pressure to conform, but there are plenty of independent media getting the news out and leading the way on stories — scrutinising every move of the government, so that even pro-government media have to follow."
She concedes, however, that the introduction of a Freedom to Information Act is unlikely under the current administration. "There are already some procedures in place, such as the Code on Access to Information, various complaints mechanisms and the Ombudsman's office. These are not really adequate, but they do provide some level of access."
Open access
Moriarty says that even these procedures are under threat, as the administration is attempting to make access more difficult for journalists. "Without open access to business records you wouldn't have seen the same stories about the rich family members of the Chinese leaders — the Hong Kong records were extremely important in being able to confirm who was who and where the money was going."
Ismaïl emphasises that regardless of whether the act happens or not, it should not be viewed as a solution to the threats that the Hong Kong media are facing. "Even with the Freedom to Information Act, which will [reduce] discrimination against independent online media like the Hong Kong Free Press, the media will continue to be pressured and encouraged to self-censor." The Hong Kong government — perhaps sensing that new media could become the Fourth Estate's new watchdog — does not allow online media access to press conferences and press releases.
In spite of his many concerns, Ismaïl is not yet ready to call the "one country, two systems" experiment a failure — at least as it relates to press freedom guarantees — and he promises RSF will continue to monitor the situation closely. "The Hong Kong media, both local and foreign, enjoy all sorts of freedoms that are refused to journalists operating in mainland China. And international press freedom organisations like ours can still go there and speak freely … But the moment RSF members are denied access to Hong Kong, we'll be extremely worried."
Dominic Pink compiled this report as part of the Pacific Media Centre's Asia Pacific Journalism Studies course.