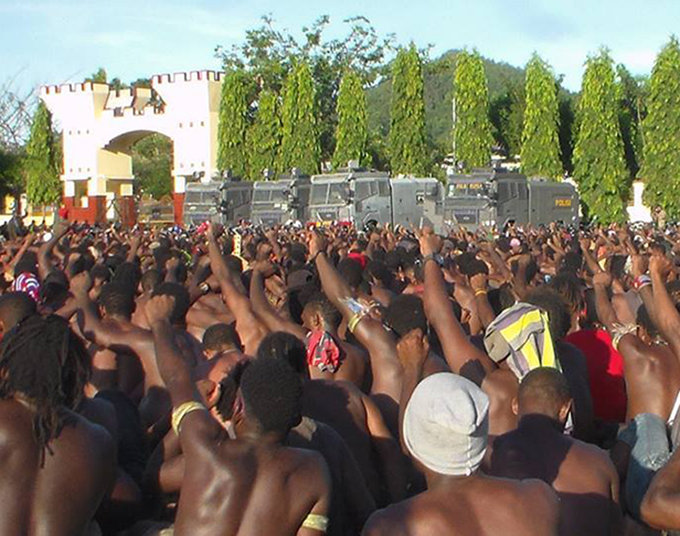 By Benny Mawel in Jayapura
Activists from the West Papuan National Committee (KNPB) allege they were tortured and beaten up by police during their mass detention last week.
Protest coordinator at Expo Rally point, Warpo Wetipo, said the torture of seven activists took place in a special detention room named Karel Satsuitubun in the police headquarters.
"The seven of us were treated inhumanly. They treated us like animals," Wetipo told Jubi in Abepura in the capital of Jayapura.
He said during the interrogation, officers stamped on the activists' chests or backs, some repeatedly beating them on the head with rifle butts.
"An officer came and hit me on my ear. For a minute, I lost consciousness. I regained consciousness when I felt something warm out of my ear. I touched it and it was blood," he said.
When other officers came, they kicked him on the chest and back. He said he felt the pain after he woke up the next morning.
"Yesterday I didn't feel any pain but later I felt the pain. I have difficulty breathing while going up and down the stairs at the dormitory," he said.
Police acted brutally
KNPB activist Arim Tabuni, who was arrested at Lingkaran Abepura, also said the police had acted brutally.
They scattered the rally participants and arrested some activists.  The activists were loaded into a police armoured truck which brought them to the Mobile Brigade Command headquarters.
"They tortured and arrested us at 9am in Lingkaran Abepura. They took us into the armored truck and told us to raise our hands. They beat us on the chest and head, mostly on the chest. So we looked not hurt," he said.
In the special detention cell, he said, the temperature was extremely hot. They were told to remove their pants. Some activists refused to do it, but some officers did it.
"Some activists refused to do so," he said.
During the interrogation, he said the police terrorised the activists, threatening to kill them and throw their bodies into the sea.
"These four, just kill them. Put their bodies in the sack and throw it into the sea for the fish," said Tabuni, imitating the officers when being interrogating in the detention cell.
Female activist beaten
Besides the seven activists, said Wetipo, there were four activists being beaten during the detention, including a female activist who was arrested at Lingkaran Abepura.
When interviewed by Jubi, she told the news service that the police removed her clothes.
"They pulled off my clothes. My bra was untied showing my chest – I was topless. They dragged me to the police car injuring my right knee and elbow," she pointed out her wounds to Jubi.
She said she and her friends were topless when brought to the Mobile Brigade Command Headquarters. The police offered her a cloth to cover her chest but she refused it.
"I told them I was born from a bare-chested mother. So I told them here I am. I never did something wrong," she repeated her words to the police.
Asked for comment, Papua police spokesperson Adjunct Senior Commissioner Patrige Renwarin denied any police violence, saying they "only secured the situation". The activists were released in the afternoon.
"No torture," said Renwarin through short message to Jubi on last Wednesday afternoon.
Police confirm injuries
Papua police chief Inspector-General Paulus Waterpauw, who negotiated with parliamentarians of the Papua Legislative Council and Reverend Benny Giay about releasing the activists at Mobile Brigade Command headquarters, confirmed some activists had been injured.
"I was informed that there are four activists. Please report it if there are some who are wounded. If afraid, they could make a report through the National Human Rights Commissioner, Frits Ramandey. We will facilitate it," said the chief in his speech before the release of protesters on Monday (May 2).
He said he appreciated that the protesters had been cooperating though some were wounded.
"We don't want any fatalities," he said.
Human rights lawyer Gustaf Kawer said those detained and tortured just repeated past experiences.
The police never want to change their pattern to not repeat the same mistake, he said.
Kawer said the police should open up space for the protesters. The restrictions, silencing and torture would only "fertilise the idealism".
Growing movement
"This movement would grow bigger and bigger," he said at the compound of the Mobile Brigade Command headquarters.
According to Kawer, if there is a confession forced through torture, it violated an international covenant against violence.
"Telling the activists to remove their clothes, let them sit under the sun could be considered to violate the human rights covenant," he said.
Those who claimed to be tortured and beaten were named as: Warpo Wetipo (31), Doli Ubruangge (27), Arim Tabuni (21), Matias Suu (21), Goty Gobay (23), Kombawe Wanimbo (25), Elias Mujijau (19), Agust Pahabol (23) and Izon Kobak (23).
Benny Mawel is a reporter with Tabloid Jubi.