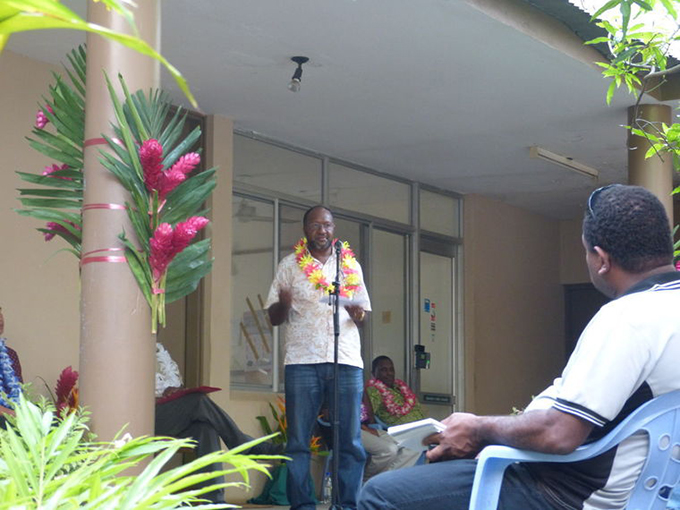 By Thompson Marango in Port Vila

Prime Minister Charlot Salwai, who is also minister responsible for media, said it is important for Vanuatu's national broadcaster to cover the whole country.
"VBTC is important to the government, as part of the 100 Days Plan, the government wants radio coverage to reach the whole country," Prime Minister Salwai told the Vanuatu Broadcasting and Television Corporation (VBTC) board of directors and staff during his visit to the national broadcaster late last week.
Stressing the importance of media and the role that VBTC is expected to play as the government's mouthpiece, Salwai questioned why the state-owned institution was not functioning up to expectations.
"Media is important because information is important so people can be aware of what is happening nationally, regionally and also internationally.
"Unfortunately not everybody is reached. It is our homework to increase the coverage because it's not only information but also educational for the people."
The Prime Minister recalled having access to radio coverage when growing up as a child on his home Island of Pentecost during the colonial era.
"Now there is no coverage, even in rural Efate," said Prime Minister Salwai.
Lack of coverage
"With more facilities in place like the e-govt network, submarine cable and the establishment of the Office of the Government Chief Information Officer (OGCIO), lack of coverage is a challenging issue."
Salwai said he was concerned about the status of the institution and made it clear that he intends to get to the bottom of the issues that are affecting VBTC.
He called for more transparency and accountability, saying the institution's annual report did not reflect the reality of the situation it was facing.
The prime minister said VBTC had an annual budget every year from the government on top of fees from other operators.
He said he would get a second opinion in terms of an audit report if needed.
"I want to find out what needs to be addressed," he said.
Overall he said as minister responsible he would continue to support the media to work freely in the country.
In response, VBTC general manager Fred Vurobaravo thanked the prime minister for the "challenging words", saying it would take time and a collective effort to address the issues.