By Michael Neilson in Jakarta
On the University of Indonesia campus in Depok, south of Jakarta, there is a group that gets together twice a month over a "pot-luck" dinner to discuss topics generally considered taboo in Indonesia.
The group is not involved in organised crime or murder, as wild rumours percolating in late January suggested, nor is it planning to take over the university with its "lesbian, gay, bisexual and transgender propaganda".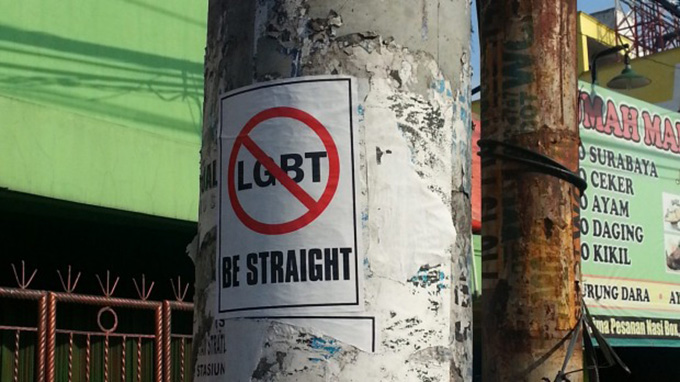 Set up by a group of students and teachers, the Support Group and Resource Centre on Sexuality Studies is merely a place to meet and discuss sexuality and gender issues.
But the group became the lightning rod for a debate about being queer in Indonesia, after the University of Indonesia objected to a brochure it had disseminated about its "LGBT Peer Support Network", which featured three gay men and a pansexual woman discussing the benefits of counselling.
An image of the brochure went viral online gaining a lot of attention – some of it positive, but most of it condemning the group.
The university distanced itself from the group, issuing a statement saying it was not responsible for its activities as it had not asked for a permit. The statement said: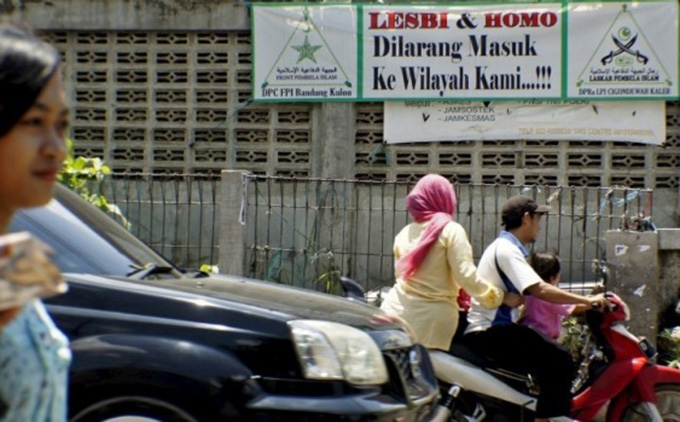 "[University of Indonesia] strongly states that the Sexuality Group and Resource Centre has no rights to use the name and logo of the [University of Indonesia] in its activities."
Conservative Islamic newspaper Republika soon picked up on the story with a front-page article titled "LGBT poses serious threat", and what support group member Luna Siagian describes as a "witch-hunt" began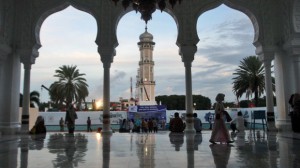 Research, Technology and Higher Education Minister Muhammad Nasir​ joined in the debate, initially stating lesbian, gay, bisexual and transgender students on campus corrupt the nation's morals, before later clarifying he meant only those that were publicly "affectionate".
An MP from the Prosperous Justice Party, Muhammad Nasir Djamil​, also commented, saying "LGBT groups cannot thrive and be given space. Especially given they have entered campus through academic space."
Speculative articles were written about the group's members, including a profile piece in Republika about co-founder Firmansyah's sexual orientation.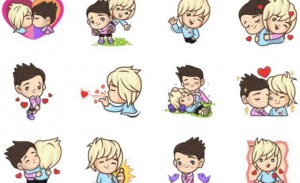 Members were cyber-bullied, and wild rumours circulated online linking them to criminal activities. Siagian received multiple messages daily criticising her about her sexuality.
The media exposure of the group led some members to be interrogated by their parents. One of the co-founders was kicked out of home, says Siagian.
"They treated us like we have a mental illness, prone to instability… even psychopaths," she says.
"I want people to be more sexually knowledgeable. People are very hesitant about even calling things penis and vagina – it makes sexuality a taboo thing. I want people to be able to talk more openly about these things."
There are no national laws prohibiting homosexuality in Indonesia, but the local government of Aceh has implemented Sharia law and criminalised homosexuality. Across Indonesia discrimination is common.
"Indonesian society generally sees lesbian, gay, bisexual, transgender, queer and intersex as 'sakit' or not normal," says Professor Baden Offord​, who teaches human rights at Curtin University.
"Discrimination … is mainly because of religious, social, cultural and state sanctioned attitudes … that are in some places based on tradition, on proscriptions against homosexuals by Imams and Islamic law, or simply by the state's focus on the family as the basic unit of society."
In March 2015, Indonesia's top Muslim clerical body, MUI, issued a fatwa proposing same-sex behaviour be punished by caning or even the death penalty, and labelling it a "disease" that can be cured.
It also issued a fatwa prohibiting Muslims from joining any groups that promote LGBT rights.
The Islamic Defenders Front is regularly involved in shutting down such advocacy groups and the events they run.
Lini Zurlia​, who describes herself as a queer feminist, is a member of Arus Pelangi, one of more than 120 LGBT advocacy groups based in Indonesia.
Gay workshop shut down
Zurlia was present when members of the Islamic Defenders Front, accompanied by police, turned up at an Arus Pelangi workshop in Jakarta, and ordered them to shut it down.
She says they have learnt to expect such things can happen, yet they still try to keep the community together.
Originally from a small village in South Sumatra, Zurlia has not yet come out to her conservative Islamic family, and does not know how to do so. "If they knew, they would reject me, as an adulterer, as a member of the family."
Zurlia says it is quite easy for her to hide her identity, but transgender people are easily identified and often prevented from getting jobs. Many end up homeless and/or working as prostitutes.
Chusnul Chasanah​, from the Jakarta-based Centre of Law and Policy Study, says the discrimination is based on a misinterpretation of the country's morals, laws and religions.
She says respect for differences is one of the most important moral teachings in the Koran. The 1945 Constitution also provides for respect of all Indonesians based on difference, which includes people of different gender and sexual orientations, she says.
Along with the non-governmental organisations, there is increasing support from the Human Rights Commission.
Commissioner Muhammad Nurkhoiron​ says lesbian, gay, bisexual and transgender people are guaranteed protection under the Constitution and President Joko Widodo's "Nawa Cita" – the President's nine point agenda.
"One of the priorities [of the commission] is to ensure the state … conduct their duty to respect, protect and fulfil lesbian, gay, bisexual and transgender rights."
First Minority Rights report
The commission is compiling its first Minority Rights report, that will make recommendations to the government on the state of minority rights, including those of lesbian, gay, bisexual and transgender people.
He says it will become an annual report, monitoring the progress and setbacks of fulfilling those rights.
Despite having their groups and events regularly targeted by authorities, LGBT groups say Jakarta and Bali are "heaven" in comparison to the smaller villages around the archipelago.
They say they are able to go about their daily lives, as long as they are not publicly affectionate.
"There is a vast gap between the norms and opinions that Indonesians express in public and the way they behave in their daily lives," says Elizabeth Pisani​, a journalist and epidemiologist who has spent more than 28 years in Indonesia.
"Whatever the moral panic of the day, most Indonesians are extremely 'live and let live' in their daily lives. They don't want to be forced into taking a position, they don't want to have things stuck in their face," she says.
Tegar Ramadan was one of the gay men pictured in the LGBT Peer Support Network brochure. He believes as people become more aware of different sexual orientations and gender identities, they will become more accepting.
"I was afraid before I decided I would fight for my rights. I was afraid of being visible, political for this matter because that would attract attention," he says.
"But if it's not me then who, and if it's not now then when? Because the change will not happen unless we fight for it."