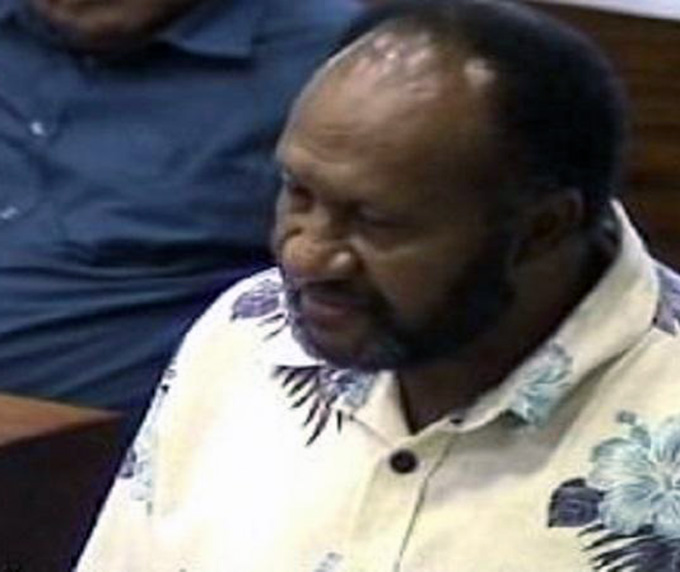 By Harold Obed in Port Vila
Pentecost MP Charlot Salwai was today elected the 11th Prime Minister of Vanuatu by the incoming Parliament, elected in a snap election last month.
Salwai was nominated by MP Joe Natuman and seconded by MP Ham Lini, both former prime ministers. There was no contender from the caretaker side, but according to parliamentary rules, members had to elect Salwai through secret ballot.
There was applause inside Parliament when the Speaker announced after counting that "Salwai is duly elected prime minister of Vanuatu".
He was voted in with 46 votes of the 52 MPs. Five votes were void, and one abstained.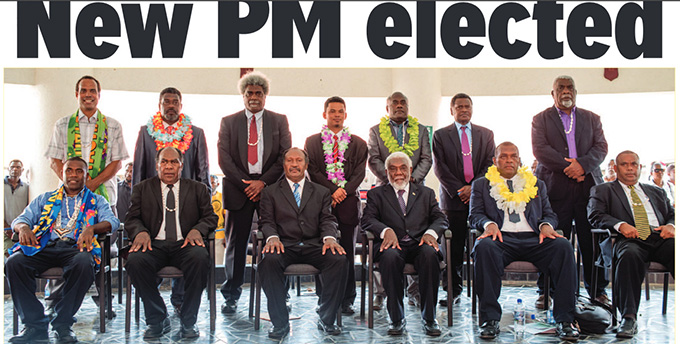 Now serving his fifth term as a Pentecost MP, Salwai has had a colorful political career.
He has served as minister for Internal Affairs, Finance and Economic Management, Education, Lands and Natural Resources, and for Trade and Industry. He has also held the position of deputy leader of the Opposition and Opposition whip in the Vanuatu Parliament.
Salwai has also held advisory positions in the previous UMP-held portfolios.
Prior to his political career, Salwai has served in the accounts department of the Unelco power company, the now defunct Vanuatu Development Bank, and the MSP Ltd.
Salwai is known as a good leader with an exemplary character. Despite his dispute with the UMP president Serge Vohor that led to a court battle and lawsuits, he continued to maintain a good leadership role to "walk the talk". In doing so, he earned his way to establishing the Reunification of Movement for Change party.
Salwai also exerted the right to have responsibility for his supporters when his colleague, RMC member Steven Kalsakau, refused his directions and found himself behind bars after he was convicted of corruption charges.
As the only moderate group inside the Unity Front for Change grouping, Salwai maintained his support for the fight to uphold parliament's integrity and the anti-corruption fight which now earned his recognition and support for the position of prime minister.
His true authority to claim respect for his good character and trustworthiness was witnessed this morning when former Attorney-General and UMP member, Ishmael Kalsakau, speaking on behalf of the now Opposition side, told Parliament, his side had had kava with Salwai earlier on. He saw no need to propose a contender for the position of prime ministership.
Following his appointment, Salwai thanked the house for their trust. He confirmed his many years of experience has helped him get to where he was today.
He paid tribute to all national leaders and community leaders — including women and youths who have contributed one way or another towards Vanuatu's development.
Salwai called on all MPs, almost half of whom were new, to assist by contributing to the nation's unity.
Charlot Salwai is the third MP from Pentecost to occupy this coveted position after Vanuatu's founding prime minister, Father Walter Lini, and his brother, Ham Lini.
Before his election, four parliamentary speakers were elected.
They are include VP's member for Malekula, Esmon Saimon as Speaker, Edwin Amblus Macreveth the Fren Melanesian Party member for Santo as first deputy speaker, Nagriamel's Havo Moli as second deputy speaker, Natatok's Alickson Vira from Ambae constituency as third deputy Speaker, and forth deputy speaker, Marcelino Bartholomew of RMC.
Following the elections, Speaker Esmon Saimon declared the closing of the first ordinary sitting of Parliament for 2016.
The Prime Minister was to appoint his new ministers later today.
Pele Unity Group says it has the numbers to form government in Vanuatu
—