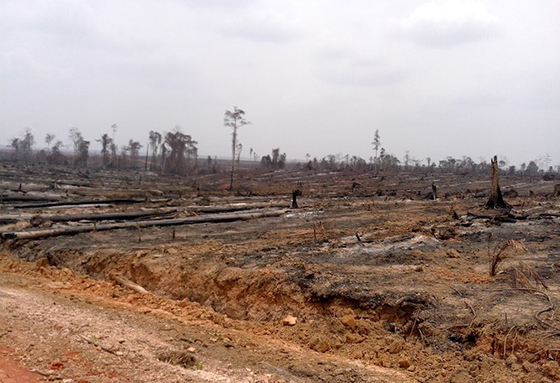 Report by Ryan Dagur in Jakarta

While countries consider their climate change options for the future at COP21 in Paris, forest fires and the ensuing pollution have been growing problems in Indonesia.
For the most part, the scorched forest issue was isolated to the western Indonesian islands of Kalimantan and Sumatra. However, this year, the issue has plagued both Papua and West Papua, which raises concern among activists about the future of forests in these easternmost provinces.
"If it is not seen as a serious threat. It is a scourge for the future," said Franciscan seminarian Yulianus Freddy Pawika of the Francisan commission for Justice, Peace and Integrity of Creation in Papua.
According to the National Agency for Disaster Management, from July to October this year, fires struck 2.6 million hectares of forest.
Papua, which had 353,191 hectares of land burned, stands behind Sumatra (832,999) and Kalimantan (806,817).
The number of fire hotspots in Papua, according to Purbo Sutopo Nugroho, the agency spokesman, reached 584, with the majority in Merauke district, which had 346, while Mappi district had 117.
Fire triggers
Nugroho said forest fires are a new problem for Papua.
The government, meanwhile, placed the blame for the fires on indigenous people.
"If the forests are burned and rain falls after that, grass will grow back and become green and animals will come. It will become a hunting ground for nomadic groups. These aspects are being investigated by us," Environment and Forestry Minister Siti Nurbaya Bakar told The Jakarta Post.
However, activists like Pawika believe the fires are triggered by the activities of multinational corporations, which have increased their presence in Papua over the past decade.
In Merauke, a fire hotspot, the Merauke Integrated Food and Energy Estate megaproject converted about 1.6 million hectares of land used by indigenous Malind people into a food, timber and biofuel production plantation.
The project was initially announced in 2009 by former president Susilo Bambang Yudhoyono, with the goal of helping the country raise production of crops like rice, corn and soybean.
In May, President Joko Widodo announced plans to relaunch the project and said that the allocated area would be expanded to 4.6 million hectares.
According to Pusaka, a nongovernmental organisation focusing on indigenous rights, the government so far has granted permits to 41 plantation companies to operate on 1.5 million hectares of land.
Pusaka spokesman Yosafat Leonard Franky said three companies were responsible for the fires.
"We do not believe the Papuans are the perpetrators of forest fires," he said.
"We are more inclined to think that there are other parties who deliberately set fire to the forest, because perhaps in the future they need land for oil palm plantations and other agriculture."
According to Franky, culturally, Papuans never burn their forests, preferring instead to preserve the land.
"In general, if Papuans want to open new fields, they use machetes and axes to chop wood. If it is said that people burn forests to clear land and then hunt animals, that is not at all in accordance with their traditions," he said.
Pawika said that in the Papuan mindset, the forest is their friend.
"So it is impossible that the perpetrators of forest fires are indigenous Papuans."
Nugroho, the disaster agency spokesman, said he would not rule out corporations' culpability. However, he said the effects of the El Nino phenomenon, which have wreaked havoc on developing countries dependent on agriculture, is the principal cause of the prolonged drought that has left the region vulnerable to forest fires.
Local concerns
Attention to this issue is already emerging, especially from local governments.
Lamadi de Lamato, spokesman for Papua Governor Lukas Enembe, said that in addition to taking steps to extinguish the fires, the government has urged all parties, including companies, to not set forests on fire.
The plantation corporations maintain that they are not responsible for the forest fires; placing the blame on the prolonged drought leading to arid conditions. Indeed even de Lamato said the corporations' involvement in the fires would be difficult to prove, given the worsening drought.
Meanwhile, Franky said he hopes the local government will remain consistent in its attempts to preserve the forests, noting that many government officials are more concerned with short-term profits rather than preserving forests for long-term benefit.
Zenzi Suhadi, forest protection campaigner for the Indonesian forum for the environment, said the government must control the activities of corporations working in the region. He accused government officials of passing out concessions too easily to various companies.
From 2007-2011 for example, he said 14.7 million hectares of land were awarded to plantation companies.
"The granting of licenses should be tightened and law enforcement must be carried out on those negligent of their duties," he said.
Weak church
Pawika lamented the weak role of the church in speaking out forcefully on the destruction of Papua's forests, in comparison to the corporations who are backed by security forces that suppress resistance from local people.
"Concern over this issue is still limited in certain circles. It has not been a concern for the five dioceses in Papua," Pawika said.
"We have not heard of one bishop in Papua speak firmly about this issue," said Pawika, a Papua native.
He said the church must unite against forest destruction, given that this is a major threat to the indigenous Papuans' survival.
"The indigenous people depend on the forest. If this problem is not solved soon, then this also means Papuans will be increasingly marginalised," he said.
Report by the UCA Catholic News Service.
Source: Pacific Media Watch 9499