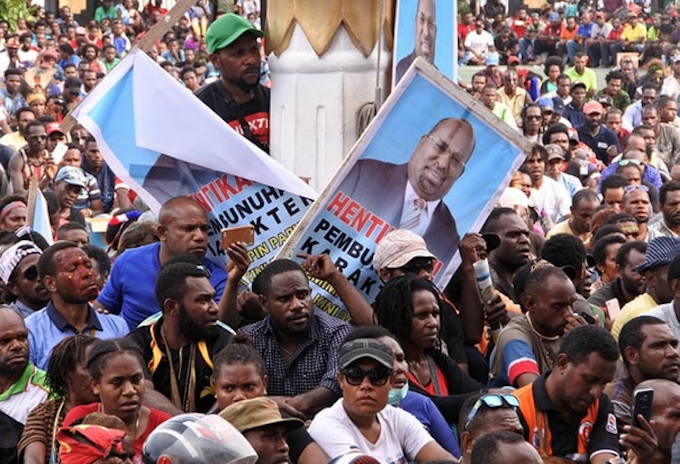 SPECIAL REPORT: By Yamin Kogoya
Last Monday, suspended Papua Governor Lukas Enembe was indicted on gratification, bribery and corruption charges in Indonesia's central Corruption Criminal Court in Jakarta.
Corruption Eradication Commission (KPK) prosecutors accused and charged Governor Enembe of accepting bribes totalling Rp 45.8 billion (US$3 million) and gratuities worth Rp 1 billion (US$65,000).
Tomorrow the ailing former high official will know the judges' rulings and responses to his requests.
Prosecutors argued that these funds came from private infrastructure development companies in West Papua.
As the Governor of Papua Province, Enembe, along with his subordinates Mikael Kambuaya and Gerius One Yoman, are accused of giving the bribe in order to obtain the companies used by Piton Enumbi and Rijatono Lakka for the 2013-2022 procurement project within the Papua Provincial government.
Enembe was charged under Article 12a and Article 12b of Law 31 of 1999 regarding the Eradication of Corrupt Criminal Acts, Kompas.com reports.
A barefooted Governor Enembe sat in the middle of the courtroom beside his lawyer Petrus Balapationa, looking directly at the panel of judges. Both of his defence attorneys and KPK prosecutors were seated on opposite sides of the courtroom.
'Empty speeches, trickery'
During the 2.5 hour hearing, the governor shouted angrily at the KPK's prosecutors, asking, "Woi (hey) — lying, where did I receive (Rp 45 billion)?" . . . "Not right, not right, empty speeches, you're lying, empty speeches, trickery and lying, where did I get it?," Lukas Enembe said during his indictment reading, reports Kompas.com.
The governor's lawyer Petrus Balap read out statements of objections written by Enembe in response to the allegations and charges.
"I am being vilified, dehumanised, impoverished and made destitute," said the governor in his statement to the judges and prosecutors, raising 32 objections to the indictment. He said:
"To all my Papuan people. I, the Governor, whom you have elected twice, I am the traditional chief, I have been vilified, dehumanised, demonised, mistreated and, I have been [made] destitute and impoverished.
"I, Lukas Enembe, never stole state money, never took bribes, yet the KPK provides false information and manipulates public opinion as if I were the most notorious criminal.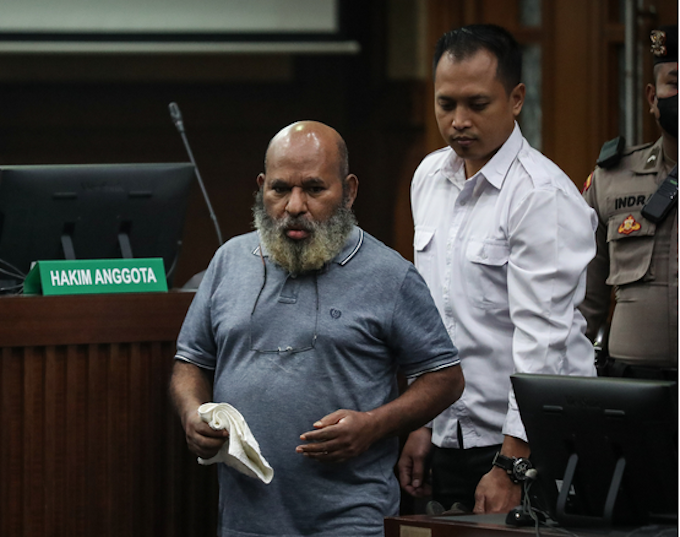 "I have been accused of being a gambler. Even if this were true, it is a general criminal offence, KPK does not have the authority to investigate gambling issues. Even the alleged bribe of one billion dollars in my indictment grew into a bribe of tens of billions of rupiah, resulting in the confiscation of all my savings.
"Not only was my money confiscated, but also the money of my wife and children. Even though I have emphasised in my BAP (minutes of the legal examination) that the one billion rupiah is my personal money and does not constitute bribes or gratuities.
"On my oath as a witness against defendant Rijatono Lakkadi in court on May 16, 2023, I explained the same statement.
"Once again, I dare to declare that the one billion rupiah is not the result of a bribe that Rijatono Lakka gave me at my request. I have never given Rijatono Lakka facilities, Rijatono Lakka's wealth has come from his own work.
'Cruel treatment'
"I have never interfered in the tender process of the procurement of goods and services, nor do I know the participants of the Electronic Tender since I created the E-Tender process to prevent the participation of KKN (Corruption, Collusion and Nepotism) in the tender process.
"Not only was I the target of the pensoliman (cruelty and inhumane treatment), but my wife and son were also called as witnesses for me, despite their refusal to cooperate which is protected by the constitution."
The governor continued to protest against the KPK's arrest of Dr Stefanus Roy Rening, one of his lawyers who had defended Enembe against the allegations and the attempt to arrest him September last year.
"It was also difficult for me to comprehend that my lawyer, Dr Stefanus Roy Rening, was made a suspect, obstructing the examination, despite the fact that he did not accompany the witnesses and stated that because of the statements made by Dr Stefanus Roy Rening who had defended me in public, which could affect the testimony of witnesses. He (Dr Roy) did not accompany the witnesses of my case.
"Is it possible for Dr Stefanus Roy Rening to influence witnesses when they are not accompanied by a lawyer and at the end of every witness BAP [statement] a sentence is included stating that the witness' testimony is free from influence, and it is the witness' own testimony without any influence from others?"
The governor concluded his statement of objections by stating:
"What I have explained and [with] the facts stated above, I have the right in this court to be treated fairly, not to be slandered, vilified, or impoverished, as I have been accused of gambling to the tens of hundreds of millions in Singapore, despite the fact that no one has ever given a statement about gambling, or that I was involved in the purchase of KKB weapons (arms for West Papuan freedom fighters) by a pilot arrested in the Philippines."
Lawyers' objection letter
An objection letter by the governor's legal team was released last Thursday stating:
Lukas Enembe's senior lawyer, OC Kaligis, expressed his objection to KPK officials' attitude during the trial at the Jakarta District Court, Thursday (22 June 2023). Lukas Enembe's legal counsel have only been able to consult with him for two hours a week since he has been detained.
Is it possible that legal counsel will only be given two hours of visitation time per week? Kaligis stated that the two-hour period was insufficient for discussing all the witnesses in the case file (184 witnesses) and the 1024 minutes of seizure according to Article 129 of the Code of Criminal Procedure.
According to Kaligis, his defence counsel had the right to provide legal assistance, as per Article 56 of the Criminal Procedure Code, in order to determine whether there were any witnesses who directly gave bribes or gratuities to Lukas Enembe.
"The [details] in this case need to be explained carefully to Lukas Enembe, with adequate time. Two hours of consultation each week is definitely not enough," said Kaligis.
Kaligis stated that on June 19, 2023, following the indictment, when legal counsel sought to meet with Lukas Enembe, the time given was very short, and a KPK official who claimed to be the Public Prosecutor closely monitored the meeting.
"Even though the legal counsel had requested that the seating be changed in the same area, the Public Prosecutor arrogantly still forbids, despite the fact that the panel of judges before the court had stated that we can meet Lukas Enembe after the hearing. Particularly now that the power of detention lies with the panel of judges and not with the KPK anymore," said Kaligis.
Detention visits
His legal team requested that the panel of judges allow him to visit Lukas Enembe at the KPK detention centre every day before his trial.
"The legal counsel team filed an application with the panel of judges, as the extension of detention is now within the jurisdiction of the court and is no longer under the authority of the KPK. The KPK prohibited us from meeting Lukas Enembe in court, everything was done based on the KPK's power and arrogance.
"Doesn't that violate Article 56 of the Code of Criminal Procedure, granting a right to legal counsel to consult the law?" Kaligis said.
Governor Enembe's ordeal has been characterised by numerous twists and turns as the KPK, doctors, the governor himself, and the defence legal team strive to find a resolution to these problems.
The situation is made worse by the fact that in Indonesia the lines between law enforcement agencies, KPK officials, medical doctors, and judges are blurred in a country notoriously known for corruption and impunity from top officials to local mayors.
Dealing with cases like Lukas Enembe is even worse — coming from Indonesia's most contested territory — West Papua.
Legal system questioned
Indeed, this case undermines the whole foundation of the Indonesian legal system.
Judging whether Papua's governor is guilty or not within Indonesia's legal system — which regards Papuans as being "illegal" in managing Papuan affairs — is always going to be perceived with suspicion from the Papuan side. This is because the fundamental issue (West Papua's sovereignty) underlying the West Papua-Indonesia conflict has never been resolved.
What has broken down between Papuans and Indonesia's government for the past 60 years is trust.
Unfortunately, Governor Lukas and every Papuan considered to be breaking Indonesian laws, must face the Indonesian legal system. This in itself is so ironic and demoralising for Papuans, as every moral, ethical and legal framework Jakarta employs is viewed as fraught by Papuans within the West Papua sovereignty disputes in Indonesia.
Jakarta's criminalisation of Papuans is like criminalising innocents and accusing them of breaking the law through the perpetrator's legal system.
This is due to the fact that the Indonesian government has a long history of targeting Papuans for their political views and beliefs. This has led to an environment of fear and intimidation, where Papuans are often accused of crimes they did not commit and are treated harshly by the Indonesian legal system.
For more than 500 years, most indigenous people around the globe have been criminalised and exterminated since a series of Papal bulls (decrees) signed by European Catholic popes and Christian kings during the early period of European colonisation in the 1400s and 1500s.
Legal myths
They were legal myths for conquests, civilising mission — the myth of discovery, the myth of empty lands, and the myth of Terra Nullius.
It has been used to justify the exploitation of indigenous peoples, to strip them of their rights, and to deny them access to land and resources.
By criminalising the indigenous population, colonial authorities have maintained an unequal power dynamic and control over them. These colonial myths have had devastating consequences for the original inhabitants.
Today, Jakarta still propagates this myth in West Papua. Colonial myths have been made truer than truth, more real than reality, and unfortunately, indigenous leaders, such as Governor Lukas Enembe, have been swayed by them by their legal jargon, codes, numbers, symbols, grammar, and semantic power.
Currently there are three high profile Papuan leaders locked up in KPK's prison cells — Papua Governor Lukas Enembe; the Regent of Mimika Regency, Eltinus Omaleng; and the Regent of Mamberamo Tengah Regency, Ricky Ham Pagawak. All are accused of corruption.
The status of the two regents remains unclear.
As for Governor Lukas Enembe, he requested that the judges take his deteriorating health seriously and that he receive medical assistance from specialists in Singapore, and not from KPK's appointed general practitioners.
This is partially due to the breakdown of trust.
Further, the Governor has also requested that the block on the bank account of his son (a student based in Melbourne) be lifted in order for him to be able to continue his studies.
The judges are due to deliver their verdict tomorrow regarding the outcome of his requests and all charges against him.
Yamin Kogoya is a West Papuan academic/activist who has a Master of Applied Anthropology and Participatory Development from the Australian National University and who contributes to Asia Pacific Report. From the Lani tribe in the Papuan Highlands, he is currently living in Brisbane, Queensland, Australia.